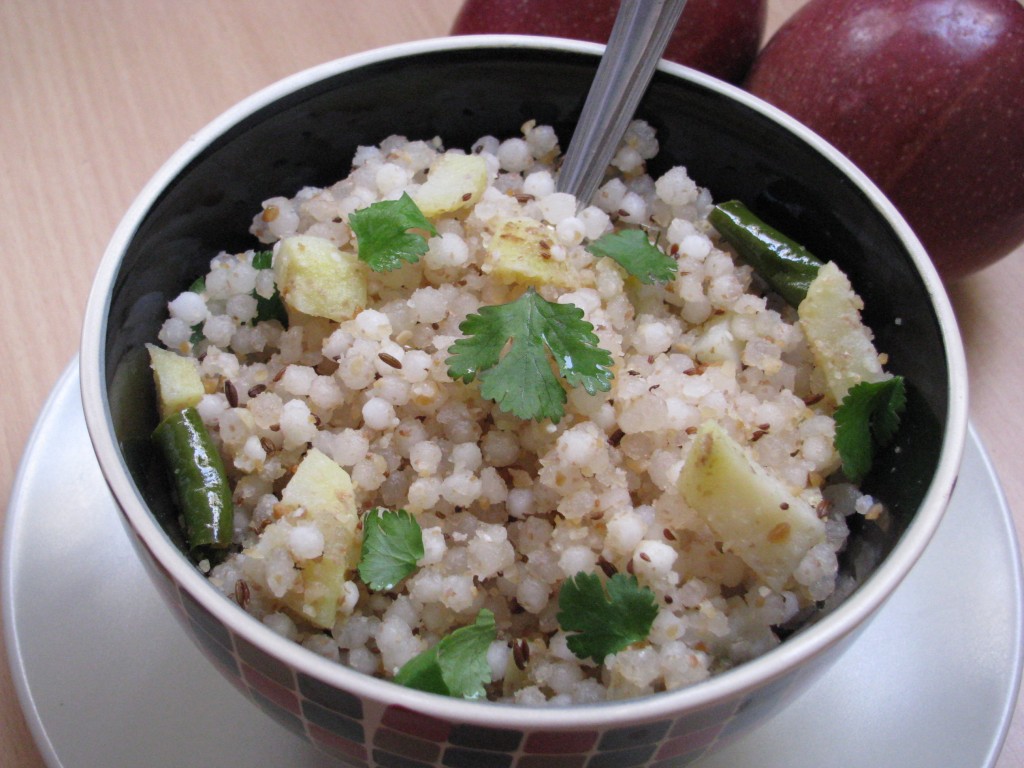 Sabudana (sago/ tapioca pearls) khichadi eaten in breakfast or snacks time even if you are not on fast /vrath.To make sabudana khichdi in pan or skillet lot of oil is required as sabudana is very sticky and the khichdi becomes mushy.now I started making it in microwave and it turns out good in very less oil and not at all mushy . I use carom seed (ajwain) and coriander leaves in sabudana khichadi but some people don't eat carom seeds and coriander leaves in vrath, its an optional ingredient.
[box]Also check :- Vrath recipes| Upasachi recipes [/box]
Soaking time of sago / sabudana particle varies according to the type of sabudana we use . Two types of sabudana are available in market–
Instant sabudana – Smaller in size (instant word is used for them as it takes less time around 15 -20 minutes to get soaked)
Normal sabudana -which have big pearl size as compare to the instant one takes around 7-8 hours /overnight to get soak .I use the larger variety but you can try the recipe with both varieties of sabudana.The only difference will be soaking time  .
[ingredients title="Ingredients"]
1 cup sabudana (sago /tapioca pearl)
¼ cup peanut (shengdane/ moongphalli )
1 tablespoon Freshly squeezed lemon juice
1 cup diced potato(use boiled potatoes if you're not using microwave oven for cooking sabudana)
1-teaspoon sugar /sugarfree (optional,but it tastes good)
2-3 green chilly or as per your taste (if you like red sabudana khichdi use 2 teaspoon red chilly powder)
Finely chopped coriander(cilantro) leaves(optional)
1 teaspoon jeera
1 teaspoon carom seeds (ajwain) (optional)
1 tablespoon finely chopped coriander leaves
1 teaspoon oil/ghee if you r using microwave to cook sabudhana if you r making it in pan add 1 tablespoon oil/ghee (no need to add extra oil, peanut and dry coconut already has lot of oil in it)
Saindha namak (rock salt) for taste if your on fast(vrath) otherwise use normal salt
[/ingredients]
[directions title="Directions"]
Wash sabudana with drinking water (don't use tap water for washing sabudana as it starts soaking water when you wash it)…Wash it until water runs clear…
Add 1/2 cup of drinking water in washed sabudana …it should be covered in water  …Soak it overnight or atleast  6 -7 hours otherwise it will turn sticky when you make it …
Roast peanut in pan or microwave it for 2-3  minutes .let it cool down.
Grind peanut into coarse powder.
In a microwave safe bowl take diced potato and microwave it lid covered for 3 minutes if not using microwave take boiled dice potato, because to cook them in oil you need lot of oil or it will stick in pan, and it's better to eat boiled or baked potato rather than fried ones 🙂 
Now in a big microwave safe bowl mix soaked sabudana (sago) ,powdered peanuts  lemon juice ,rocksalt (saindhanamak), boiled or microwave baked potatoes and sugar…mix it nicely this sabudana mixture is ready for tempering now  …
Now in a pan heat the oil/ghee ,add cumin seeds let it crackle add green chilies in it roast it and add this tempering on mixed sabudana mixture .Mix it nicely and microwave it for 4 minutes.
If you r not using microwave ,make the same tampering in skillet and add sabudana mixture in it, mix it nicely and cook it covered for 2 -3 minutes ,again open the lid toss it again and cook it covered lid  for 2-3 minutes …cook it until each and every sabudana particle becomes transparent(i.e its cooked).
Now garnish it with finely chopped coriander leaves (cilantro)
Serve sabudana hot with vrath ki nariyal chutney , Upasachi amti / vrath (fast) wali gravy/curry, Vrath ka raita (Upasachi koshimbir)
[/directions]
Tips for making sabudana  khichadi
Cook sabudana properly don't keep it white .Each and every particle of sago should become transparent, it's the indication of sabudana is cooked.Raw sabudana is heavy to digest.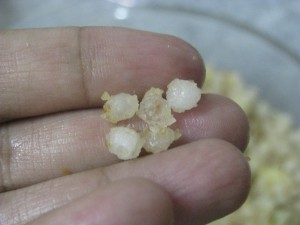 Roast peanuts nicely before making powder of it,raw peanut powder in sabudana khichdi tastes bad..
If you don't want to add dry coconut in sabudana increase the quantity of peanuts by ½ cup.If you're on diet don't add peanuts, but it will make sabudana mushy  .