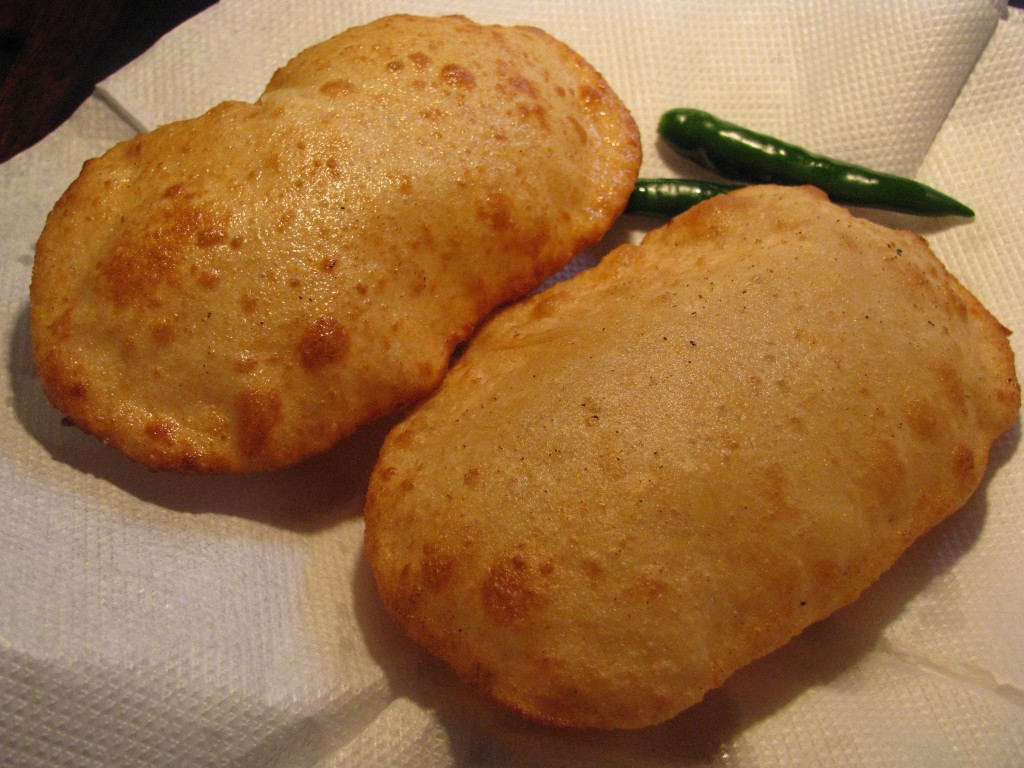 The main advantage of making bhatura at home is we can use some healthy options in this fast food recipe.The bhatura which are served on roadside eateries or hotel is made up of maida and lots of oil or vegetable fat (dalda /sunflower) is added to make its dough .At home you can easily make this bhatura with whole wheat flour (gheu ka atta ) and no maida in it,in place of oil and vegetable fat you can add boiled smashed potatoes .this bhatura recipe is very easy & you can get the better taste and the same puffed ball of healthy bhatura which turns by its own when you fry it .
[box]Also check –Rajma Chawal recipe in hindi[/box]
Bhatura comes out really well from this recipe and it will not become chewy even when its cold. Potatoes ,sooji (semolina/rava) and curd makes this bhatura crispy as well as spongy. Give time for the dough to get fermented, when you make bhatura from curd and whole wheat flour( gheu ka atta) .
[box] Also check :-Mini chatpatte cheese Bhature recipe [/box]
If you want to make insant bhatura you can check my Instant bhatura recipe where I used soda water (club soda / carbonated water ) to make bhatura dough ,this recipe is very quick and u can fry the bhatooras immediately after  you make dough. So here is my step by step bhatura recipe from curd and gheu ka atta (whole wheat flour).
[ingredients title="Ingredients to make bhatura"]
4 cups whole wheat flour
1/2 cup semolina (sooji/rava)
1cup smashed boiled potato
1 teaspoon salt
1 ½  cup curd to make dough
Oil or ghee (clarified butter) for frying bhature
[/ingredients]
[directions title="Step By Step Directions to make bhatura"]
Mix flour smashed potatoes and salt..Now add little curd at a time  to make a soft smooth bhatura dough..don't add water to make a Bhatoora dough..

Ingredients for Whole Wheat Bhatura

Divide the dough equally and make small balls of it
Keep the oil /ghee to heat and prepare one plate by lining it with tissue papers so that we can keep the fried bhaturas in it and the extra oil will be soaked by tissue papers..
Lightly flour a clean dry surface where your going to roll the bhatura and place one ball of dough on it ..roll it into oval shape bhatura
Heat oil in a frying pan on high heat …to check if oil is hot enough drop a small piece of dough in oil it should float immediately to top
Then Add the rolled out bhatura gently in hot oil ,to avoid splashing of hot oil .after  5 -7 second with the slotted spoon press it gently in the centre this will make bhatura puff like a ball ,turn the bhatura and fry it on both side to make it little brown..take the bhatura out in a plate we have already prepared with tissue paper lining to absorb extra oil ….
[/directions]
Tips for making bhatura (atte ka bhatura)
Don't add plain water to make a dough ,use curd to make a soft smooth Bhatura dough..
Don't add oil in bhatura dough in place of that add boiled smashed potato
If you don't have time of 6-7 hours to make bhatura use little sour curd
For frying bhatura oil should be hot and bhatura should be fried on high flame otherwise it will soak to much oil.
Healthy options for making bhatura / bhature recipe
Make bhatura dough with whole wheat flour rather using maida in it …
Don't add oil for making bhatura dough, instead of that use boiled smashed potato to make bhatura dough
If you want to cut more calories from bhatura roll bhatura dough into small chapattis and roast it on pan or skillet/ tava .
[box] Check Healthy bhatura recipe [/box]
We can also bake bhaturas, but I haven't tried it yet if you have any recipe for whole wheat flour baked bhatura you can share it with me.