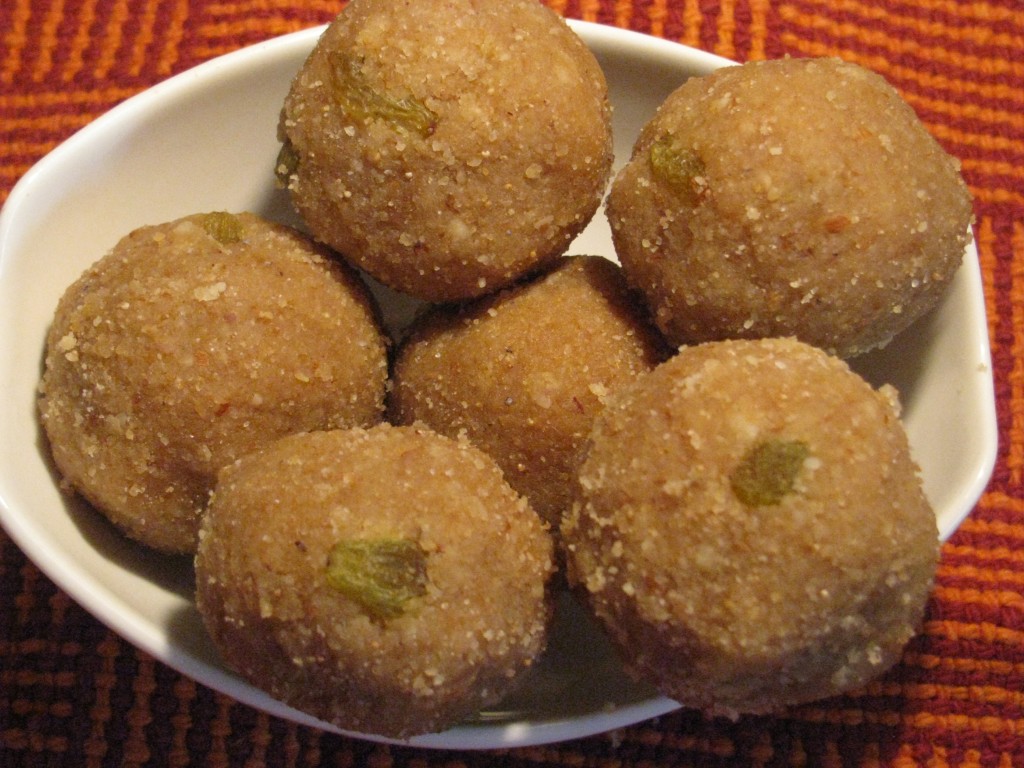 Churma Ladoo is a special delicacy of Gujarat and Rajasthan. Churma Laddoo or Churma is served with dal batti thali & is also served as Prasad in many pujas , it is specially offered to lord  Ganesha during Ganesh Chaturthi. I make Churma modak from this Churma mixture with little changes.  In Maharashtra Churma Ladoo is made during ganesh festival. Churma Ladoo is never go wrong Ladoo recipe. It's very simple and easy to make. In Marathi this ladoo are called as Kankeche Ladoo, in Hindi it is called as Churma ke Laddu , in Gujarati it is called as Churma na Ladawa and Rajasthani keeps it in the form of churma or make laddu of it .
[box]Also check- Ladoo recipes[/box]
I prefer to use coarsely ground wheat flour (gheu ka mota atta) to make Churma laddu, if it's difficult for you to get coarsely ground wheat flour, use semolina (moti sooji/ rava) . Take 1 cup of sooji for 2 cup of whole wheat flour and make dough of it to make Churma Ladoo .
Many people make Churma Ladoo by making muthia with the dough and then deep fry it in ghee or oil. To fry the muthia takes lot of time and many times the dough inside the muthia remains raw(kaccha). I make puris with this Churma Ladoo dough and then deep fry it. By this method all the particles of dough get fried nicely and it's easy to grind it in mixer. For muthia we have to pound it and then grind it in mixer, this process takes more effort and time.
[box]Also check – Besan ka Churma ladoo[/box]
If you want to make this Churma Ladoo low calorie you can roast this puris on girdle or tawa and then follow the same procedure of making Ladoo . You can also bake muthia made from Churma Ladoo dough, pound it, grind it and then follow the same procedure which I have explained. Churma Ladoo are high in calories as we add ghee in the end to the Churma to make Ladoo ,that's why i make this ladoo during winters .
[box]See Related recipes here: How to make Churma Ladoo using Jaggery (gud) [/box]
I make Churma Ladoo using jaggery or sugar. Shelf life of Churma Ladoo made from jaggery is less as compare to when its made from sugar. So if I want to make big batch of Churma Ladoo I prefer to use sugar to make this Ladoo. Churma Ladoo made from sugar can be store easily for around 14 – 15 days .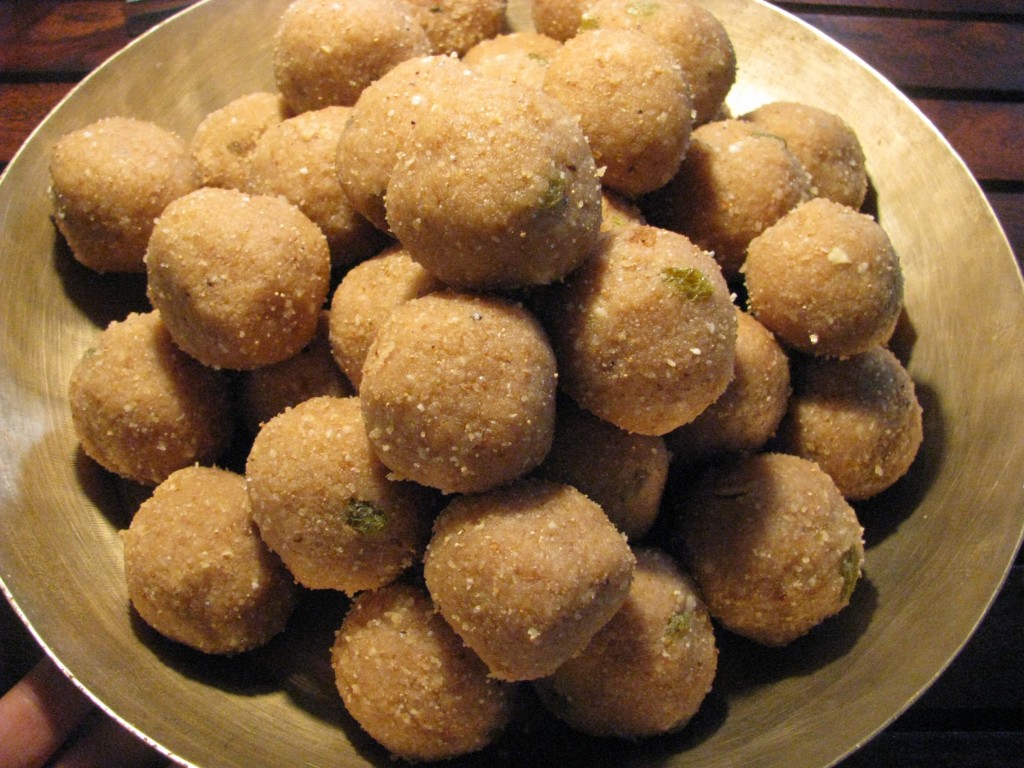 [box]Also Check – Dinkache Ladoo | Gaund ke ladoo recipe[/box]
[ingredients title="Ingredients required to make Churma Ladoo"]
3 cup coarsely ground wheat flour (gheu ka mota atta)
1 cup wheat flour (normal gheu ka atta)
(If you don't have coarsely ground wheat flour take 1 cup of semolina and 2 cups of wheat flour )
2 tablespoon of ghee for kneading the dough
3 cup sugar/ ¾ cup sugarfree natura
1 /2 cup almonds
½ cup cashews nuts
1 tablespoon khus khus (poppy seeds)
Ghee / refined oil for deep frying
1 cup ghee to make ladoo
12-13 cardamom
[/ingredients]
[directions title="Step by Step Directions to make Churma ladoo"]
Mix coarsely ground wheat flour / semolina & normal wheat flour & add 2 tablespoon of warm ghee to it. Mix it  and make stiff dough using water.
Make puris of this dough and deep fry all the puris to golden brown colour on medium flame.
Now take 4-5 puris at a time, break them into pieces.
 grind it into fine powder or churma , repeat this procedure and make churma of all puris in grinder .
Now take sugar and cardamom seeds in a mixer jar and grind I into fine powder.
Add this sugar cardamom powder in churma.
Roast poppy seeds(khus-khus) .  
take almonds , cashews and roasted poppy seeds (khus –khus ) in  a mixer jar and grind it coarsely .
add this powder in churma mixture .
Now add raisins to it.
If you want to serve churma with dal batti , serve this churma mixture with dal batti.
Heat 1 cup of ghee and add it in churma mixure.
mix the mixture and make laddus of this churma mixture.
[/directions]
Tips for making Churma Ladoo (atta ladoo)
If you're making churma ladoo during winter you can add ghee roasted gaund powder in it.
If you're in north and want to make churma ladoo try Punjabi atta to make churma ladoo .This wheat flour is coarsely ground.
Churma ladoo made from sugar has more shelf life as compare to churma ladoo made from jaggery.
If your diabetic use sugar free natura to make churma ladoo .
You can also add demerara sugar to make this ladoo .