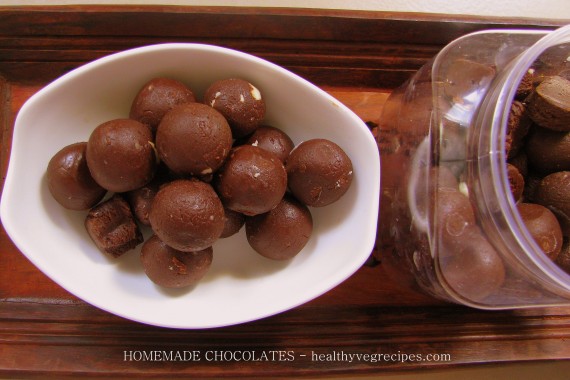 To make chocolate at home from scratch is the dream of everyone. When we were kids, we used to sing a song asawa sundar chocolate cha bangla, it's a Marathi song which means I should have a bungalow which is made up of chocolates. To make chocolate at home is really stress buster for me. Yesterday I was not keeping well and my little daughter was very upset because of that. After looking at her I just forgot about myself, I took her to the kitchen asked her that we will make something and she said chocolate. And then we made these yummy chocolates. This recipe is very simple and everybody will love to have homemade chocolates.
[box]Also Check – How to make chocolate cake from whole wheat flour[/box]
Homemade chocolate
In my college days, I made chocolates from the chocolate compound. My mom used to make it from Cocoa powder and butter, the only issue of this chocolate is it was very sticky and to give it any particular shape was difficult. Because of that when I started making it I always used the dark chocolate compound. The only problem with this is I never got the good quality chocolate compound, I always felt that the fats used in it were not of good quality. It may be that I never had an access to the good chocolate compound. One day when I was making besan barfi I thought that I can add Coco powder and milk powder to this sugar syrup to make chocolates. I tried it and to make it soft and glossy I have added homemade butter to it…. and hurray …… It turned out awesome.
When my Friends had this chocolate, they asked me for the recipe and I promised them to post it on my blog.
How to make homemade Chocolate

This homemade chocolate recipe is very easy and even a novice can make it easily.
Ingredients required to make homemade chocolate
As I said, this chocolate recipe does not contain a ready-made chocolate compound. So I have used some basic ingredient to make this chocolate. It's a chocolate recipe with cocoa powder.
Cocoa powder– I have used Hershey's Cocoa Powder
 to make this recipe. It is plain Cocoa Bean powder without sugar. I have used 1/2 cup of cocoa powder to make this chocolate. If you like dark bitter chocolate you can increase the amount of Cocoa powder and decrease the amount of milk powder.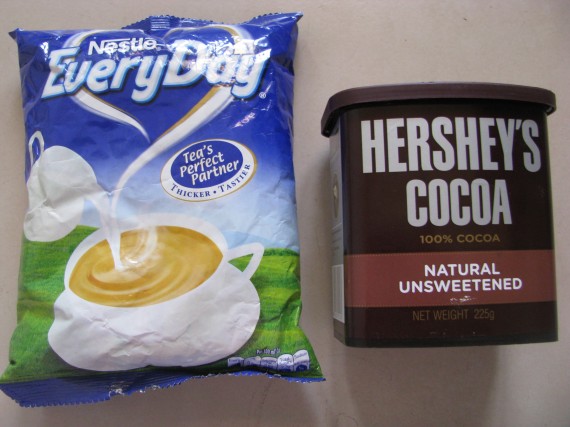 Milk powder – I have used Everyday milk powder to make this homemade chocolate to give it a nice smooth milky taste. It is an important ingredient in this homemade chocolate recipe.
Sugar – sugar is an important ingredient in this chocolate. It does not just give sweet taste to the chocolate but also gives binding to it. I even tried this chocolate by using jaggery. It was good but kids love the chocolate with sugar only.
Butter – Butter makes this chocolate smooth and glossy. I use homemade butter to make this chocolate. Butter should be salt-free to make this recipe. In place of butter, you can also use edible coconut oil to make this recipe but my kids love this chocolate with butter only.
I have explained how to make this chocolate from scratch with images. Do share your feedback for this recipe.
[ingredients title="Ingredients  to make Chocolate"]
Milk powder (I used everyday dairy whitener)- 1 1/2 cup
Cocoa powder ( Hershey's or cadburries unsweetened Cocoa powder)- 1 cup
Sugar – 3/4 cup
Water – 1/4 cup
Butter – 1/3 cup
1 cup of chopped nuts cashew, hazelnut, almonds (optional)
Note – This chocolate taste best on the next day
[/ingredients]
[directions title="Step by step method to make chocolate at home"]
Take sugar in a mixer jar.
Note – Keep the chocolates in an airtight container or in a bowl covered with cellophane film when you keep it in the refrigerator.
[/directions]