You will be surprised to know the Health Benefits of Coriander ?
 Coriander
 Coriander is a herb in the family of Apiaceae. Coriander is a plant. It is also known as Chinese parsley, dhania, or cilantro. All parts of the coriander plant are edible, but the fresh leaves and the dried seeds are the parts most traditionally used in cooking.
Coriander is a very fresh-tasting spice. Its mildly sweet, lemony flavor is often harnessed in conjunction with other spices in savory recipes, you'll often see cumin and coriander paired together for magical results. Both the leaves and fruit seeds of coriander are used as food and medicine.
Coriander is commonly called Dhania in India and Cilantro in America and Europe. It is commonly used to garnish dishes. Coriander leaves have a very pleasant aroma which adds fragrance to the food. It is used in both forms that are fresh and dried for cooking. Coriander is loaded with enormous health benefits that most of us don't know about. This herb can be used in the treatment of skin disorders, skin inflammation, diarrhea, mouth ulcers, high cholesterol levels, anemia, menstrual disorders, indigestion, smallpox, conjunctivitis, and blood sugar disorders.
Coriander is the English name for this herb, it is scientifically called Coriandrum sativum. It is commonly named Dhaniya in Hindi, Bengali, Gujarati, Orissa and Punjabi, Kothambari in Kannada, Daaniwal in Kashmiri, Kothambalari in Malayalam, Dhane in Marathi, Kothamalli vidai in Tamil Dhaniyalu in Telugu.
Coriander Seeds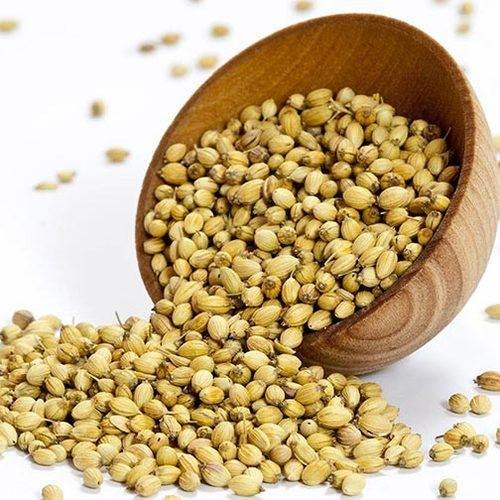 Coriander seeds have a pleasant lemony flavor and a very floral aroma. The flavor goes very good with cumin and many recipes that include equal amounts of the two spices. The coriander leaves and their ripened seeds taste completely different and they cannot be substituted for each other. Fresh coriander tastes pungent, and to a certain percentage of the population, it also tastes soapy.
Coriander seeds can be used to make many dishes, especially soups, stews, Indian curries, stir-fries, and a base ingredient for making spice mixes and marinades.
Coriander Seeds Water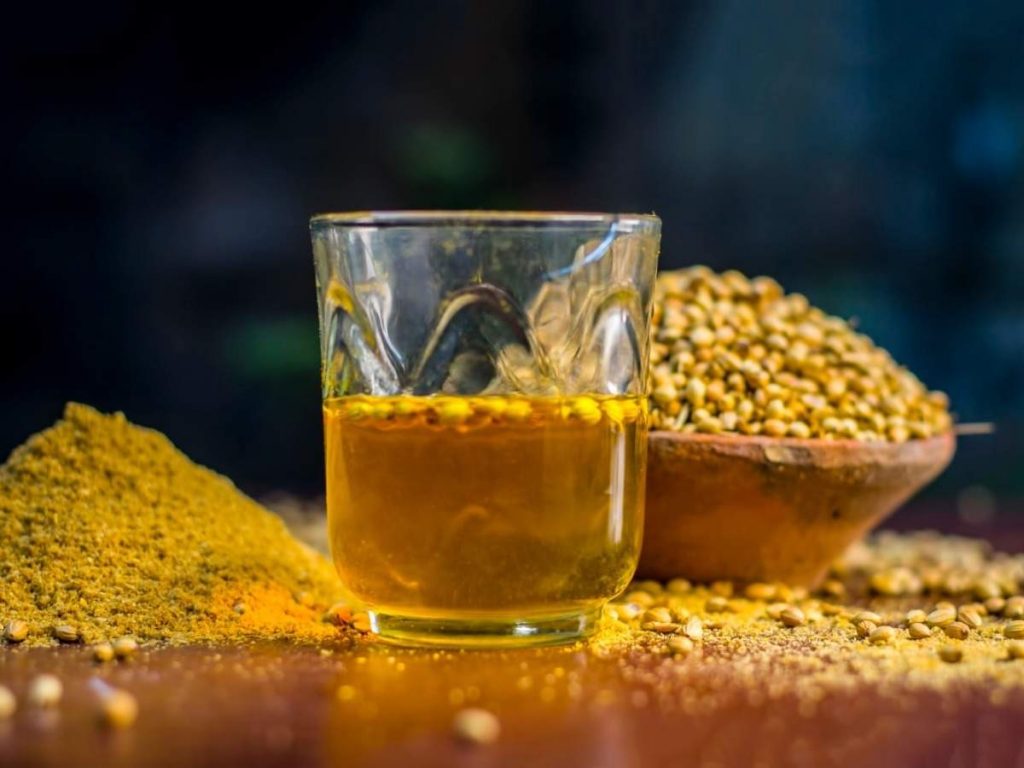 Morning rituals are undoubtedly a great way to kickstart your day. Drinking coriander water in the morning can help strengthen your hair, improve skin health, and aid in weight loss.
To make coriander water, all you have to do is soak one tablespoon of coriander seeds in one cup of drinking water, overnight. In the morning, strain the seeds and drink the coriander water.
You may dry the coriander seeds and later use them in cooking, as usual.
Coriander Seeds Water for weight loss
Coriander water is undoubtedly the best bet at the moment as it can boost your immunity. The antioxidants present in coriander help in reducing the free radical activity. It keeps the defense mechanism boosted and helps lose weight too. The first step towards a successful weight loss journey is good digestion.
First of all, Put the coriander seeds in the boiling water and let them bubble for a minute or so. Remove the water from the flame and let it cool for some time. Keep the water with the dhania seeds overnight and filter that water in the morning. As a result, coriander seeds help the body in shedding excess water weight, in a healthy and natural way.
Benefits of Coriander Seeds Water
Benefits of Coriander Water for overall health:-
Boosts immunity: Coriander is known to be the best for boosting immunity, as the antioxidants present in coriander help in reducing free radical activity in the body. Keeping your body's first line of defence boosted can help fight many diseases, including COVID-19 disease, which is currently demolishing the entire world.

Helps in digestion and boosts weight loss: Coriander has magical digestive properties which have made it a popular seed to be used in Iranian medicine for digestive troubles. Drinking coriander water in the morning can help improve digestion, and boosts metabolism too. Both these properties can help aid the weight loss process consecutively.

Strengthens the hair: Coriander is known to be rich in vitamins like Vitamin C, K, and A. All these are very vital for hair growth and strength. Drinking coriander water in the morning can help reduce hair breakage and hair loss. Additionally, you can also apply coriander oil or hair masks too.

Reduces acne, pigmentation and scars: Coriander is rich in iron and has anti-bacterial, anti-fungal properties. Drinking coriander water in the morning can help you achieve a radiant glow, and give you smooth, clear skin.

Helps to flush out toxins: Coriander is a diuretic, and can therefore help you flush out the toxins from the body. Drinking coriander water in the morning can help you detox your system and start afresh.

Coriander seeds prevents menstrual disorders: Being an excellent stimulant, coriander seeds helps in maintaining proper levels of secretion from the endocrine glands. Hormones when secreted in the right amount and at proper intervals helps to regulate various body functions, especially menstruation in women. Coriander seeds also reduce menstrual pain.
Having a morning ritual can help you kickstart your day and feel more detoxed, energized and healthy.
Nutritional Value of Coriander in 100 g
| | | |
| --- | --- | --- |
| Calories | Net Weight | % Daily Value |
| Total Fat | 0.5g | 1 |
| Sodium | 46mg | 2 |
| Total Carbohydrate | 3.7g | 1 |
| Dietary Fibre | 2.8g | 10 |
| Sugar | 0.9g | – |
| Protein | 2.1g | 4 |
| Calcium | 67.00mg | 5 |
| Iron | 1.77mg | 10 |
| Potassium | 521mg | 11 |
Benefits of coriander seeds soaked in water for Thyroid
Dhania is packed with enormous nutrients and various antioxidants that protect the body against certain diseases. Drinking Dhania water or Coriander seeds soaked overnight in water is beneficial for the thyroid due to its high mineral and vitamin content.
It is found in most homes and is easily available, coriander is one of the most commonly used and beneficial herbs. Not only does it have a fresh aromatic fragrance, but coriander is also rich in antioxidants, which can aid a person in different ways. Furthermore, Dhania is one of the most readily available organic produce in the market and is free from every sort of pesticide and other harmful chemicals. Whether it is the stems, leaves, or even seeds, there are many ways of using Dhania water for the thyroid. One of the most general ways to make coriander water for the thyroid is by using coriander seeds. These seeds consist of vitamins and minerals that help to reduce the infection-causing bacteria in the body. To make coriander water for the thyroid, you need to mix two tablespoons of coriander seeds in a glass of warm water. Once the seeds are completely soaked, strain the water and drink it on an empty stomach every morning. If you cannot drink the water as it is, you can also add some honey for taste.
Alternatively, a different way to make coriander water for the thyroid is by adding coriander seeds to some water and letting it boil for 15 to 20 minutes. Once the water is reduced, just remove it from heat and strain the water aside. Then, transfer the coriander water to a glass and drink it for magical results.
Benefits of Coriander Cumin Seeds water (Dhania Jeera water)
Food plays a vital role in a healthy lifestyle. Hence, we bring you an easy detox drink, which can help to take a step towards healthy living and healthy eating. Presenting this Jeera-Dhania drink can help to flush out the toxins from the body and make your skin soft, healthy, and glowing.
The most common benefit of coriander-cumin seeds water known to many is to soothe the stomach, intestine, and entire digestive tract. It is an appetite stimulant and aids in the secretion of gastric juices.
How much Coriander Seeds Water to take in a day?

Here is the recommended intake for coriander-

0 to 6 months: 4 milligrams or 6 IU per day

1 to 3 years: 6 milligrams or 9 IU

4 to 8 years: 7 milligrams or 10.4 IU
9 to 13 years: 11 milligrams or 16.4 IU
14 years and above: 15 milligrams or 22.4 IU
Breastfeeding women: 19 milligrams or 28.4 IU
Can we drink Coriander Seeds Water daily?
Coriander has very good digestive properties and this is also used in many medicines made to relieve digestive troubles. Just like cumin water, coriander also detoxes the body by flushing out the toxins. Drinking a glass of coriander water every morning also helps to keep our gut healthy.
Coriander Seeds Water side effects
Excess intake of Dhania seeds can lead to different side effects like nausea, headaches diarrhea, vomiting, bloating, dizziness, and gas. It can drastically decrease blood sugar levels below severe levels in people with diabetes.
People with diabetes should consult their doctors before drinking coriander water in the morning, as it can lower their blood sugar levels and can lead to hypoglycemia.
Coriander is LIKELY SAFE in food amounts and POSSIBLY SAFE for most people when taken by mouth in appropriate amounts.
When taken by mouth or inhaled, coriander can cause allergic reactions too. Symptoms of such reactions can include hives, nasal swelling, asthma, or swelling inside the mouth. These reactions appear to be the most common in people who work with spices in the food industry.
When coriander comes in contact with the skin, it can cause skin inflammation and irritation.
The appropriate dose of coriander depends on several factors such as the user's health, age, and several other conditions. At this time there is not enough scientific information to determine an appropriate range of doses for dhania. Keep in mind that natural products are not always necessarily safe and dosages are quite important. Be sure to follow relevant directions on product labels and consult your pharmacist or physician or another healthcare professional before using any natural products or remedy too.
So, it is better to take it with proper recommendation.
Who Should Avoid Coriander Seeds Water?
Coriander seed does not usually have any side effects but the seeds may induce allergy in those who handle it because of its volatile nature. It may cause redness and itching. Pregnant women though should not take coriander seed in excess.
How to make Coriander Seeds Water for weight loss?
Making coriander water is very simple. You just have to take one teaspoon of Dhania seeds and soak them in one glass of water overnight. Strain the water within the morning and drink it. Do not throw the soaked seeds as you can use them for cooking.At present, everyone is working very hard to keep their immunity uptight. This water can undoubtedly be the best bet at this moment as it can boost our immunity.
The antioxidants present in dhania help in reducing the free radical activity and keeps your defense mechanism boosted.Moreover, it helps you lose weight too.
How to make Coriander Seeds Water?
INGREDIENTS
2 tbsp Coriander Seeds, Sabut Dhania

1 Litre Water

INSTRUCTIONS
METHOD 1
Heat the water till it's lukewarm and take off the heat.

Add the coriander seeds to the water and let them release the flavors for at least 4 hours.

After 4 hours, use clean hands to crush the seeds a bit and let the crushed seeds settle in the water for 10 minutes.Use a strainer to strain the seeds from the water.

Drink the water.

METHOD 2
Bring the water to a boil.

Turn off the heat.

Immediately add the coriander seeds to the hot water and let them release the flavors for 15 minutes.

Strain the water and discard the seeds.

Drink the water.
How to make Coriander Cumin Seed Water (Dhania Jeera water)?
Step 1. Soak half teaspoon jeera and dhania, each in a glass of water overnight.
Step 2. The next morning, boil the water and strain it within a glass.
 Step 3. Add some honey, pink salt, and half lemon juice and consume. You can avoid the lemon if you have acidity trouble.
Jeera-dhania water helps to boost energy and strengthens your immunity. Drink this detox water every morning and give a healthy as well as a refreshing start to your day.
Stay safe!
How to make Coriander Seeds Water without boiling?
To prepare coriander water without boiling, you need to soak 1 tablespoon of coriander seeds overnight in 1 cup of drinking water. The next morning, strain the seeds out and drink the water in an empty stomach.
Drink this body detox drink and keep yourself healthy and refreshed.
STAY SAFE!