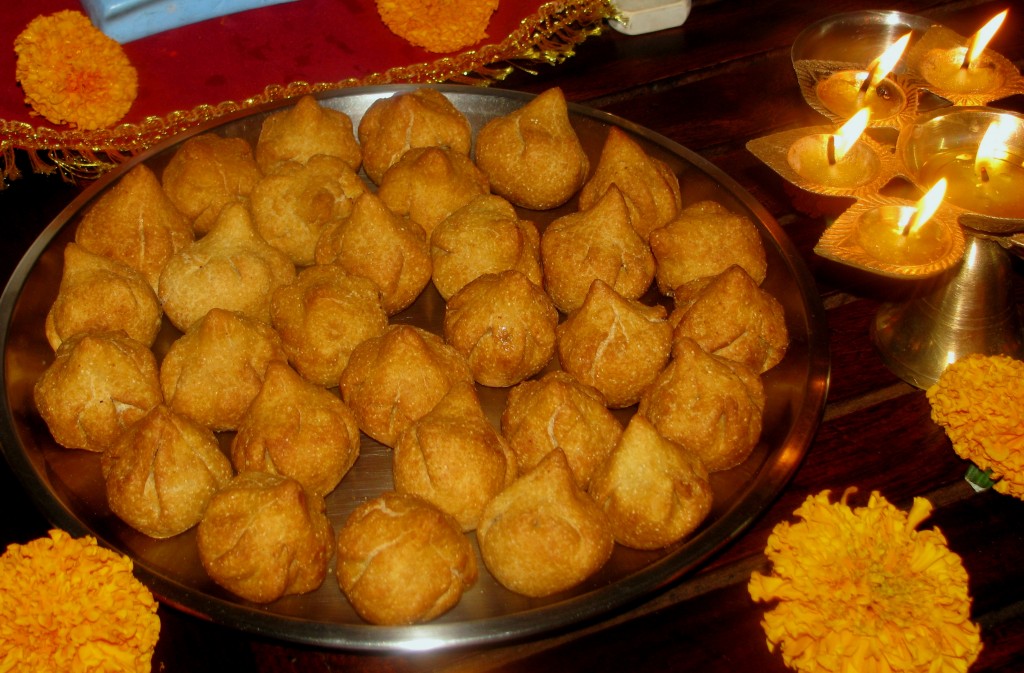 I make fried  modak at home from whole wheat flour with dry coconut or fresh coconut stuffing with jaggery (gud/gul).For covering of this modak I used whole wheat flour with Semolina(rava/suji) and no maida in it.Semolina makes this modak crispy. This are the traditional Modak prepared in Marathi homes .Maharashtrians  prepare this modak during ganesh chaturthi festival or on any chaurthi for the prasad for lord ganesha. 
[box]Also check– Kheerapat and Panchkhadya recipe for Ganpati Prasad[/box]
[ingredients title="Ingredients"]
For outer covering of modak
2 cup whole wheat flour (gheu ka atta/ ghwach peeth)
1 cup fine semolina (rava/suji)
1 teaspoon salt
1 tablespoon warm ghee
Water to knead the dough
For inner stuffing
1½ cup grated jaggery
1½ cup grated fresh coconut (naral/nariyal)or dry coconut(khopra gola)
1 teaspoon freshly crushed cardamom powder
Grounded /chopped 10 almonds and 10 cashew nuts
Refined oil or ghee to fry modak
[/ingredients]
[directions title="Directions"]
 For covering
 Mix all the ingredients except water mentioned in covering ingredients …. warm ghee should be rubbed nicely with the flour and semolina…
add little little water and make a stiff dough… stiff dough will make the modak covering crunchy ….keep  the dough aside atleast for 1- 2 hours before making modak out of it ..
 For stuffing
If your using dry coconut(khopra/gola)— there is no need to cook all the ingredient …just roast the grated dry coconut  to make it light brown …remove it from heat let it cool crushed with ir fingers …it becomes very crispy after roasting ..add all the stuffing ingredients in it ….mix it with your fingers ..ur stuffing is ready for modak
If ur using fresh coconut(naral/nariyal)—Mix all the stuffing ingredient except cashew almond powder and cardamom powder…..
Cook and stir the mixture on low or medium flame till mixture is dry
 For making modak
[/directions]
Tips for deep fried modak recipe (whole wheat flour)
Semolina makes this modak very crispy
While making the modak disc follow the paratha folds which I had mentioned ..it forms nice layers in the modak covering
If you want to store this modak for some days use dry coconut instead of fresh coconut …
Fry this modaks on medium or low  flame
You can make coconut stuffing in microwave
How to make coconut (naral/nariyal )modak stuffing in microwave (whole wheat fried modak stuffing/talniche /talele modak stuffing)