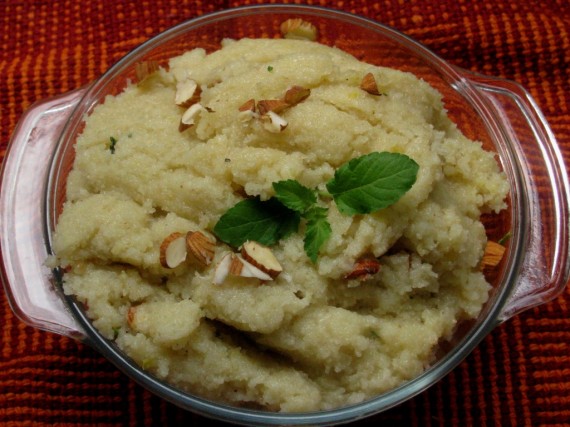 Satyanarayana vrat  pooja  katha starts by a prayer to lord Ganesha and then puja katha of lord Vishnu (Satyanarayan) is performed .My mom use to perform Satyanarayan puja every year during Ganpati festival . In Satyanarayan katha all Prasad ingredients and there quantities are specifically mentioned .Prasad of modak and ladoo are offered to lord Ganesha  & Satyanarayan maha prasad is offered to lord Vishnu .
The  two main Prasad which are offered to lord Satyanarayan are
Satyanarayana Pooja Maha-Prasad  – Banana Halwa / Banana Sheera
Panchamruth 
[box]Also check:- How to make panchamruth for satyanarayan pooja [/box]
 Satyanarayana Vrat Pooja Prasad  
Satyanarayan pooja Prasad  is made from  banana ,semolina (rava/ sooji), sugar, pure ghee, milk ,basil leaves etc .satyanarayan mahaprasad recipe is similar to the recipe of sheera /halwa, the only difference is banana and basil leaves (tulsi ) is added in Satyanarayan prasad.  This prasad  made from banana tastes really good and I make it even when we don't have puja at home. In North India Halwa Puri is served during navratri ashtami & navmi, at that time you can make this halwa for prasad with or without adding banana.
[box]Also check -Aate ka halwa (Halwa made from atta / whole wheat flour)for Pooja Prasad [/box]
I have explained step by step recipe of this auspicious Satyanarayan puja Prasadam. Share your suggestion and queries for this recipe 
[ingredients title="Ingredients for Satyanarayan pooja prasad"]
1 cup semolina(sooji/rava)
1 cup whole milk
1 cup water
¾ cup pure ghee
1 ripe banana
3/4cup sugar
20 – 25 raisins
1 teaspoon cardamom powder
1 tablespoon chopped cashew nuts
Few strands of saffron(kesar)
1 tablespoon Charoli/chironji
10-15 Tulsi or basil leaves
[/ingredients]
[directions title="Step by Step Directions to Make Satyanarayan prasad"]
Mix water and milk in a container and bring it to boil.
Roast cashew nuts, charoli (chironji) for 1 minute in a pan with a teaspoon of ghee in it . now add raisins in it and roast for few seconds ,now remove it from heat .you can also roast this nuts and raisins in microwave with or without ghee for 40-50 seconds.
Roast the semolina in a heavy bottom pan until it becomes very light. (Basically the moisture should evaporate and each particle should get roasted nicely) remove it from the pan.
Add ½ cup ghee in the same pan add basil leaves in the ghee  .Add the roasted semolina to it and roast it again  until the semolina get light pink in color-and the basil leaves becomes crispy. now add chopped banana to it roast it again with banana .after some time banana will start melting .make the heat low and Add the boiling water &milk mixture to this roasted mixture and mix it properly and close the lid of the pan for 1- 2 minutes .
Now Add sugar in to it .mix it properly and cover the lid and let it cook for 2-3 minutes.
 Open the lid .Add cardamom powder , saffron(kesar)  and the remaining ghee to it .now remove the pan from the heat . and garnish it with roasted raisins and nuts .
Satyanarayan  Prasad (Prasadam) is ready for offering (bhog/ navaidayam) to Shree Satyanarayana (lord vishnu)
[/directions]
Notes