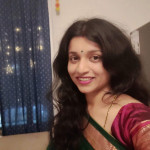 Hi I am Jaishree Gorane Dhake. I am passionate about cooking and I keep experimenting with various recipes. My affair with food started since I was 7 years old (J) when I first started helping out my mother. I kept learning new recipes from different people I met.
I have been fortunate to have been exposed to multitude of cultures during my life so far. Had it not been so, I would not have gotten a chance to try out so many different recipes.
My two kids, Anagh (15 years) and Zoe (10 year) keep pushing me try out new things. Satisfying them is not a easy task! But I have been mostly successful thus far.
I started this blog to share my passion and learn from my fellow readers. I want to focus on vegetarian recipes that are healthy. In the world of food, anything that is tasty is generally not very healthy and anything that is healthy is not generally very tasty! I want to change this – make vegeterian recipes that are healthy and tasty.
Feel free to tell me what you feel. Also share your thoughts on
1) What would you like to see here in future?
2) How did you hear about this blog?
3) On a scale of 1-10 (where 10 is most likely), how likely is it that you you would recommend this blog to a friend or colleague?
4) How can I improve this blog?
You can get in touch with me on [email protected] You can also subscribe to my facebook page