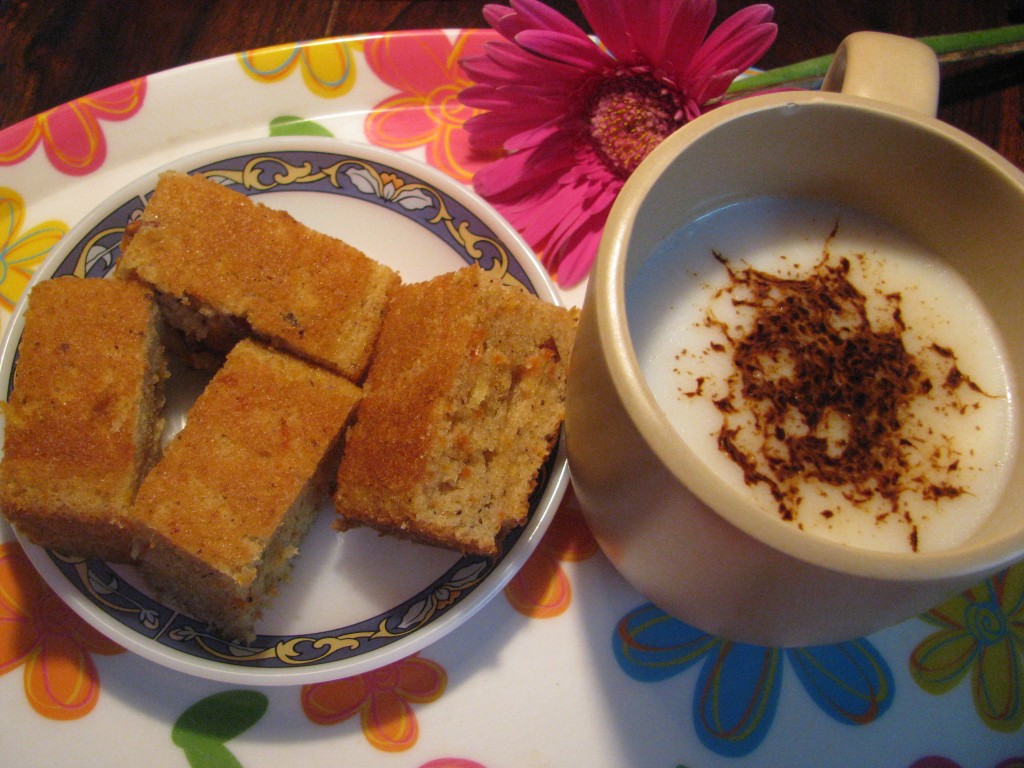 This is my easy to make carrot cake with whole wheat flour ( gheu ka atta). I haven't added maida or all purpose flour to make this tasty cake recipe. This cake is easy and if you have kids this is the best thing to try out for their snacks or Tiffin box. Kids love this cake and there is no issue if they stuff themselves with this healthy cake. This cake is easy to carry when you're travelling with kids.
[box]Also check-Homemade Healthy Cake recipes with whole wheat flour | Atta cake recipes [/box]
You can use red as well as orange carrot to make this cake. I add some nuts like cashews, almonds or walnuts. Grated carrot gives nice colour to this cake. I have added cinnamon powder ( dalchini) to this cake .cinnamon has strong spicy ,sweet flavor .cinnamon helps to reduce the smell of egg . I use fresh grounded cinnamon powder to make this cake.
As I said I have used whole wheat flour ( gheu ka atta) to make this cake . There is no need to sieve this flour. Don't remove wheat bran ( chokher ) from the wheat flour use it as it is . This cake is soft, spongy and tasty. You can serve it at snacks time, pack it for ur toddler or kid in his lunch box.
Shelf life of this cake is 2 days during hot summers. During winters its shelf life is around 3-4 days. you can refrigerate this cake to increase its shelf life. If u store it in refrigerator it becomes little hard, Warm it in microwave for 8-9 seconds and it becomes soft and fresh again. In refrigerator u can store it for 6-7 days.
[ingredients title="Ingredients to make Whole wheat flour carrot cake "]
2 cups grated carrot ( orange / red carrot)
1 cup whole wheat flour (gheu ka atta)
1 teaspoon baking powder
1 teaspoon cinnamon powder (dalchini powder)
1 teaspoon vanilla extract or essence
2 eggs
¾ cup any refined oil (I used rice bran oil )
¼ cup chopped almonds or walnuts
¾ cup sugar / sugarfree natura diet sugar / demerara sugar 
[/ingredients]
[directions title="Step By Step Directions to make Carrot cake with whole wheat flour "]
Preheat oven at 180 degree Celsius.
Using hand blender beat eggs until it becomes light . 
Add sugar to it and mix it with blender.
Add oil

Mix oil with hand blender .

Add cinnamon (dalchini )powder to it .
Now add whole wheat flour and baking powder to it .

Mix it with big spoon .
Now add grated carrot to this cake batter .

Mix it .
Chop the almonds (you can also add cashews or walnuts).
Add it in cake batter and mix it . 
Bake it for 35 minutes on 180 degree Celsius or until the needle comes out  clean .
[/directions]
[box]Also check- Whole wheat flour carrot cake with dates | Atta Cake recipe [/box]