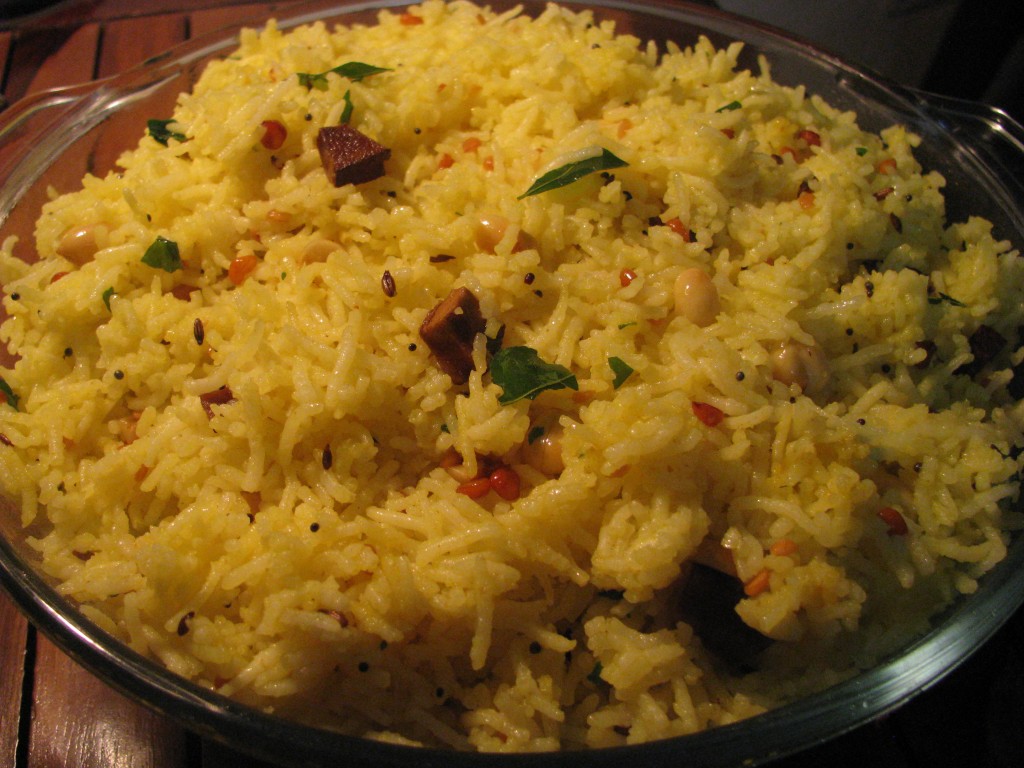 Lemon rice is a fried rice with lemon juice.  This fried rice is the authentic recipe of south India.  Rice is the staple food of south india and variety of rice recipes are made in this region. Southindian rice recipes are always in demand in all parts of India . When i come to Delhi i saw many of my northindian friends love southindian recipes and they specially go out to eat it . Lemon rice is called as nimbu chawal in hindi .This recipe has very refreshing taste because of fresh lemon juice.
[box]Also check- Spicy lemon Chutney recipe[/box]
I generally make lemon rice with leftover rice or I make rice 6-7 hours before I prepare this recipe ,the basic reason for cooking this rice before is each strands of rice gets separated after 6-7 hours ,the stickiness also disappears and while preparing lemon rice we  should add lemon juice in rice when it's cold . In lemon rice the rice particles should be soft and at the same time it should be separate. Lemon juice and Asafoetida  (hing)  gives very nice flavor to this rice recipe .
[ingredients title="Ingredients"]
4 cups leftover rice (or rice cooked before 6 -7 hours)
¾ cup lemon juice
Salt for taste
3 teaspoon sugar
For tempering
15 -20 curry leaves
3 -4 green chillies or red chillies
1 tablespoon dry coconut pieces
1 teaspoon mustard seeds
2 teaspoon urad dal
2 teaspoon chana dal
½ teaspoon asasfoetida
2 teaspoon finely chopped ginger (optional, in winters i add ginger in lemon rice)
20-30 roasted peanuts
1 tablespoon oil
[/ingredients]
[directions title="Directions"]
Gently separate strands of  cooked / leftover  rice  in a mixing bowl with your  fingers and add lemon juice , salt  and sugar in it and mix it nicely .
Heat oil in a pan and add asasfoetida and mustard seeds in it when the seeds starts crackling  add urad dal , chana dal to it and roast it until it it turns light brown.  Now add dry coconut pieces & ginger pieces to it, when coconut starts turning light brown add green or red chili pieces roast it for 2 -3 seconds . your tempering is ready for lemon rice
Add this tempering in rice and mix it nicely. Your lemon rice is ready to serve
[/directions]
Tips for making lemon rice
Cook rice at least 6- 7 hours before or use leftover rice to cook lemon rice.
If your using leftover rice  use it if its  cooked 7- 8 hours before, not more than that and after making lemon rice from it serve it immediately.  As we are not reheating the rice . the reason behind this is rice gets spoiled after that . if you want to use leftover rice after more than 7- 8 hours refrigerate it  and make  Chinese fried rice or Fried rice with onion garlic flavor
If your cooking rice for lemon rice purpose add 1 teaspoon oil and salt while cooking rice.
Add lemon juice when the rice is normal at room temperature don't add lemon juice in hot rice it makes the rice slightly bitter in taste