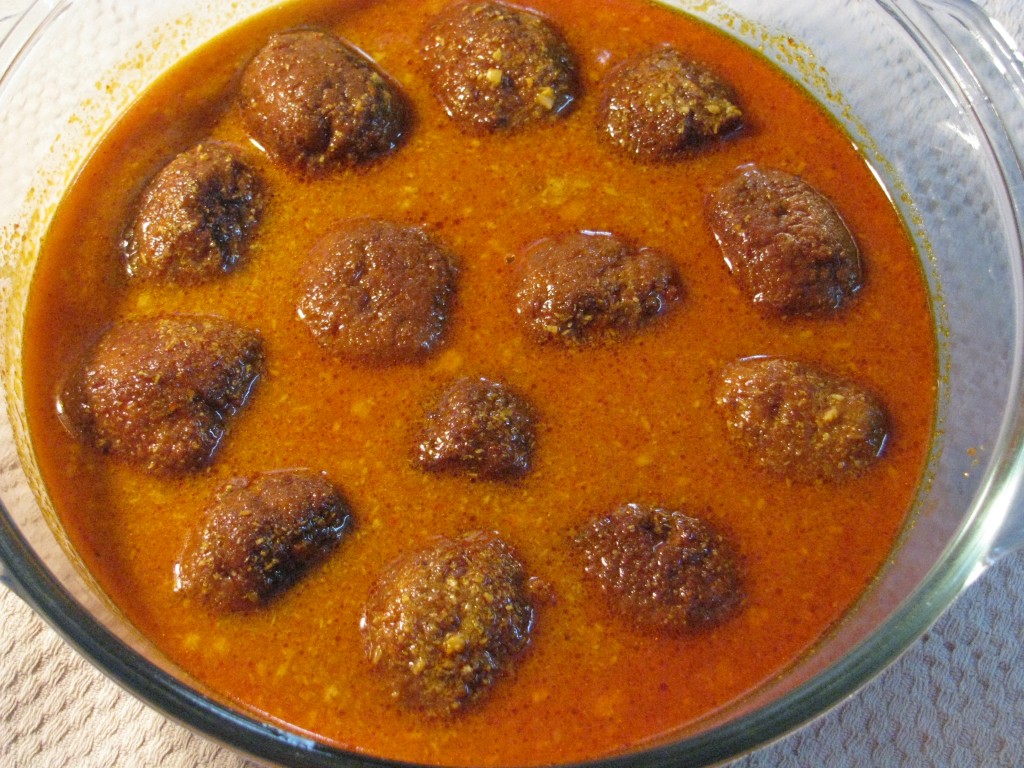 Koftas in lauki kofta curry / doodhi kofta curry most of the time turns hard and sometimes they are raw from inside . So to make veg koftas soft you have to follow some frying tricks and use right ingredients to make this recipe perfect .
[box] Also check – How to make soft vadas for dahi vadas [/box]
Tips for making soft vegetable (lauki (doodhi)/ cabbage) koftas –
Add grated potatoes or grated paneer  to make koftas soft . Adding finely chooped onion in kofta also makes it soft (well it's optional if you don't want to add onions to  it)
Fry koftas first on high flame and then on low flame until it turns brown and all the frothy part in oil disappears and koftas becomes crispy .don't fry it on high flame if you're in hurry, it will remain raw from inside and brown from outside, rather than that decrease the size of koftas so it will take less time to get cooked.
If you will remove koftas before it gets cooked, it will remain hard from inside when you will add it in  curry.
Don't throw vegetable juice while making kofta . I saw many people throwing lauki/ doodhi  juice while making lauki ka kofta actually it's like completely removing the nutrition from that vegetable. Potatoes and besan (chickpea flour) which we add while making kofta will soak all water coming out of the vegetable you're using in it.
I mostly make doohi/lauki koftas , raw banana potatoes koftas, cabbage koftas , mix vegetable koftas for my kofta curry .
Once you make koftas you can add it in any curry of your choice. You can add koftas in
Tomato onion curry
Dry fruits curry
Coconut curry
Coconut onion curry
This time I have used my coconut onion curry recipe for lauki /doodhi  (bottle gourd) kofta curry.This recipe I have also used in my tofu recipe of spicy tofu coconut curry . You can eat lauki kofta curry with rice /roti /chapatti.
[ingredients title="Ingredients"]
For lauki/doodhi kofta
2 cups grated lauki / doodhi /bottle gourd
½ cup grated boiled potato
¾ cup besan  (chickpea flour)
½ cup grated paneer (optional)
1tablespoon finely chopped onion
1 teaspoon red chili powder
½ teaspoon turmeric powder
1 teaspoon coriander powder
1 teaspoon salt
Oil for frying koftas
 For curry
2 medium size onions finely chopped
¾ cup grated dry coconut
½ inch ginger
7-8 garlic cloves
½ teaspoon oil for roasting onion and coconut
3 teaspoon oil for curry
2 teaspoon red chili powder
1 teaspoon turmeric powder
2 teaspoon coriander powder
1 teaspoon garam masala
[/ingredients]
[directions title="Directions"]
[/directions]
tip-
If u want to make kofta curry recipe healthy dont fry the koftas in place of that roast it and  add it  into the curry of your choice.