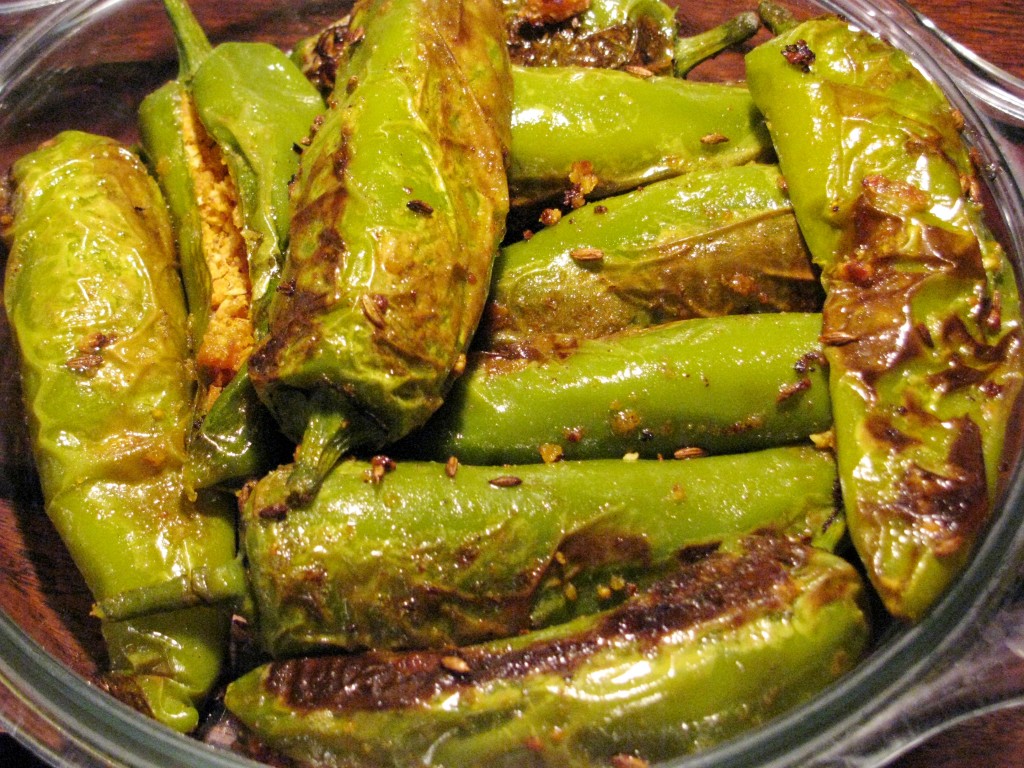 Stuffed green chili is a tasty recipe which is made in variety of ways in different parts of india. in hindi this stuffed chili recipe is called as bharwa mirch , in Marathi it is called as bharli marchi or bhareleli mirchi & in gujarati it is called as bharela marcha. This recipe varies as you travel in different parts of india . In Maharashtra and Gujarat bhavnagri mirch (chili) is used to make this stuffed chili recipe . Generally besan (gram flour) , grated coconut , and crushed peanut is mixed with different spices and tang of lemon juice , amchur or  imli is added to it .This stuffed pepper is a tasty veg recipe  . The sourness of lemon, imli (tamarind) or amchur  (dry mango powder) reduce the bitterness of chili and makes it more tasty. I have variety of bharli mirchi / bharela marcha made by my mom and grandmother. My grandmother was more interested in "bharela marcha na bhajiya" i.e pakoda or bhaji made from stuffed chili. Well this recipe soaks lots of oil but was very tasty. Finally mom started making this fusion of gujarati and Marathi style stuffed chilli with the same basic ingredients and this recipes taste is almost same as stuffed mirch pakoda . I love this particular stuffed chili recipe . this stuffed mirch recipe is nice treat for your taste buds, you can eat it with plain dal chawal (waran- bhat /daal bhaat ) or kadhi chawal or kadhi khichadi or as a side dish with dal chawal sabj roti meal .
[box] Also check :- Kanda bhaji or Dungri na bhajiya [/box]
It's not at all spicy as I have used thick bhavnagri Mirchi to make this recipe .this chilies are thick with juicy skin, they r not much spicy and if you don't like spicy food just remove the seeds from it . to make this recipe pick fresh bhavnagri or thick chili . it should be unripe and look for crisp unwrinkled chili to make this recipe. When my mom made this recipe, she use to add lot of oil in her iron kadhai to make this stuffed mirch . it was very tasty but very oily .when I bought my microwave oven I was trying to make stuffed vegetable recipe  and bhari mirchi / bharela marcha turned out really well .i have shared both microwave cooked version and frying pan version of his recipe . if your not using microwave oven you can cook this recipe in non stick pan with very less oil .
The advantage of using microwave oven to cook this recipe is –
Very less oil required to cook this recipe.
There is no need of continuous stirring of this recipe
[ingredients title="Ingredients required to make Vegetarian Stuffed peppers | Bharli mirchi | Bharela marcha"]
250 grams big long bhavnagri mirchi / long big green chili pepper
1 teaspoon salt to rub inside green chilies
2 teaspoon oil for roasting bharli mirchi if you're cooking in microwave / 2 tablespoon oil if you're cooking in pan
1 teaspoon jeera (cumin seeds)
¼ teaspoon hing (Asafoetida)
For filling
½ cup roasted peanuts (shenagdane / moongphalli)
2 tablespoon besan
¼ cup grated dry coconut
½ big size lemon juice/1 teaspoon amchur (dry mango powder)/ t tablespoon grated raw mango
1 teaspoon fennel seeds powder (badishop powder)
1 teaspoon coriander powder
1 teaspoon red chili powder (if the chilies r not at all spicy)
1 medium size onion finely chopped
1 teaspoon salt for stuffing
[/ingredients] [directions title="Directions to make stuffed chili "]
Slit the chilies as shown in the picture. Don't cut right through them, scoop out the seeds and discard them. Sprinkle little salt inside each chilly and keep it aside for half an hour.
Grind peanuts and grated coconut.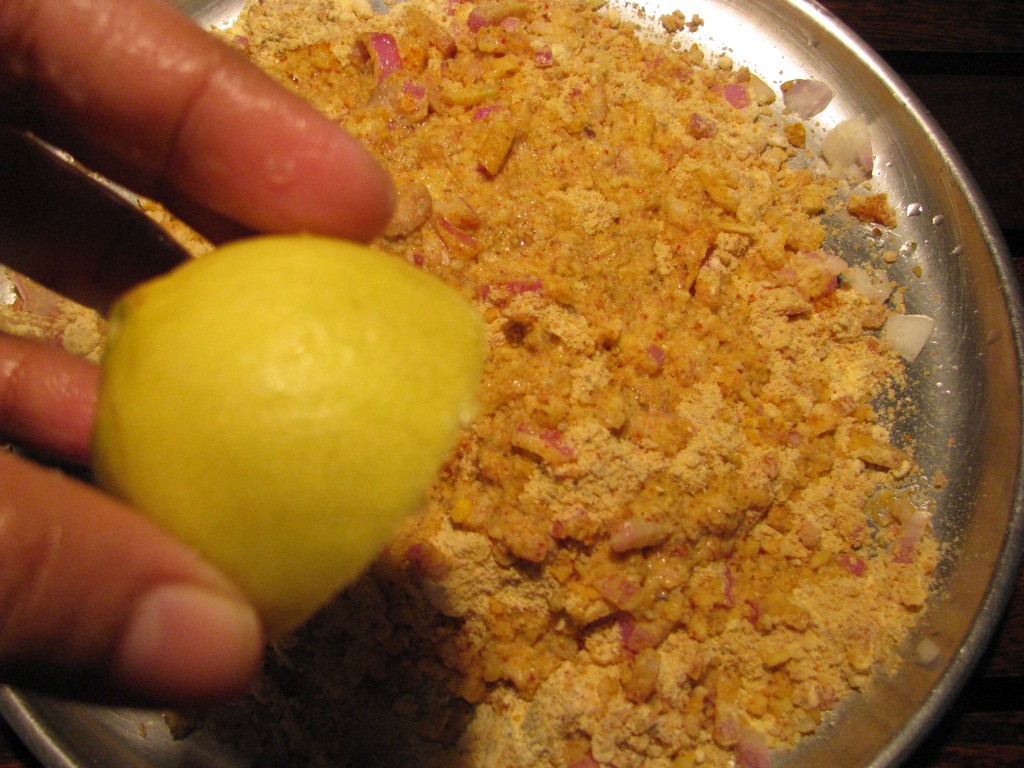 3. Stuff the filling in each chili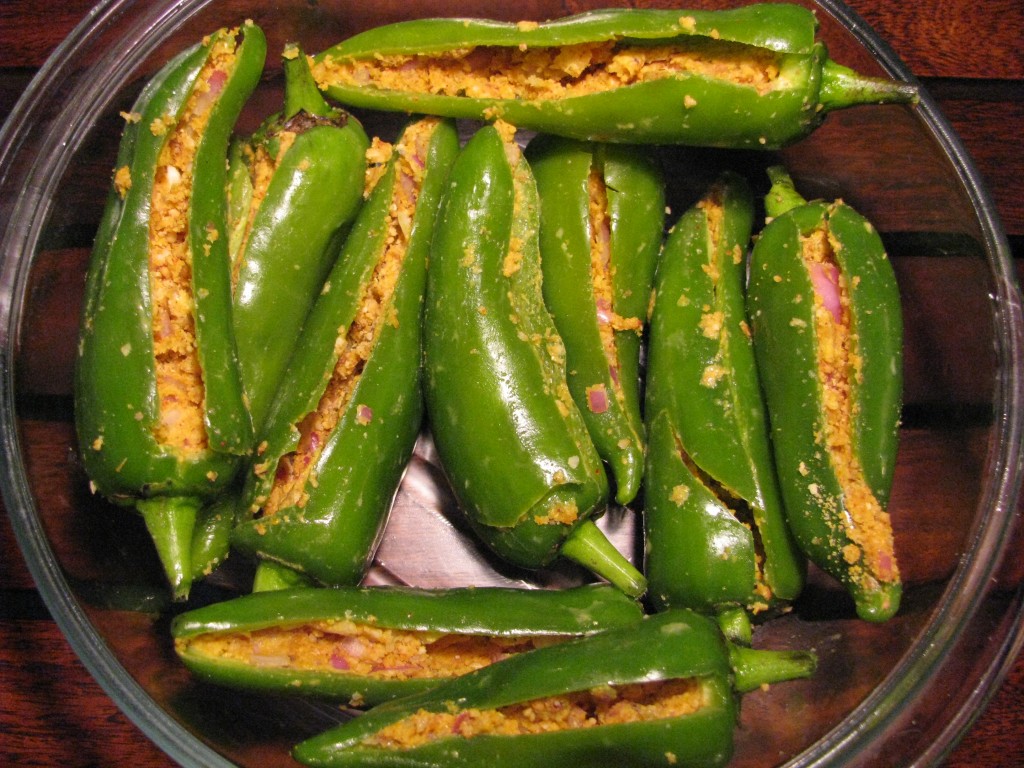 If you're using microwave
  Take all stuffed chilies in  microwave safe bowl, close the lid and microwave it for 6 minutes.

stuffed marcha/mirchi/chilies/mirch in microwave safe bowl with its lid closed
If you're not using microwave
Heat the oil in the pan (preferably non stick pan if you want to use less oil) and add cumin seeds and Asafoetida to it then put all the stuffed chilies in it roast it on high flame and then cover it and cook it on low flame for 5 -6 minutes again turn all chilies and close the lid for 5 -6 minutes and let it cook on low flame. Cook it until the chilies are cooked.
Serve this tasty bharli mirchi/ bharela marcha with plain dal chawal (waran bhath), kadhi khichadi,or your any meal as a side dish
Also check how to make Gujrati kadhi recipe  this goes really well this bharela marcha/bharli mirchi .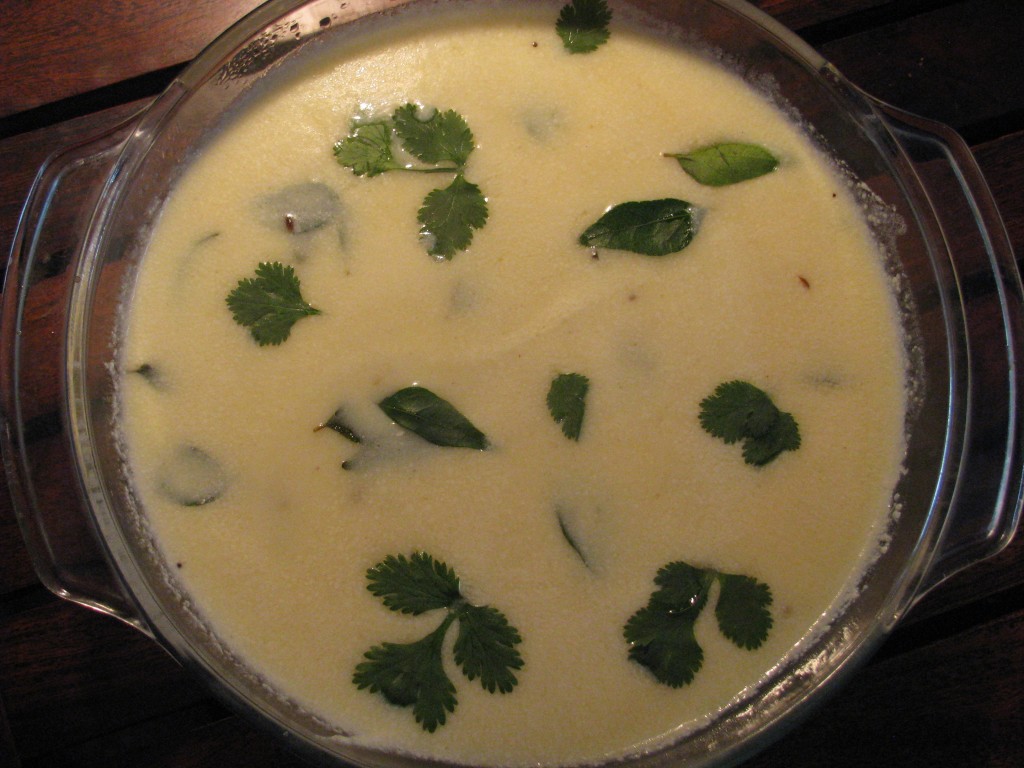 [/directions]