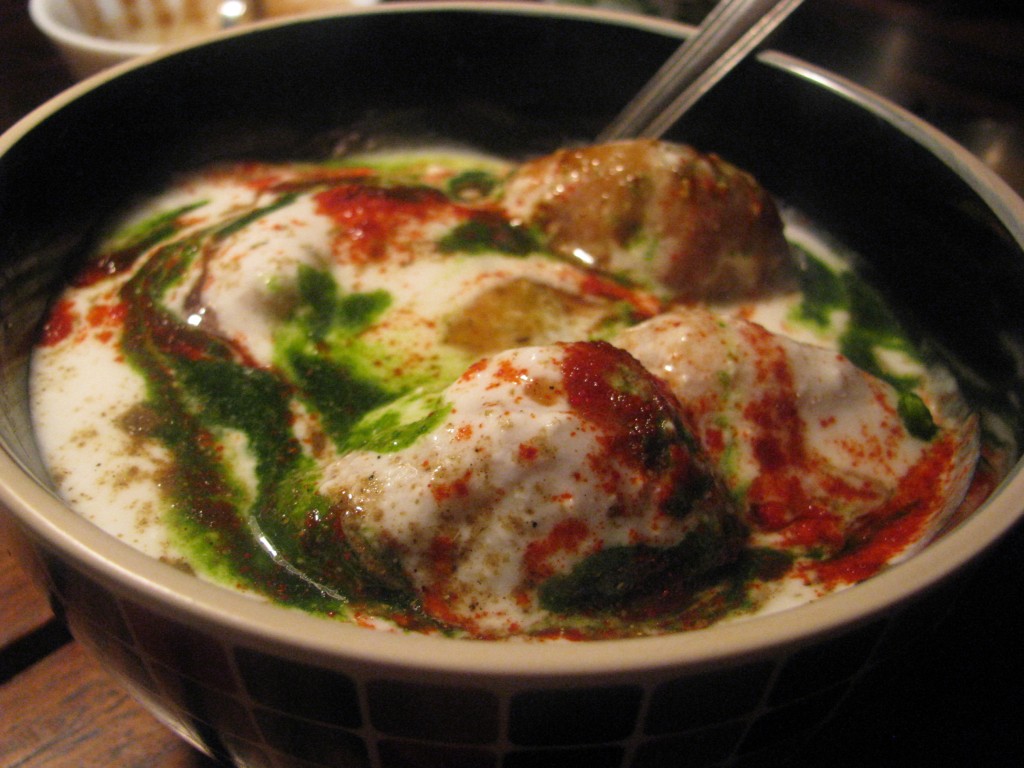 Dahi Vada Recipe –
Dahi Vada is my favourite chaat recipe. In Delhi and in all North India, I always saw Dahi Vada in kitty parties, marriage parties and even when you go for lunch or dinner. There are many famous eating corners in Delhi who serves this mouthwatering dahi bada chaat ,In my apartment in Delhi each aunty have their secret Dahi Vada recipe, actually the only secret is how you make your Dahi Vada soft? Many people add soda, in their Vada batter to make Vada soft. Well my mom use to make her Dahi wada with only urad dal but she also added soda to make soft Dahi bade .She told me that when your frying the Vada don't fry it all the time on high flames, this will make Vada cooked from outside but it will remain raw (kaccha) from inside and the core of Dahi Vada will remain hard even after soaking it in water. Well I don't add soda in my Dahi Vada recipe and still it becomes very soft from inside. Well I learnt it from a very nice humble lady Mrs. Aggarwal .She shared many authentic north Indian recipes with me.I make Dahi wada little sweet as compare to aunty (to make it special for my Guajarati taste buds!), you can adjust the sugar according to your taste. Well at the end of this recipe I have also share my notes of cutting extra calories from Dahi vada, for those who are health conscious but want to eat something interesting.
[box]Also check:- How to set perfect curd/ yoghurt during winters in 3-4 hours  [/box]
 7 easy tips to make Dahi Vada soft and Spongy
Many of  my freinds avoid to make this recipe because what if the recipe go wrong ??? They depend on their mother in law or Swigy for their Dahi Vada. So How Can I Make Dahi Vada Soft And Spongy?? You need to follow few tips to make Dahi Vada soft and Spongy –
Soak dal in clean water for at least for 5-6 hours .
After grinding urad dal for Dahi bada keep it aside for 4-5 hours before frying. This will make wada very soft. As the batter will ferment and air will trap in the batter.
Whip the batter nicely before making Vada.
Drop your Vada in hot oil but when it takes it shape, fry it on medium – low flame. This will make your Vada cooked nicely and it will not be raw from inside and cooked from outside.
Immediately add fried Vadas in hot water with  little salt in it.  This will make your Dahi Vada very soft and because of salt it will not become bland from inside.
Let the Vada soaked in water until the second batch of fried Vada is ready. Remove it in separate container and squeeze the water out of it at the time of serving only.
So this is all about Vada for making Dahi Vada soft.
For making Dahi Vada Recipe there are 7 main preperations –
Soaking Urad Dal- Soak Urad dal for atleast 5-6 hours
Vada preparation
Water/ sour butter milk (taak / chach) for soaking Dahi bade
Curd / yoghurt /Dahi for Dahi Vada
Green coriander chutney for Dahi Vada
Tamarind chutney for Dahi Vada
Masala for making Dahi Vada more chatpata (tangy).
[box]Also check – Non fried Dry Baby Corn Manchurian Recipe[/box]
I have explained step by step recipe for making Dahi Vada .Well you can garnish your Dahi Vada the way you want  .To serve dahi vada is very interesting part of this recipe.
[ingredients title="Ingredients to prepare Dahi Vada / Bada"]
Ingredients for making Vada 
1 cup urad dal
½ cup moon gdal
2 green chillies
1 inch ginger,  cut it into small pieces
1 teaspoon salt
Refined oil for  frying Vada
Ingredients for making curd for Dahi Vada
4 cup fresh curd
4 teaspoon sugar / 1 teaspoon sugar free natura
1 teaspoon salt
Ingredients for making green coriander chutney for Dahi Vada
½ cup green coriander
1 green chilly
Salt to taste
Ingredients for making tamarind (imli / chinch) chutney  /saunth ki chutney for Dahi vada
1 lemon size ball of seedless tamarind (chinch / imli)
5-6 seeds less dates
1 teaspoon chat masala
1/2 teaspoon dry ginger powder (saunth or soonth powder)
Salt for taste
2 tablespoon grated jaggery or add it according to your taste
Ingredients for making Water/ sour butter milk (taak / chach) for soaking Dahi bade
3 cup sour butter milk + 1 teaspoon salt
Or
3 cups of water + 1 tablespoon lemon juice and 1 teaspoon salt
Ingredients for making masala for sprinkling on Dahi Vada
Chat masala
Kashmiri Red chili powder
[/ingredients]
[directions title="Step by Step Directionst to make Dahi vada/ bada/ bara "]
Nicely wash urad and moong dal and soak it in clean water for 5-6 hours.
Take this soaked dal in a grinder and add green chili ,ginger  & salt to it .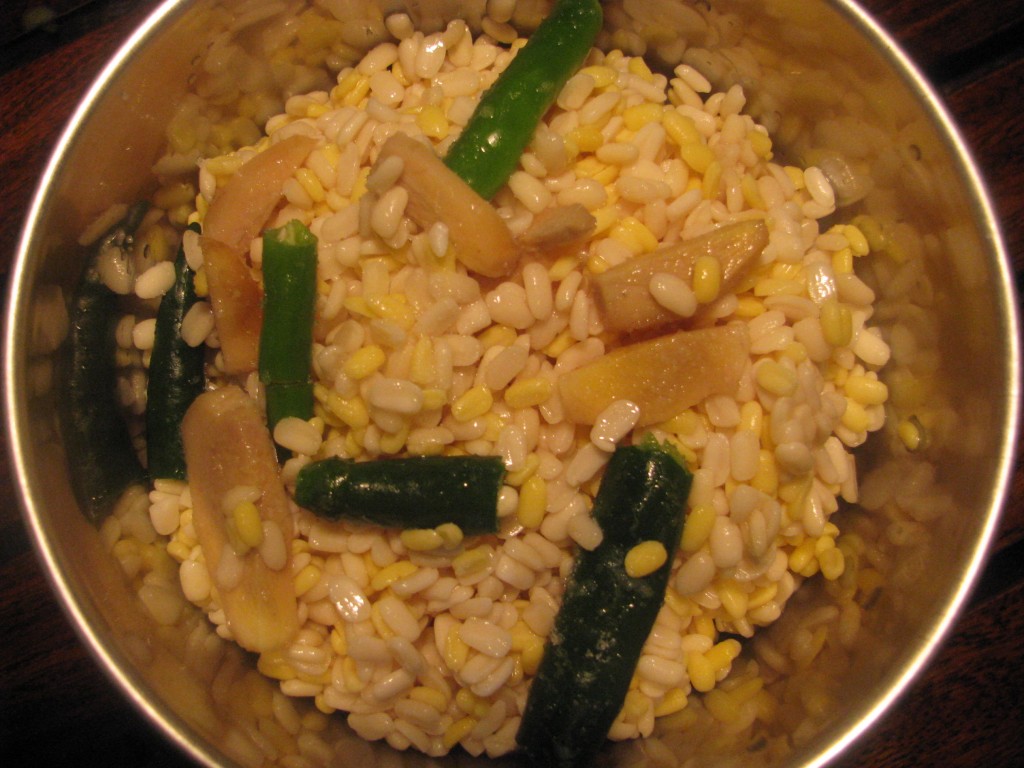 Grind it by adding little water (use the water which is remained in dal after soaking)
Keep this dal batter aside for 4- 5 hours
Take a fresh curd and whip it briskly. add sugar and salt to it ,mix it and keep it aside
For green chutney wash coriander and chilly and grind it with little water and salt .
For tamarind chutney (saunth ki chutney) wash tamarind and dates nicely and soak them in hot water for ½ hour . grind them together in a grinder and strain the pulp out of it . add jaggery and salt to this pulp and add  ¾  cup of water to it . Boil it until it becomes little sticky. Don't make this chutney very thick. Remove it from heat and add chat masala to it.
Take 3 cups of water or 3 cups of sour butter milk with 1 teaspoon salt and boil it . if your using water add lemon juice in the water . when it starts boiling close the lid and keep it aside
Heat the oil in frying pan or kadhai. Whip Vada batter briskly with spoon and drop Vada in oil with the help of spoon . 
Fry the Vada on high flame ,when it takes it shape turn them and  keep the flame medium when the Vada starts becoming pale golden yellow in colour from both side make the flame low and fry this Vadas till they become nice golden and crispy .
Remove this Vadas from oil and drop them in hot buttermilk or water containing which you have prepared. Soak them in water until the next batch of fried Vadas is ready.
Remove the Vada from water when your next batch of fried Vada is ready for soaking. Don't squeeze the Vada now. Squeeze he Vada at the time of serving Dahi Vadas .this will keep your Vadas soft otherwise it will become dry.
Well now comes  the most interesting part -to serve the Dahi Vada .
Take 2 tablespoon curd in serving bowl.
Drop little tamarind chutney (saunth chutney) and green chutney to it.
Squeeze the Vadas one by one by pressing it between your palm and remove the extra water from it .
Keep this squeezed Vadas in the serving bowl .
Pour curd on Vadas.  
Drop little green chutney and tamarind chutney  (saunth chutney)on it .
[/directions]
Nutrition Facts
Home Made – Dahi Vada – Daal Vada and Curd With Spices and Chutneys
| | | | |
| --- | --- | --- | --- |
| Calories | 131 | Sodium | 82 mg |
| Total Fat | 0 g | Potassium | — mg |
| Saturated | 0 g | Total Carbs | 22 g |
| Polyunsaturated | 0 g | Dietary Fiber | 12 g |
| Monounsaturated | 0 g | Sugars | 2 g |
| Trans | 0 g | Protein | 11 g |
| Cholesterol | 0 mg | | |
| Vitamin A | 2% | Calcium | 2% |
| Vitamin C | 4% | Iron | 19% |
*Percent Daily Values are based on a 2000 calorie diet. Your daily values may be higher or lower depending on your calorie needs.
source-Myfitnesspal
Is Dahi Vada Healthy?
Now question is Dahi vada healthy?? Yes if you are not overeating, 1-2 medium size dahi vada and at the same time eat other stuff less when you are eating it. Urad dal and moong dal are rich in proteins but dont overeat any dal .We Soak vada in hot water and remove all excess oil from it, this makes dahi vada soft but at the the same time it decreases the calories from it.
Notes for cutting calories from Dahi Vada and making it little more healthy
Use fresh curd to make your Dahi wadas .
 I cut calories from my Dahi Vada in many ways. As you're soaking the Vadas in hot water or butter milk lots of oil will be removed from this chat recipe.
Add Jagerry in place of sugar in curd preperation to make it more healthy .
To make dahi vada more nutritious make it with moong chilka and urad chilka dal , there is a slight difference in taste but it contains more fibers .
To cut more calories use low fat yoghurt / curd / Dahi to make your Dahi Vadas.
I m going to try Dahi Vada in appam patra / Paniyarakkal , to make it roasted and non fried Dahi Vada recipe.
 If you want to make Dahi Vadas in winter and want to make homemade curd quickly read-
How to make Curd or dahi in winters
[box] Also check –How To make lauki ke kofte Soft in Lauki kofta curry[/box]