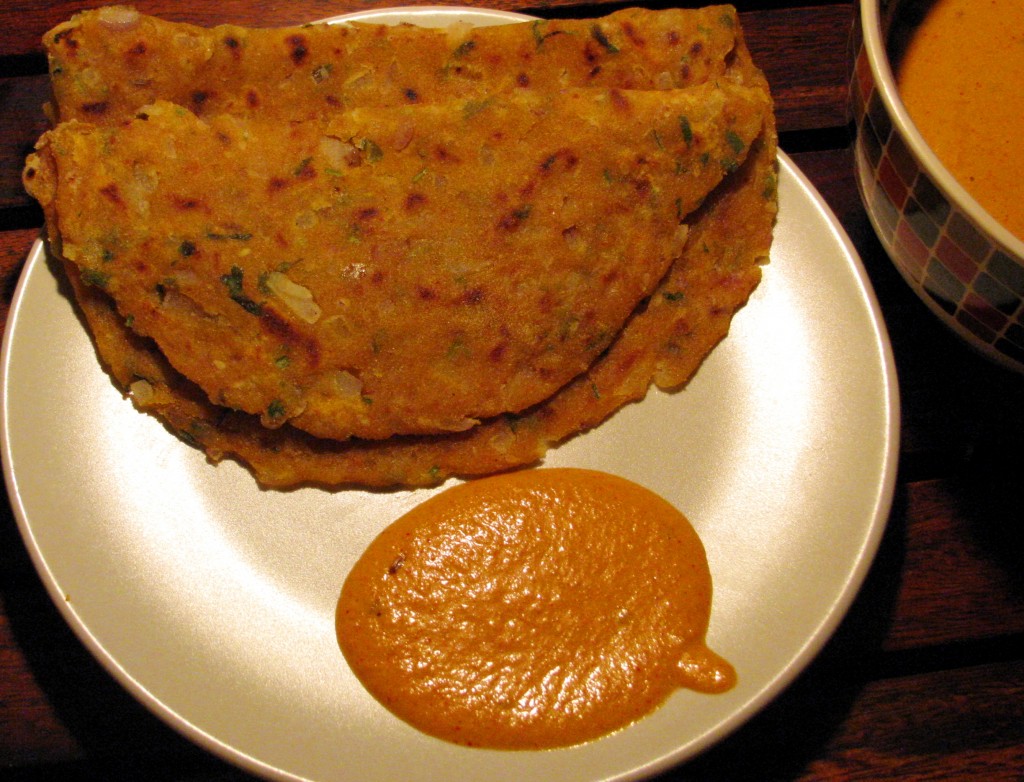 Onion paratha (thepla / dashmi ) with curd, coconut chutney or khathi mithi peanut chutney is a quick breakfast recipe at my home.In Maharashtra this type of Paratha is also called as tikhat Dashmi ( Dashmya) , it is generally served with spicy peanut chutney ( danyachi chutney) .In Gujarat it is called as Thepla. Dashmi is little more spicy as compare to Thepla or Paratha. Both Dashmi and Thepla are made without stuffing . All the ingredients are mixed and dough is made in both of these recipes .
I always made stuffed onion paratha but when my younger kid was born, I had kept a domestic help and it was difficult for her to make stuffed paratha. She use to break stuffed paratha  and the filling was not properly spread in paratha, then I give her the mixed flour with all ingredients of onion parantha ,she rolled normal paratha /Thepla with it. This paratha turned out really well and each part of paratha / thepla/ dashmi has the taste of onion and all the spices. It's not difficult to make stuffed paratha but lots of practice is needed for it. Some people make stuffed paratha by making two small discs and then keep filling in one disc and then roll the roll  the paratha , in such type of parantha the sides of the paratha becomes hard  .
[box] Also check – Different types of Paratha | Thepla | Dashmi recipes for healthy breakfast [/box]
The main advantage of making paratha (thepla / dashmi ) dough  with stuffing ingredients is each and every piece of paratha has the taste of all spices and vegetable. This paratha remains soft even its not hot, you can pack it while travelling with a pack of curd, pickle ,jam or any dry chutney .
Onion has lots of health benefits and u can easily eat it in this paratha . You can also add some extra ingredients to make this parantha more nutritious and tasty .
Variation in onion Paratha
Add grated panner in onion Paratha dough.
You can also add grated boiled potato ( aloo) in Onion Paratha dough. This Paratha remains soft for long time.
Add grated cheese in onion Paratha and make tasty cheese Paratha.
You can also add barik sev (shev) in onion Paratha dough, this combination of onion and sev Paratha tastes yummy.
Add 1 tablespoon besan in 1cup wheat flour to make onion Paratha dough, this Paratha tastes good.
This all onion Paratha (Thepla / Dashmi) variations are easy to roll as compare to stuffed Paratha. Just mix all the ingredients, make soft dough and roll it into medium thick discs or Paratha . Roast it and your tasty healthy breakfast is ready.
Well I have explained step by step recipe of onion paratha /thepla  and at the end of the recipe some tips to make this onion paratha healthy and nutritious .Share your queries or how you make your onion paratha in comment box.
[ingredients title="Ingredients to make onion paratha | pyaz ka paratha"]
2 cup whole wheat flour (gheu ka atta)
¾ cup finely chopped onion
¼ cup finely chopped coriander
2 teaspoon sesame seed (til)
1 teaspoon carom seeds (ajwain , owa )
2 teaspoon red chilly powder
1 teaspoon turmeric powder.
1 teaspoon cumin seeds
Salt to taste
Oil to roast onion  paratha or thepla
[/ingredients]
[directions title="Step by Step Directions to make onion paratha | Pyaz ka paratha"]
[/directions]
Tips for making onion Paratha / Thepla / Dashmi Healthy and Nutritious
Make onion paratha dough in curd in place of water.
Add flax seeds (alsi), sesame seeds (til) to make this paratha more nutritious.
You can use multigrain flour to make this paratha to make it healthier.
If you want to reduce calories from onion paratha / thepla roast it without oil .
Tip to make easy onion paratha
If you want to make onion paratha without cutting the onion, use 2 tablespoon onion powder in place of finely chopped onion.