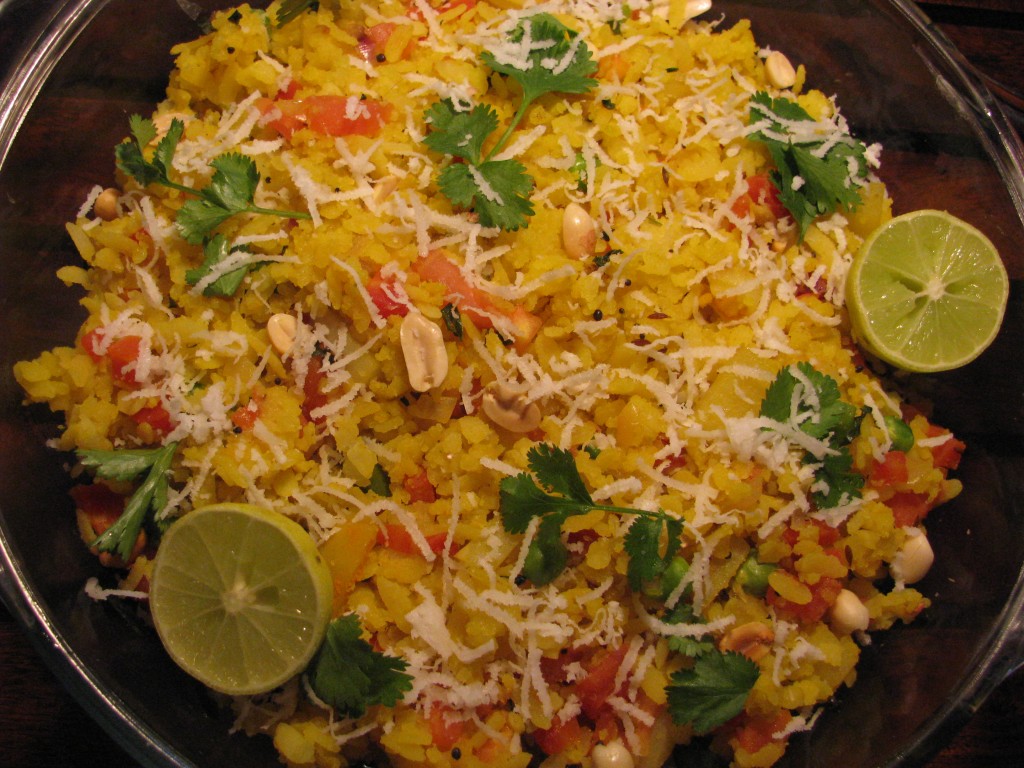 Poha is easy to make recipe for breakfast. If you add vegetables to it it's a easy to make 1 pot meal. When I am in hurry and want to make some quick recipe for lunch or dinner I make mix vegetable poha . It's healthy and easy to make recipe. Poha with mix vegetables also makes a healthy breakfast in the morning. I cook vegetables in microwave oven and then make this poha . It's very quick and easy. You can add vegetables like carrot, green peas, capsicum, beans, cabbage, cauliflower florets, potato or any vegetable which is available in your pantry to make vegetable poha.
[box] Also check:- Dosas and Cheelas for healthy breakfast [/box]
If you want to make poha for 1 person take very little vegetables to make 1 cup vegetable after chopping it . when you r making mix veg poha you have to reduce the quantity of poha which you take usually for 1 person ,as veggies mixed in poha makes it almost double in quantity .
When I was in Bangalore I use to make mix vegetable poha  , or any poha recipe with brown poha but here in delhi I get only white poha . Brown poha are very nutritious and if you're on dieting or diabetic this poha are very healthy for you. Well you can try out the same mix veg poha recipe with brown poha .
I like my poha very soft so I soak it for 2-3 minutes in water and drain in a colander. I use thick poha to make my poha perfect, thin poha becomes very soggy. if you want to make poha from thin poha don't soak it in water , just take it in colander and sprinkle little water on it and mix it .
I have explained step by step method to make mix vegetable poha , if you have any queries or suggestions do share with me in my comment box.when I made this mix veg poha only carrot green peas and potatoes are available at my home. you can add any vegetables of your  choice
[ingredients title="Ingredients"]
2 cups poha /pauva / avalakki
2 cups mix vegetables (I used carrot, potatoes, and green peas)
½ cup tomato finely chopped
1 medium size onion finely chopped
10-15 roasted peanuts
½ lemon juice
1 pinch of Asafoetida (hing)
1 teaspoon mustard seeds (rai )
1 teaspoon cumin seeds (jeera)
1 ½ teaspoon turmeric powder
2 teaspoon coriander powder
10 -15 curry leaves
2- 3 green chiles finely chopped / keep big long pieces of green chilies if you're making poha for kids
1 tablespoon oil
Salt to taste
For garnishing
Coriander leaves
Grated fresh coconut (optional)
[/ingredients]
[directions title="Directions"]
[/directions]