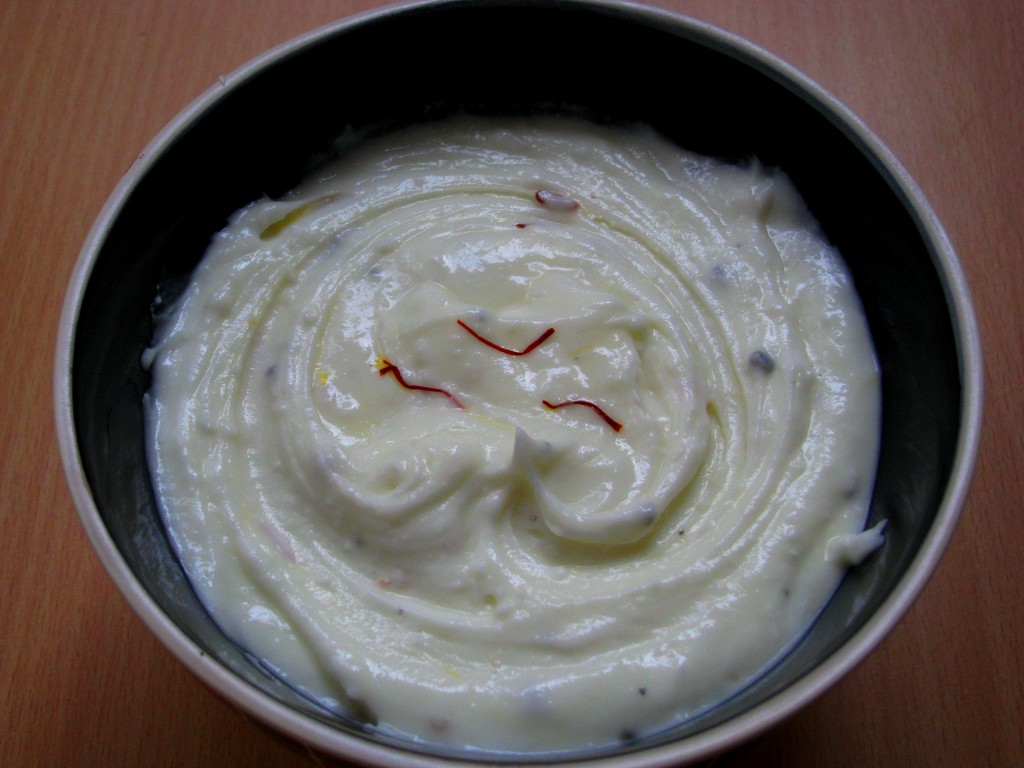 Shrikhand is easy to make sweet dish from Gujarat and Maharashtra. Shrikhand is made in many Gujarati and Marathi festivals like Makarsankrant , Gudipadwa , Akshay Tritiya , Janmashtami etc . Shrikhand is made in lots of flavor like
[box]Also check:  How to Set Curd In Winter[/box]
Amrakhand
Elaichi flavor Shrikhand
Kesar pista Shrikhand
Strawberry Shrikhand etc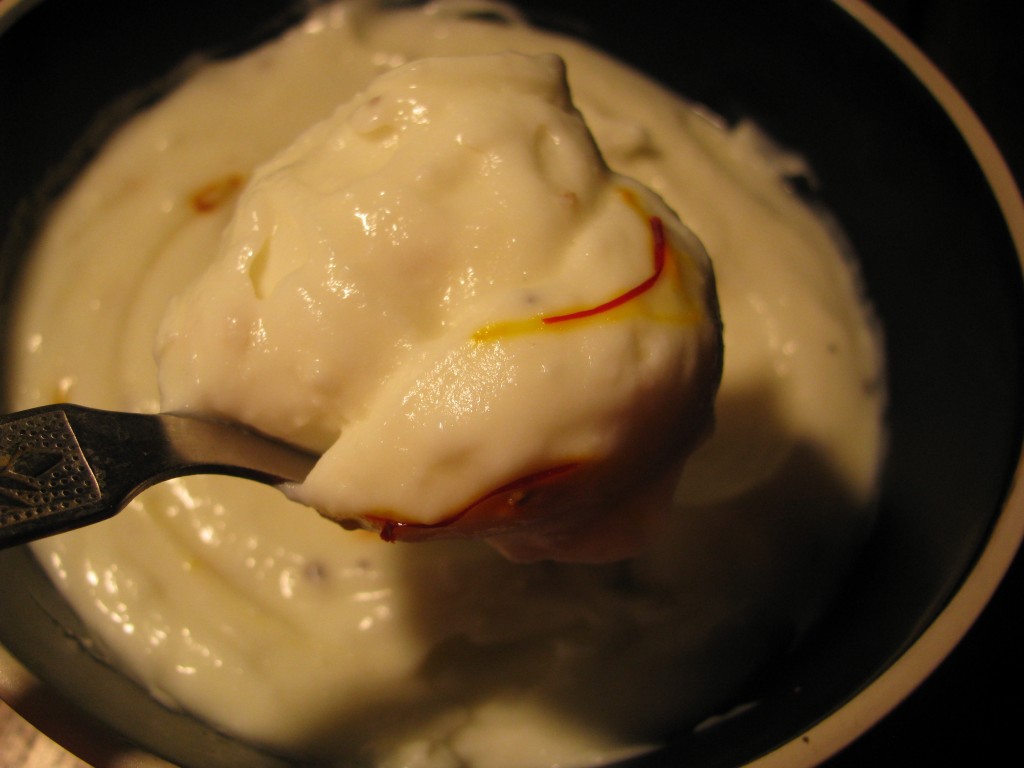 Whenever I make Elaichi Shrikhand I add both kesar elaichi in my Shrikhand recipe. Amrakhand I usually make during summers .I make Amrakhand on Akshay Tritiya and Kesar Elaichi Shrikhand on Gudipadwa .
In pune very nice quality of hung curd (Chakka) is available at chitale bhandhu . but whenever I have time I make Chakka at home . you can also use non flavored  greek curd to make Shrikhand as it is also a hung curd. If your diabetic use sugar free and Low fat Chakka to make Shrikhand .
You can make both Malai Chakka and Low fat Chakka at home
To make Malai Chakka
Use full fat milk/ whole milk to make curd and then hung that curd to make Malai Chakka .my kids love Shrikhand from Malai Chakka.
If your diet conscious use Low fat milk to set curd and then hung that curd to make Low fat Chakka for Shrikhand .
I have explained step by step of  how to make Shrikhand at home . if your making Shrikhand in winters check How to set curd during winters . Do share your suggestions and queries about this recipe . do check tips to make shrikhand at the end of this recipe .
[ingredients title="Ingredients to make Shrikhand "]
Curd / yoghurt made from 1 liter
1 ½ cup powdered sugar or 1 ½ tablespoon sugarfree natura (you can change this quantity as required)
10-15 saffron strands (keshar / kesar)
1 teaspoon freshly ground cardamom powder (elaichi / welchi powder)
[directions title="Step By Step Directions to make Shrikhand "]
Take a clean muslin or cheese cloth and take curd or yoghurt in it. Tie a knot to this muslin cloth and hang it so that water falls away from the curd / yoghurt.

curd in muslin cloth

Leave it for 4-5 hours (not more than that, more time will make Shrikhand very sour and you have to add lots of sugar toit). The remaining dry curd / yoghurt in a muslin cloth after 4 – 5 hours is nice homemade Malai Chakka or Low fat Chakka(according to the type of curd you have used)

hung curd

In a bowl take Chakka , powdered sugar, saffron strands and elaichi powder and mix it nicely .

hung curd / chakka

chakka with powdered sugar + crushed elaichi + kesar (saffron)

Refrigerate it for 3-4 hours before serving .
[/directions]
Tips for making Shrikhand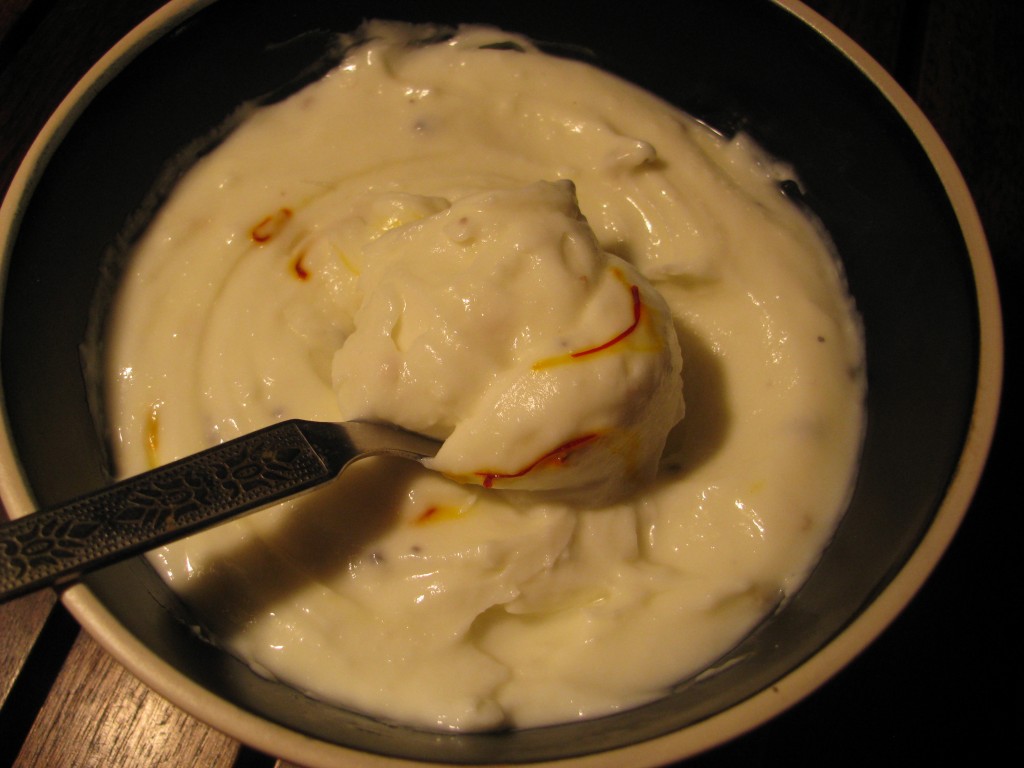 If you want to make Shrikhand of more than 1 liter milk  , hang 1 liter curd in one muslin cloth i.e in one muslin cloth hang only 1 liter of curd or yoghurt use separate muslin cloth to make more hung curd .It is easy to get nice hung curd by this method, if you pour more curd in single cloth the inside curd of muslin cloth will remain watery .
Hang curd in little cold place ,this will make your Chakka less sour. If you make  Chakka more sour you have to add extra sugar to it and it will make Shrikhand very heavy in calories.
If you don't find cold place to hang curd ,you can hang it in refrigerator
You can use sugar to make Shrikhand but it takes lot of time and efforts to mix it. using hand blender makes shrikhand watery . if  you are using hand blender and the Shrikhand becomes watery just refrigerate it ,it will again become thick in consistency .