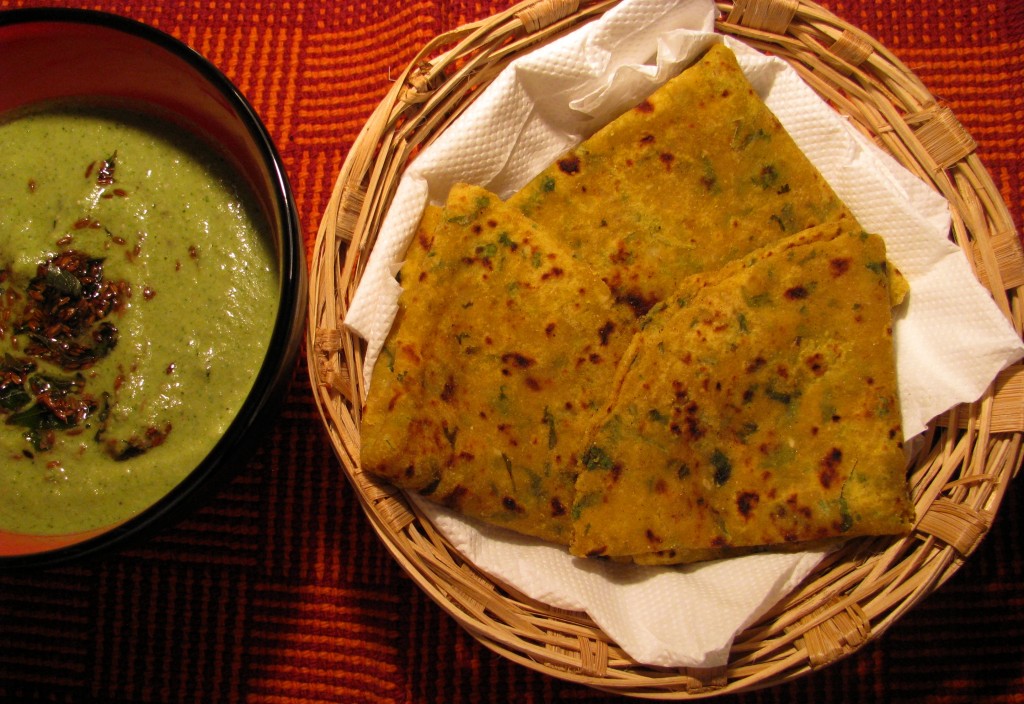 This recipe is easy to roll Aloo Parantha or Thepla without mess of stuffing.  To roll stuffed Paratha is difficult task and most of the time lot of filling comes out of it, especially for those who are new in kitchen.  This Aloo Paratha recipe which I have explained tastes same as stuffed Aloo Paratha and good part is the stuffing ingredients tastes in each and every piece of Aloo Paratha .
I have added all the stuffing ingredient of Aloo Paratha in whole wheat flour (gheu ka atta) and make soft dough of it .I have not used onion in this recipe but you can add finely chopped onion in Aloo patha dough. You can use lot of healthy options to make Aloo Paratha healthy, nutritious with low calories.
[box]Also check – Tasty Beetroot Paratha Recipe[/box]
Tips to make Aloo Paratha healthy for morning breakfast
Use curd in place of water to make Aloo Paratha dough. This Paratha tastes good
Add 1 tablespoon wheat bran in 1 cup wheat flour to make Aloo Paratha dough. By this you will increase more fibre content of all Paratha.
You can also add grated carrot (gajar), bottle gourd (lauki), beetroot or finely chopped methi (fenugreek leaves) to make it more nutritious and low calorie.
Roast Aloo Paratha with little or no oil to make it low in calories.
Eat healthy side dish like Raita ,Salads ,Kachumber ,mint / pudina chutney low fat curd etc with Aloo Paratha
[box]Also check—Side dish Recipes with Aloo Paratha [/box]
You can also make Aloo Paratha from leftover dry Aloo Sabji. Smash the dry Aloo Sabji nicely with hands or potato smasher. Mix 1 cup dry Aloo Sabji with 1 ½ cup of whole wheat flour add little salt and make a soft dough of it . This Paratha tastes same as the Aloo Paratha made from Aloo Sabji stuffing. Simply roll the Paratha into small disc and roast it with little or no oil.
I have explained step by step recipe to make Aloo Paratha from scratch. You can any ingredients which I have mentioned above in tips while making dough.  Share your queries, suggestion and let me know how the recipe worked for you in comment box.
[ingredients title="Ingredients required to make Aloo Paratha"]
2 cups whole wheat flour (gheu ka atta)
1 cup mashed boil potatoes (2 medium size potatoes)
1 teaspoon salt to taste
 1tablespoon  coriander powder (dhaniya powder)
 1teaspoon amchur powder (1 ½ teaspoon lemon juice)
1 teaspoon dhaniya powder (coriander seed powder)
1 teaspoon jeera powder (cumin seed  powder)
2 green chilies + 4-5 garlic cloves + pinch of salt and make coarse paste of it
1 teaspoon sesame seeds/ til (optional)
1 teaspoon carom seeds (ajwain)
½ teaspoon turmeric powder
1 tablespoon finely chopped coriander leaves (dhaniya patta/ kothimbir)
Oil/ghee for roasting paratha
[/ingredients]
[directions title="Step by Step Directions to make Aloo Paratha Without stuffing"]
Combine all the ingredients except oil / ghee and keep it aside for 5 – 10 minutes .
Make 6-7 balls of this dough and roll it into circle discs   .
[/directions]