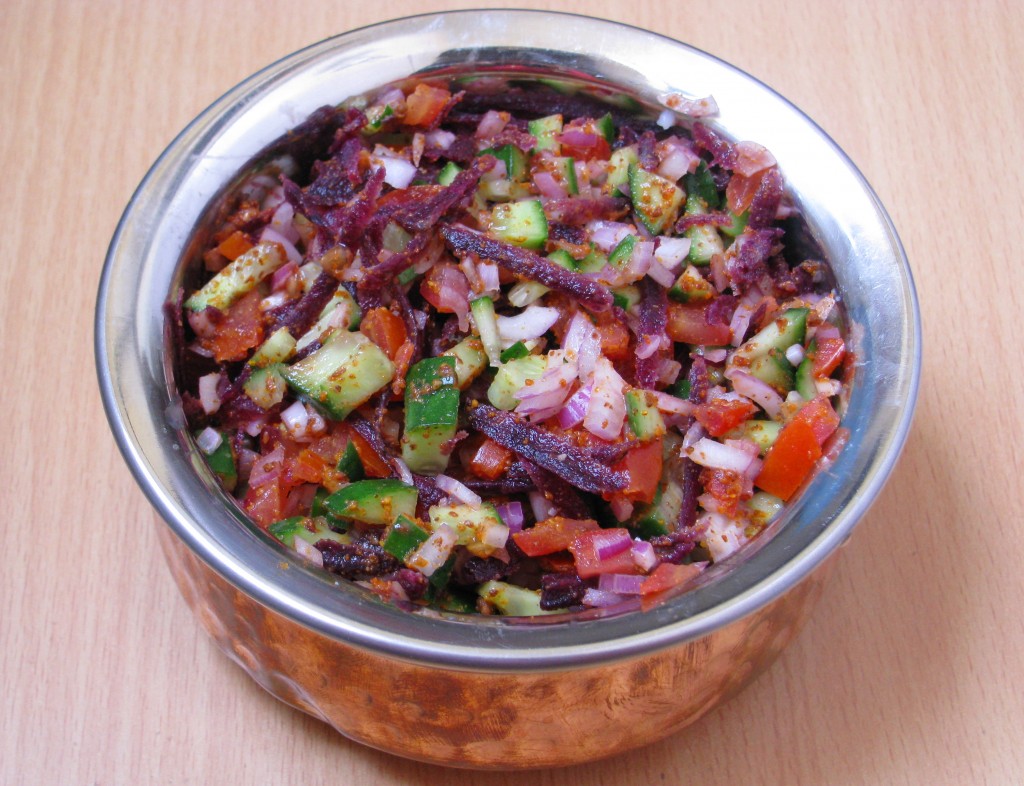 In my earlier post I have explained how to make flex seeds chutney. I use flex seed chutney in many salad and this is the easy mix vegetable salad which I have made little more tasty and nutritious by adding flax seed, sesame seed chutney to it. This salad is also called as vegetable kachumber which is served with any rice recipe like biryani ,pulav, or even as a side dish with meals.
[box] Also check –Flax seeds sesame seed chutney recipe [/box]
Flax seed chutney is the easy way to eat flax seeds.Flax seed chutney is little spicy with nice garlic flavor so there is no need to any extra spicy ingredients. I have used oil seeds i.e. flax seeds, sesame seeds and peanuts to make this chutney so after adding it on salad there is no need to extra oil for salad dressing.
[ingredients title="Ingredients to Make flax Seed salad"]
½ Chopped Cucumber
½ cup chopped tomatoes
¼ cup finely chopped onion (optional)
½ cup grated or chopped beetroot
½ cup grated or chopped carrot
1 tablespoon lemon juice
1teaspoon salt
3-4 teaspoon flaxseed chutney
[/ingredients]
[directions title="Directions"]
Mix all the ingredients and serve this healthy salad with meal
[/directions]