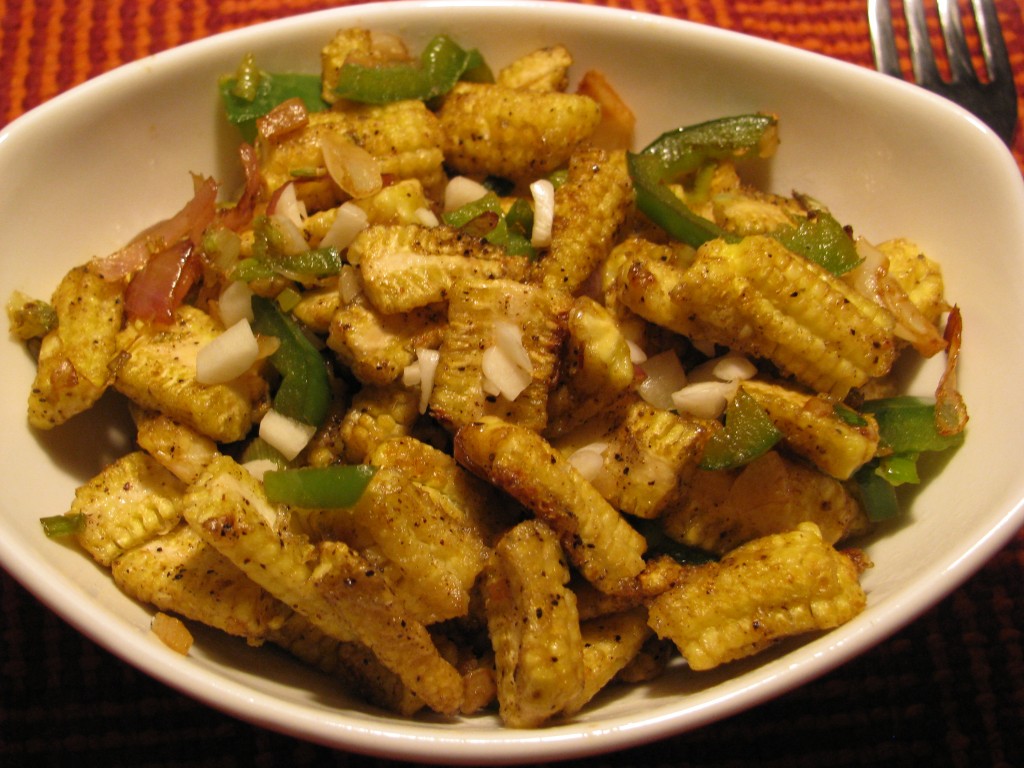 This recipe is for those food lovers who want to eat dry veg Manchurian without worrying about the number on the weighing scale. I tried to make baby corn Manchurian without frying, not even stir frying. I used microwave oven to make this dry Manchurian recipe and it turned out very well. I have tried to reduce lots of calories from the original fried Manchurian recipe but there is absolutely no change in its taste.
[box]  Also Check –Healthy breakfast and snacks recipes  [/box]
It is easy to make baby corn snacks with very less efforts.  You can make this recipe with or without ajinomotto; personally I don't prefer ajinomoto in any of my Chinese recipes. It hasn't been proven scientifically but it is said that ajinomotto has lots of side effects . Well during pregnancy and for kids it's better to avoid ajinomoto .
I have shared step by step recipe of baby corn dry Manchurian without deep frying at home. Share your suggestions and queries for this recipe.
[ingredients title="Ingredients to make Baby Corn Manchurian"]
1 ½ cup baby corn (slit lengthwise and cut it into 2 inch slices as shown in the pic)
2 tablespoon corn flour
½ teaspoon black pepper powder
2 -3 teaspoon green chili sauce
1 teaspoon soya sauce
2 tablespoon capscicum finely sliced
1 teaspoon vinegar
8- 10 finely chopped garlic cloves
1 tablespoon finely chopped green onion
1 tablespoon onion slices
1 tablespoon oil (sesame seed oil/olive oil)
[/ingredients]
[directions title="Step By Step Directions To Make Baby "]
Mix it and arrange it on microwave safe dish.
Cook it for 6 minutes on high power in microwave oven.
Remove it from microwave and gently separate each slices using spoon.
Heat oil in a pan and add ½ of chopped garlic to it and sauté it for 5-10 seconds
Add onion slices, green onion and capsicum to it and sauté it for 1 minute.
Add green chilli sauce, soya sauce and vinegar to it and mix it.
[/directions]
Tips for making non fried baby corn Manchurian
Raw garlic added in the last gives nice flavor to the recipe
Use fresh baby corn to make Manchurian.
After marinating baby corn with corn flour, salt,oil and blackpepper immediately keep it in microwave for cooking otherwise it will become watery