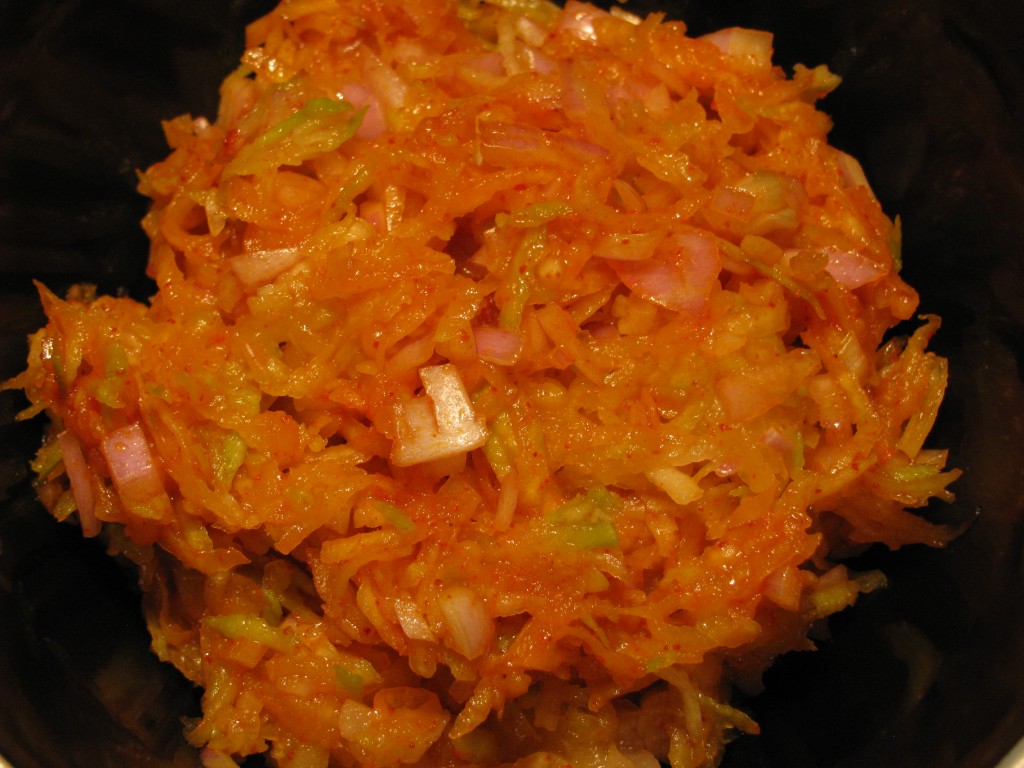 Making kids love food is a difficult task for any parent. And my son Anagh is no different. Yesterday I promised him that if he finishes his studies on time, I will surprise him with a tasty dish for dinner. But as usual I wanted to make something different but healthy.
Summer has already started and raw mangoes are now easily available. I bought a couple of them in the evening and decided to make a kachumber.
This is easy to make kachumber or koshimbir which you can serve as companion dish with pulav, biryani, khichadi or with any other meal. This recipe is generally made in Gujarat and Maharashtra during summers. This tasty raw mango recipe will electrify your taste buds!
[box] Also check – Kachumber recipes | koshimbir recipes | salad recipes  [/box]
Benefits of eating Raw mango (kairi / kacha aam) during summer season 
Onion has lots of useful properties which are good for summer season.
Onion juice is used as medicine for heat stroke. It's good to use raw onion in summers.
Raw mango has lots of vitamin c which helps in boosting the immune system during summers. It also protects us from sun stroke.
I have added small amount of spices to make this recipe. Don't add extra spices to it as sour taste of the raw mango with a dash of peanut or mustard oil dressing gives nice taste to this recipe. In a typical Guajarati and maharashtriyan style, kachumber mustard oil is not used in this recipe. But when I add mustard oil, it gives a nice pickle taste to this recipe. You can add any oil according to your taste.
[ingredients title="Ingredients For Raw Mango Salad or Kacche Aam ka Kachumber"]
1 cup peeled grated raw mango (kairi / kaccha aam)
1 /2 cup finely chopped onions
1 – 2 teaspoons red chilli powder (I use kashmiri or bedgi mirch powder)
1 teaspoon salt
1 teaspoon peanut / mustard oil
Note –if you're using mustard oil, heat it to remove the bitterness; let it cool down and then add in kachumber.
[/ingredients]
[directions title="Step By Step Directions to make Raw Mango Salad or Kacche Aam ka Kachumber"]
Mix all the ingredients and serve it.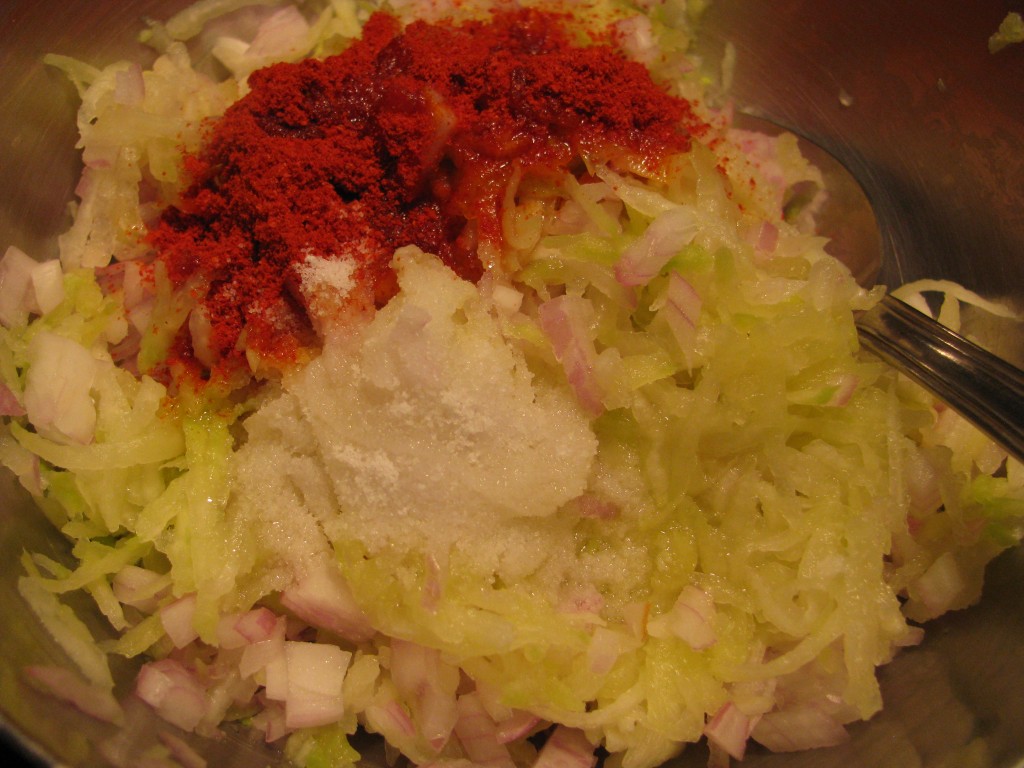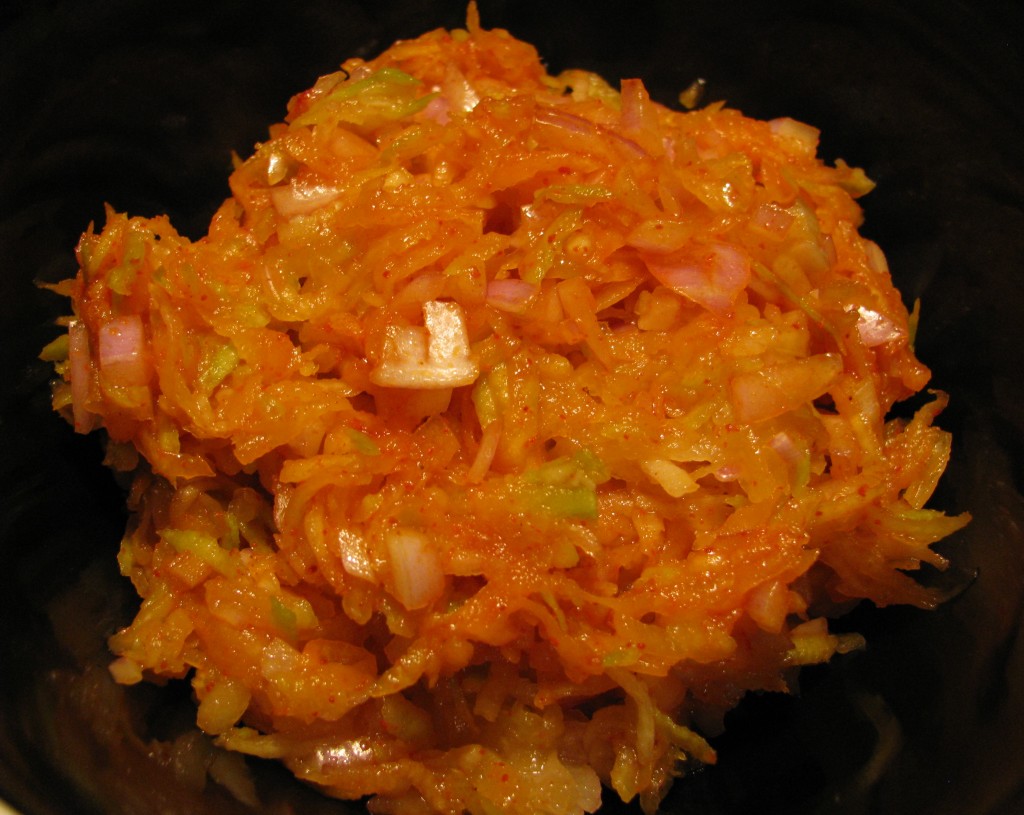 [/directions]
Tips for making Raw mango salad  / Kairi Kachumber 
Don't use very sour raw mangoes, there are many varieties less sour raw mangoes available in market like Rajapuri, totapuri. Use less sour mangoes to making  salad or juice. Extreme sour varity of mangoes causes throat irritation.
Don't eat more than one raw mango daily.
Don't drink water after eating raw mango, it may cause throat irritation.
Remove the sap of raw mango before eating it .
Don't eat raw mango when you are suffering from throat infection; it may worsen the condition of your throat.
If you have sour teeth issue avoid eating raw mangoes.