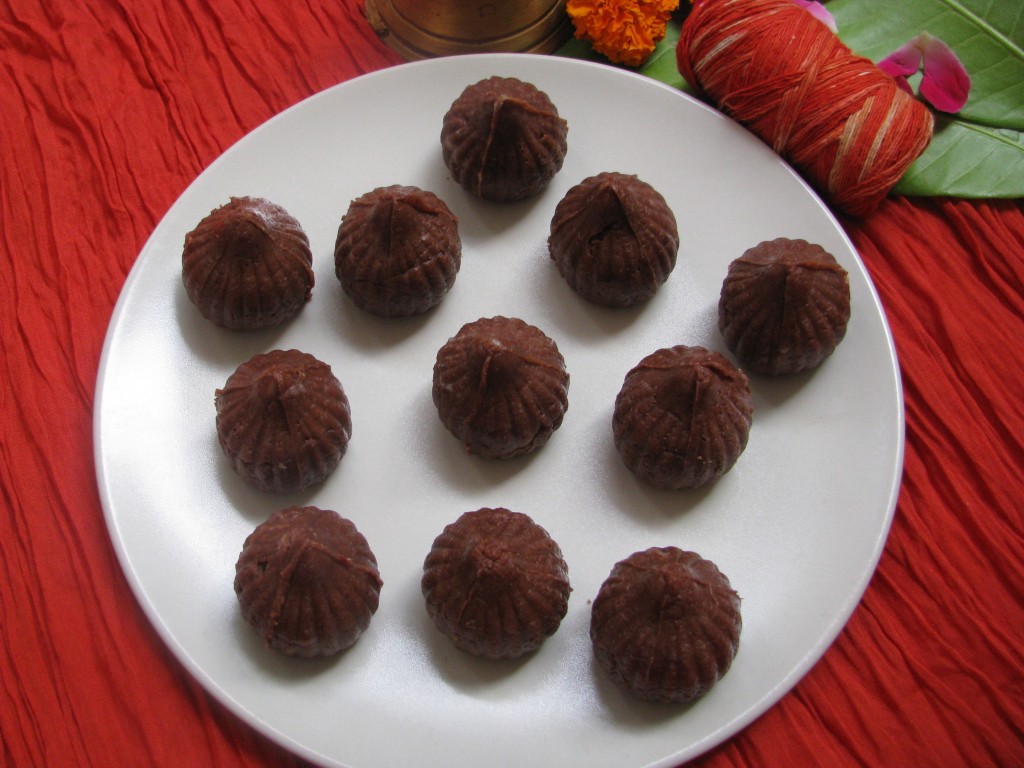 Chocolate Modak is a tasty Prasad which everybody love to have in Lord Ganesha's
 Chaturti Festival. This Prasad is healthy as well as nutritious if made in a right way. Chocolate Modak which You get in market is made from Khoya ( khawa/ mawa) with lot of sugar . This Modak is very high in calorie. But when we make  Chocolate Modak at home we can make it  healthy as well as nutritious. I make Chocolate Modak in two ways
Chocolate Modak using Chenna ( paneer)
Chocolate Modak using Khoya ( khawa/ mawa)
Chocolate Modak made from chena can be made from whole milk , tonned milk or even with skimmed milk .You can cut calories from this Modak by using low fat milk . This Modak are very simple and You can easily make it at home. you just need a Modak Mold (Modak sancha)
 to give it a nice shape of modak. I use icing sugar to make this Modak as plain sugar makes this Modak sticky. This modak are served chilled .
[box ]Also check – Khirapat and Panchkhadya recipe [/box]
Chocolate modak made from khoya is little high in calorie as it can be made from whole milk only . I generally don't buy ready made khoya as  many times it's adulterated ( besal/ milawat ) . U can make khoya at home or buy good quality khoya to make this modak this modak tastes like Pedha with a nice flavor of coconut and chocolate .
[box]Also Check- Coconut modak recipe from condensed milk[/box]
I have explained step by step method to make this tasty chocolate modak . I have shared both the chocolate modak recipe made from khoya as well as chenna (paneer) .Do share ur comment and queries for this recipe
[box]Also check –Diffrent types of modak[/box]
Chocolate Modak using Chenna ( paneer)
[ingredients title="Ingredients required to make chocolate modak"]
1 ½ litre whole milk (if you want less calories use fat free milk )
2 tablespoon lemon juice (limbacha ras / nimbu ka ras )
3 tablespoon icing sugar
2 tablespoon Cadbury Coco powder (it already contains vanilla essence)
1 tablespoon desiccated coconut (khobryacha barik kis / gola barik kadukas kiya hua)
Modak Mould (Modak Sancha)
– To give Modak shape
[/ingredients]
[directions title="Step by Step Directions required to make chocolate modak"]
Bring milk to boil in a heavy bottom pan .
Add lemon juice to it .
Stir continuously.When milk curdles completely, remove pan from heat  .
Place muslin cloth on the bowl and pour curdled milk into it and strain ,Bring four  corners of muslin cloth together and gently twist and squeeze all the water from the chenna .
Again wash it 2-3 times  with plain water to remove the sour lemon taste out of it.
,Bring four  corners of muslin cloth together and gently twist and squeeze all the water from the chenna . keep heavy weight on this cloth with chenna for 2-3 hours . it should become little dry.
Break chenna in small pieces and take it in food processor jar or mixer jar 
Grind it for few seconds .
Add icing sugar in it .
Grind it with in few seconds it will become very soft.
Add desiccated coconut in this chenna icing sugar mixture . 
Grind it again until it mix nicely and becomes very soft .
Chocolate modak mixture is ready
Grease the modak mold with ghee…this will prevent the mixture  from sticking  and all you have to do is  stuff it with this  chocolate modak  mixture by pressing it nicely with your index finger and demould ……do remember to grease the modak mould before use …
[/directions]
tip – If you don't have modak mold shape the modak with your fingers .
Chocolate Modak by using khoya (mawa) base
[ingredients title="Ingredients required to make chocolate modak "]
1 cup khoya(mawa)
½ cup sugar or sugarfree natura (this quantity you can take according to your taste buds J)
1 tablespoon milk
2 tablespoon coco powder
2 tablespoon desiccated coconut (optional)
[/ingredients]
[directions title="Step by Step Directions to make chocolate modak"]
Take khoya ( mawa ) , milk , and sugar in food processor or mixer jar and blend it to make it soft…
In a heavy bottom pan add this soft mixture and cook it on low flame  …first it will melt and then it will start becoming thick …. Now remove it from flame and add coco powder in it and mix it nicely …let cool down

Grease the modak mold with ghee…this will prevent the mixture  from sticking…now fill the mixture inside the mold press it nicely using your fingers and demold …do remember to grease the modak mould before use

 

Serve it cool to lord ganesha ….store this modak in refrigerator as it made up of  khoya(mawa)
[/directions]
Note – if u want to add coconut ,add it at the time of roasting khoa mixture