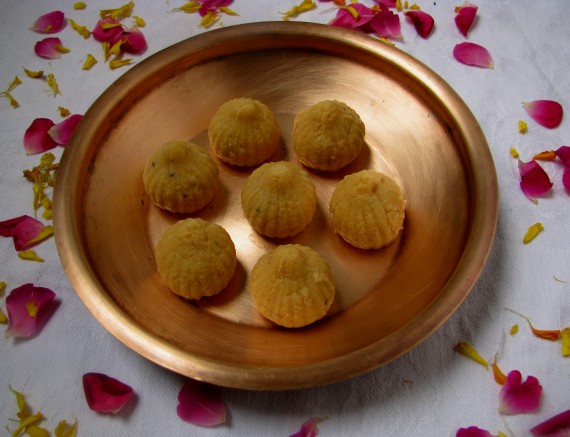 This is Quick and Easy Modak Recipe from Coconut and Condensed milk (Nestle Milkmaid / Amul mithai mate).It tastes like peda / Pedha with a nice flavor of coconut . Peda modak are very common in Maharashtra at the time of Ganesh chaturthi .you can get this modak from any sweets or confectionery shop at this time .this modak has lots of sugar with less amount of khoya .you can make this modak at home using khoya ,but now days khoya has lot of adulteration so I don't use ready-made khoya .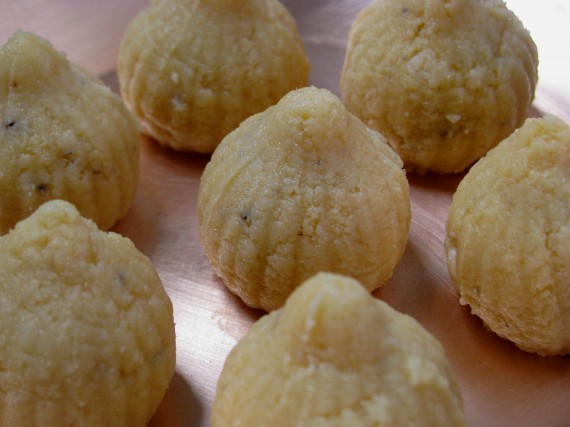 This modak made from condensed milk (Nestlé – milkmaid / amul mithaimate ) tastes same as Pedha modak and you can easily make it at home . I make this tasty modak on gas stove or microwave oven. In microwave oven you can make this modak very quickly .There is no need to stand in front of gas stove for long time and you can easily make this tasty modak in microwave oven .
[box]Also check – Different types of modak recipes and prasad for ganesh chaturthi [/box]
Many people don't use microwave so I have shared both the method to make this modak in microwave oven as well as on gas stove. Do share your  suggestions and queries for this recipe .
[ingredients title="Ingredients required to make modak from condensed milk"]
1 tin condensed milk (Nestle milkmaid / Amul mithaimate)
1/2 cup desiccated coconut
1 ½ cup milk powder
1 tablespoon ghee / plain butter
2 tablespoon icing sugar
1 teaspoon cardamom powder ( elaichi / welchi powder )
[/ingredients]
[directions title="Step step Directions to make modak in microwave oven"]
Take condensed milk in a deep microwave safe glass bowl.
Add milk powder  and mix it to smooth paste
Add desiccated coconut and ghee/butter and mix it .
Mix it nicely and keep it for 1 minute on high power in microwave oven .
Mix it and again and keep it for 30 seconds , remove the bowl again mix the mixture and keep it again for 30 seconds . Repeat this procedure until the mixture becomes dry.
Add icing sugar
Add cardamom powder in the mixture and mix it.
Modak mixture is ready for molding.
If you have modak mould grease it with ghee
Stuff it with modak mixture.
Demould it .
Repeat the same until you make all the modak . Grease the modak  mould each time you stuff it with modak mixture.
If you don't have modak grease your palms with ghee and shape it with ur palms and fingers .
[/directions]
[ingredients title="Ingredients required to make modak from condensed milk "]
1 can condensed milk (milkmaid or any other brand of condensed milk)
2 cup desiccated coconut (dried shredded dry coconut)/grated dry or fresh coconut
1 teaspoon cardamom powder
2 tablespoon Finely chopped dryfruits
[/ingredients]
[directions title="Directions to make modak from condensed milk"]
[/directions]