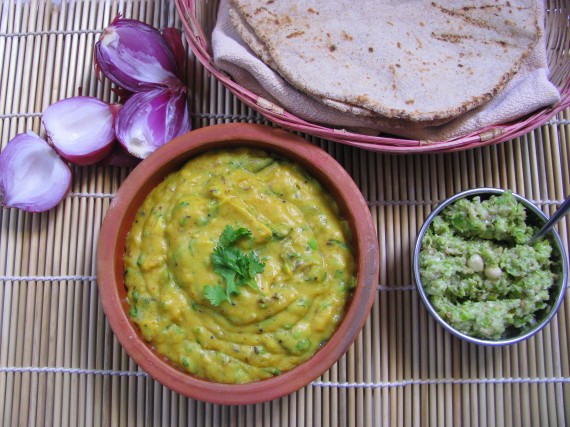 Pitla Recipe | Besan Pithla
Whenever I make Pitla at home, I feel very nostalgic. It reminds me of my childhood days.  My mom used to make it when there were no vegetables at home or she was in hurry to make dinner. Pithla was something that everybody liked at my home. It's spicy, tasty, easy to make and can be made in variety of ways. Consistency of Pitla can be changed according to the way you want to enjoy it. It can be runny, thick curry-like or dry. The dry version of pitla is also called as Zunka. Pitla is made runny when we want to eat it with rice. It is made thick curry-like or dry zunka when it is served with bhakri (jowar or bajra roti).
[box] Also check- Hirwi Mirchi Thecha Recipe[/box]
Pitla – Maharastrian Comfort Food
One can get Pithla bhakri or zunka bhakri with onions and dry green chili chutney (thecha) on roadside eateries in Maharashtra. Its tasty and feast for spicy food lovers. Maharashtra is trekkers' paradise and many treks have small eateries which serve this authentic Maharastrian comfort food. If you go to hill stations like mahabaleshwar, lonvala or any trek in Maharashtra you get pithla bhakri in a very rustic ambiance. In Pune people visit Sinhghad in monsoon to enjoy the awesome weather and have this favorite maharastrian cuisine along the way.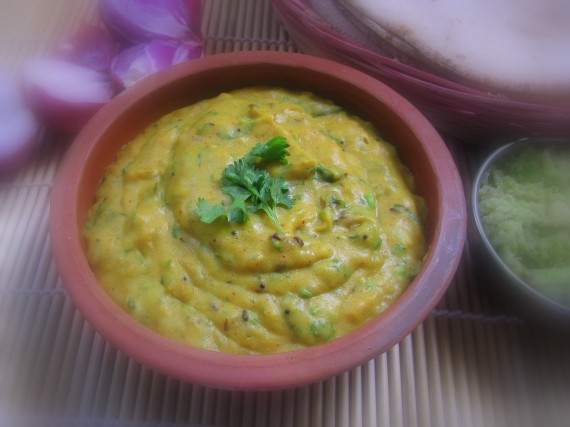 [box]Also check—Kanda Bhaji Recipe [/box]
Important ingredients for Pitla
Pitla is made from easily available ingredients at home. Preparation of pitla doesn't take long time, it's a quick recipe. The main ingredient is besan (gram flour). Pitla is spicy besan curry. For spicy taste, only green chilies and red chilly powder is used. Fresh besan makes pithla taste awesome. My mother never bought ready-made besan, she always made besan from chana dal. After grinding the flour she used to make patodi rassa bhaji(besan ki sabji), Kanda bhaji or pithla.
[box]Also check – Shev bhaji recipe [/box]
How to make Pitla (Pithla) healthy and nutritious
Pithla is rich in proteins and with bhakri or chapati it makes a complete food. Gram flour (besan) has lots of nutritional benefits – it is rich in proteins but it also contains amylase – a slowly digested starch that helps you to feel full longer. With pitla, serve lots of salads like cucumber, tomatoes, radish, onion to increase the nutritional value of meal. Homemade pitla calories are less as compared to the restaurant one, so you can enjoy it without worry. You can also add green vegetables like palak (spinach), methi, ghol bhaji (kulfa / pig-weed) or chival bhaji in pithla to make it healthier. Tomatoes can also be added to pitla.
Calories in Home Made Pithla ( Marathi Dish) |Nutritional Benefits of Pitla / Pithla
Nutrition Facts
Home Made – Pithla ( Marathi Dish)
| | | | |
| --- | --- | --- | --- |
| Calories | 182 | Sodium | 166 mg |
| Total Fat | 9 g | Potassium | 0 mg |
| Saturated | 5 g | Total Carbs | 20 g |
| Polyunsaturated | 0 g | Dietary Fiber | 4 g |
| Monounsaturated | 0 g | Sugars | 6 g |
| Trans | 0 g | Protein | 6 g |
| Cholesterol | 0 mg | | |
| Vitamin A | 0% | Calcium | 0% |
| Vitamin C | 0% | Iron | 0% |
*Percent Daily Values are based on a 2000 calorie diet. Your daily values may be higher or lower depending on your calorie needs.                 source- myftnesspal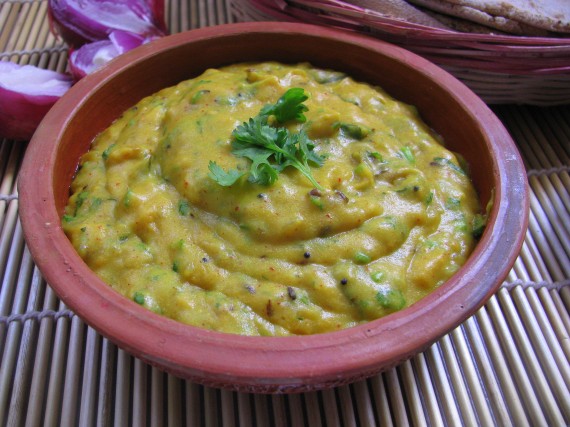 [box] Also check- Patodi rassa Bhaji | Besan ki sabji [/box]
I have explained step by step recipe of basic pitla without any vegetables which can be made very quickly and even when there are no vegetables in refrigerator. Its an awesome recipe especially for bachelors when they want to eat easy to make home-made food.
[ingredients title="Ingredients to make pitla"]
½ cup Besan (chickpea flour)
2 cups of water
2-3 green chillies finely chopped(adjust it according to taste)
3-4 garlic cloves finely chopped (lasun)
1 medium size onion chopped
1 teaspoon red chilli powder
1 teaspoon turmeric powder
1 teaspoon mustard seeds(mohri)
1 teaspoon cumin seeds (jeera)
1 tablespoon oil (I prefer groundnut oil)
9-10 curry leaves (optional)
Pinch of asfoetidia
1 tablespoon finely chopped coriander
Salt to taste
[/ingredients]
[directions title="Step by Step Directions to make Pithla"]
(if you want to make Pithla-bhath, add more water in Pitla while cooking to get thin consistency)
[/directions]