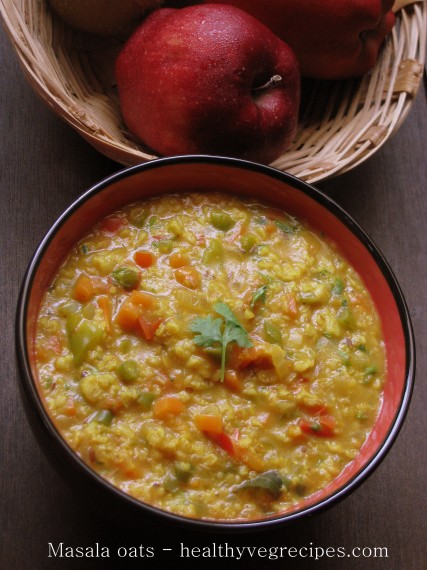 Masala Oats
I always made upma, dosa, porridge or chilla from oats but when I saw Saffola masala oats
 ad I thought that I should make it at home. First I tried the ready to make Saffola masala oats at home, it was good but I thought I will try myself with all the fresh vegetables and by adding some more ingredients of my choice. Well the masala oats making at home experiment turned out really well. It is tasty as well as healthy.
[box]Also check – Oats upma recipes[/box]
Vegetables to add in Masala Oats Recipe
I take long time to pick up vegetables as it is my favorite way to pass time! Almost every day I go out to buy vegetables. To buy vegetables is the stress buster for me First I take a round of the vegetable market then get the ones which are very tempting, for the same reason I prefer to make this masala oats recipe with fresh juicy vegetables. I have added some nice bell pepper, carrot, beans, fresh cherry tomatoes. You can add any types of vegetables like shredded cabbage, spinach, green onion, bottle gourd, sometimes I even add grated fresh turmeric (kachi haldi) and even gooseberries (amla).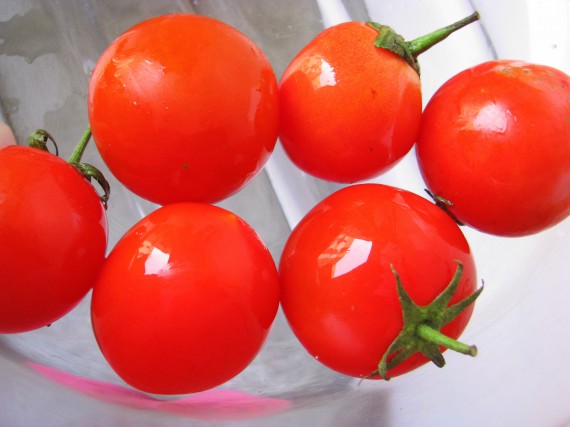 Tomato and coriander is the essential ingredient which gives nice taste to this recipe. Yesterday I bought some cherry tomatoes to add it in salad but I used some of them in my masala oats recipe. I have added lemon juice to give a tang to this recipe as cherry tomatoes are sweet as compared to other tomatoes . The sweet and sour taste of tomatoes and lemon made this recipe awesome. Well normal variety of tomatoes can also be used to make this recipe. Sometimes I also add desi tomatoes in masala oats it gives nice sour taste t0 it.
[box]Also check – Oats omelette recipe [/box]
Masala Oats Benefits
When you eat oats upma the amount of oats is more as compared to the masala oats recipe. Oats upma is dense as compared to masala oats. Masala oats recipe fills the stomach as it is soupy.Oats has lots of  health benefits and this recipe is  low calorie meal so good for weight loss. It  gives a sense of satiety and controls appetite. It is rich source of dietary fiber and good source of protein. Oats has very low glycemic index, it is digested and absorbed very slowly in body. It helps by reducing high cholesterol in blood.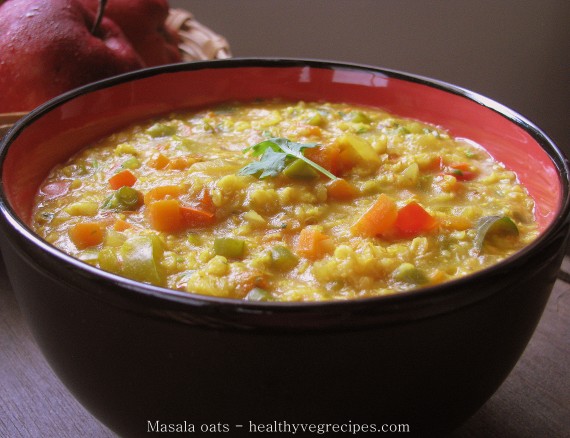 Different Ways To Make Masala Oats Recipe
I have added this recipe for people who are on diet or for the ones who wants to eat something in between meals. If you want to make it a complete meal add small cubes of paneer, tofu, boiled sprouts, cooked daal , boiled mushrooms or soya nuggets to it.
You can also give different flavours to this same masala oats recipe by adding following ingredients
Mint Masala Oats-
Add mint leaves(pudina) in masala oats recipe. You can add mint leaves after adding cumin seeds in oil.
Methi Masala Oats –
You can give a Methi flavor by adding Kasuri Methi leaves (Dry Kasuri methi) while cooking the vegetables for masala oats. When I make methi masala oats I add small paneer or tofu cubes in my masala oats recipe. These masala oats give a nice Punjabi cuisine flavor.
Coriander Masala Oats –
The following recipe which I have explained is the coriander masala oats only. I have also added curry leaves to it.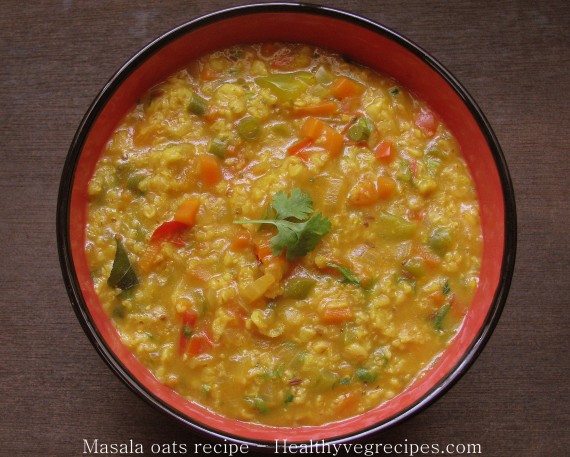 [box] Also check- Orange juice Oats Cake recipe[/box]
I have explained how to make Masala Oats recipe at home with step by step photos. I hope you will like it. Do share your comment and suggestion for this recipe
[ingredients title="Ingredients required to make Masala Oats "]
1 cup of oats (I used quaker oats)
2 ½  cup of water
1 ½ cup of chopped vegetables (carrot, beans, bell pepper, cabbage etc)
½ cup chopped tomatoes
1 medium sized finally chopped onion
1-2 teaspoon of lemon juice (optional)
1 teaspoon ginger (adrak / ala) finely chopped
1-2 green chilies finely chopped
½ teaspoon cumin seeds (jeera)
10-12 curry leaves
1 teaspoon coriander powder( dhania powder)
½ teaspoon turmeric powder (haldi)
pinch of garam masala optional
1 tables spoon finely chopped coriander (dhaniya patta)
2 teaspoon oil
[/ingredients]
[directions title="Step by Step Directions to make Masala Oats"]
[/directions]