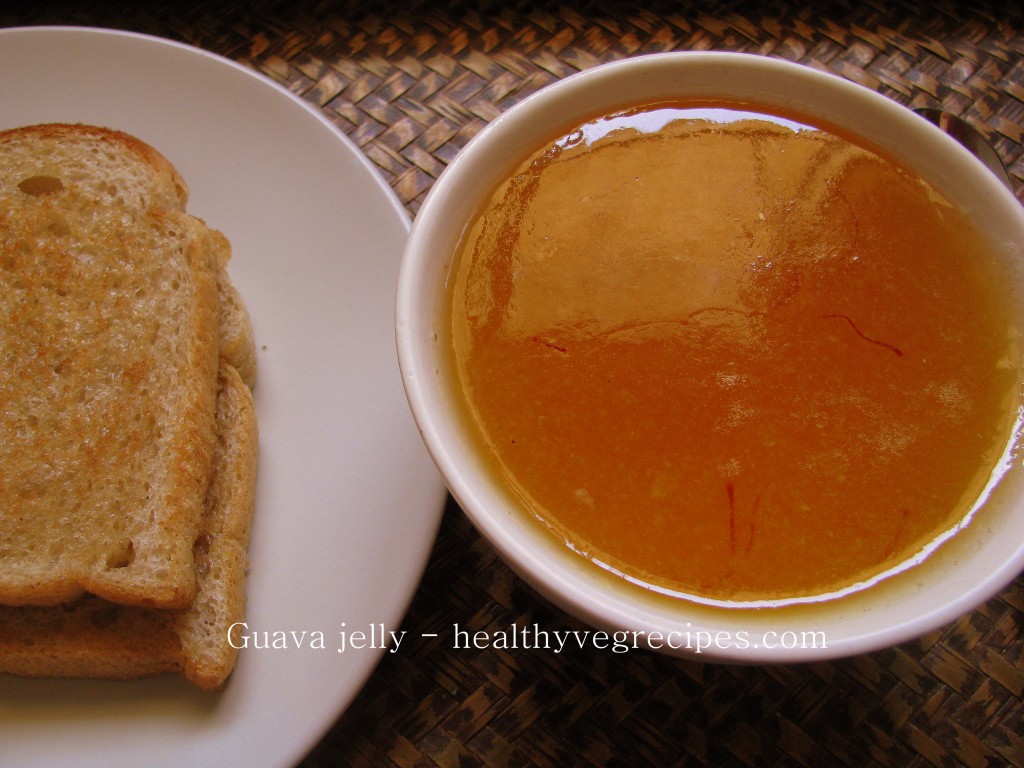 Guava Jam Recipe
This Guava jelly / jam recipe is a nice companion for your bread toast, paratha, roti or phulka. I love to make this jelly recipe as it has no preservatives and no color. I have used saffron (kesar) to give nice color and flavor to this homemade jam/ jelly.
When I was a kid, we had a guava tree in our garden. Me and my brother used to climb up the tree to pluck guavas and finish them off in garden only 🙂 The tree had very strong branches. We used to play on it a lot. In morning, flock of different types of birds like parrots, cuckoo birds, bulbuls,sparrows, Greater coucal etc. used to gather on that tree. I think they came there to enjoy guavas and have a chat… It was a awesome Bristo for them! 🙂
[box]Also check –
Whole wheat chocolate cake recipe
[/box]
My mom always made this jam whenever we couldn't finish the guava before they became fully ripened. Guava jam or jelly tastes awesome when it is made from fully ripened soft guava. Hard ripe guava which we love to eat, gives little bitter taste to this recipe.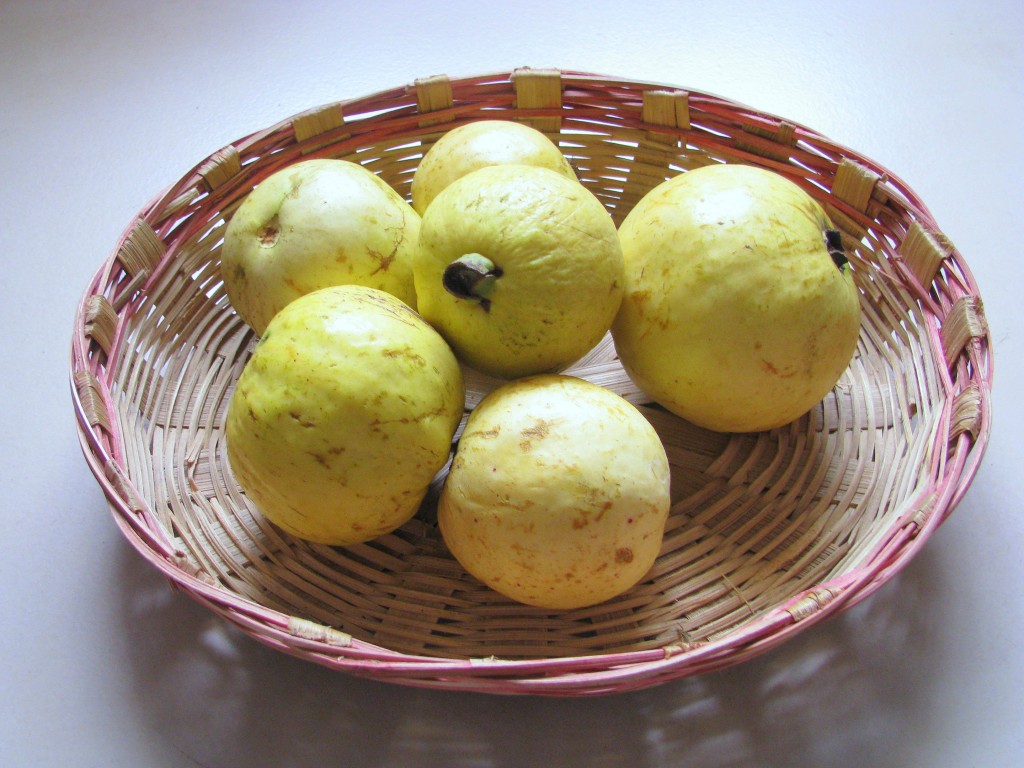 Types of Guava used to make guava jam
A ripe guava tastes like mellow and mildly sweet, but if you eat it raw, it tastes like astringent 🙂  I have used the fully  ripened white, fleshy guava to make this jelly. This jelly can also be made from red fleshy guava. The only difference is guava should be fully ripe and soft to make this jelly. Otherwise it will taste bitter.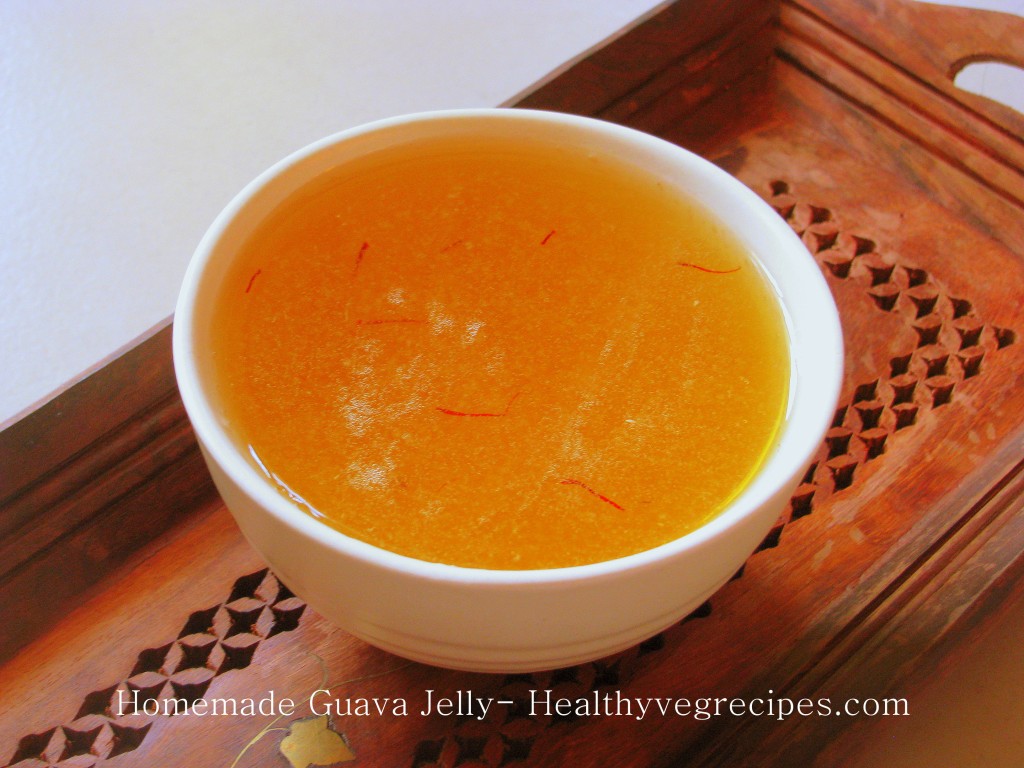 Natural pectin is used to make Guava jam
Pectin is a substance which, when heated together with sugar, causes a thickening that is characteristic of jam and jellies. It naturally occurs in many fruits and berries. Pectin is used to make jams/ jellies and marmalades. It increases the gel strength of low calorie jams. For household use, pectin is an ingredient in gelling sugar (also known as "jamsugar") where it is diluted to the right concentration with sugar and some citric acid to adjust pH. Guava has little amount of natural pectin in it. So we are going to add lemon juice to this jam which is rich source of pectin. This is why we are not using any artificial pectin or jelly-forming substance in guava jam / jelly. Lemon  has lots of pectin and it also acts as acidity regulator in this jam. I use lemon in many of my jam/ jelly recipes. Even if I haven't used pectin in this jam, it is not at all runny. In fact, it has a very nice sticky and jammy texture 🙂 The pectin present in fruit and lemon gives a nice texture to this jam.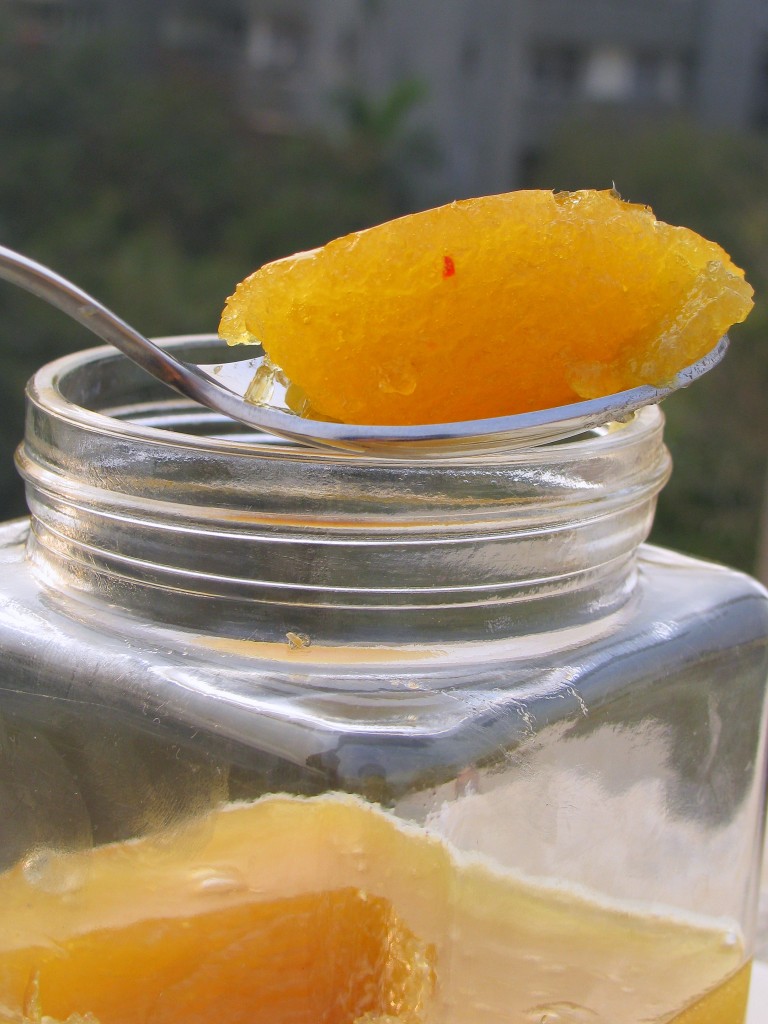 I have explained how to make  guava jelly / jam at home with step by step instructions. Do share Your comments and suggestions for this recipe.
[ingredients title="Ingredients used to make Guava jam /jelly"]
6-7  ripe soft guavas (around 750 gms). It is important that the guavas are ripe and soft. That gives a nice flavor and sweetness to the jam. Ripe guavas are easier to cook and get easily melted.
Sugar – I use sugar according to pulp I extract from guavas. In this recipe I have extracted around 3 cups of guava pulp, so I have added 3 cups of sugar.
Lemon juice – I added 1 tablespoon of lemon juice for each cup of guava pulp I extract. Here as I said, I have extracted 3 cups of guava pulp so I have added 3 tablespoon of lemon juice.
5 cups of water.
1 pinch of saffron strand (kesar).
½ teaspoon salt (optional) I like my jam with little salt but my kids don't 🙂 In this recipe, I didn't add salt.
[/ingredients]
[directions title="Step By Step Method To Make Guava Jam / Jelly"]
Wash the guava and remove the dirt from it.
Cut the guava into small pieces. Add 5 cups of water and boil it in a pan. Small pieces will make the guava easier to cook.
Boil it for 10 – 15 minutes, or until it becomes very soft and pulpy.
Now mash it nicely.
Strain it through strainer to extract all the juice and pulp from cooked guavas. Straining will remove all seeds, skin and thread out of it.
Measure the extract with a cup and take it in a container. I have extracted around 3 cups of guava pulp and juice.
Add lemon juice and mix it nicely
For each cup of extracted mixture, I add 1 cup of sugar. So here, I have added 3 cups of sugar to extracted pulp juice mixture.
Add saffron strand.
Keep the mixture of guava juice pulp extract, lemon juice, sugar and saffron and bring to a boil.
Stir it continuously with ladle to avoid jam from hardening.
Cook it for 20 – 25 minutes and bring it to rolling boil. Bringing your jam to rolling boil point means to boil it rapidly with bubbles all over and it doesn't stop or slow when stirred.
Once rolling boiling starts and if it seems like the drops of spatula are starting to become less drop-like. It is time to check if the jam is ready to set.
Put the pan off the heat and drop little jam in ice cold water. If it sets and doesn't dissolve in water, your jam is done.
Remove the scum and pour it in dry clean bottle. Let it cool down completely and then only close the lid.
Enjoy this tasty homemade guava jam with bread, bun, roti, paratha or chapatti. Enjoy …….
[/directions]