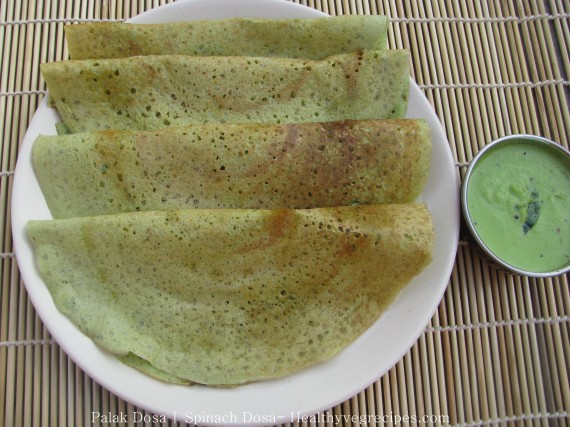 Yesterday, I went for a short trip to a calm and serene village. On my way back, I asked the farmer for 1 kg of Palak. This farmer was very generous. He packed almost 3 kgs of Palak. I wondered what I would do with so much palak. When I came back home, I gave some of it to my neighbor. Next day, I made Palak Paneer. My elder kid asked to make Spinach rice and I made that too. And still a lot of Palak was left in my refrigerator. After giving a 2 days' break to green leafy veggies (:-)), I made this tasty Palak dosa for our breakfast. This recipe turned out so well that I had to share it with you all. It is a quick recipe if leftover Dosa batter or different types of flour are available at home. It is very easy to make and a good makeover for our white Dosas. Hope you all will enjoy it!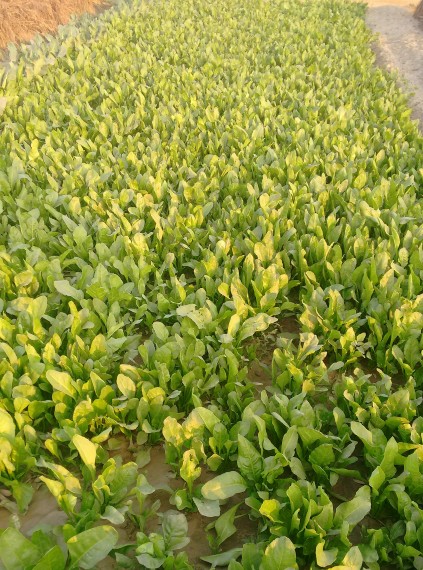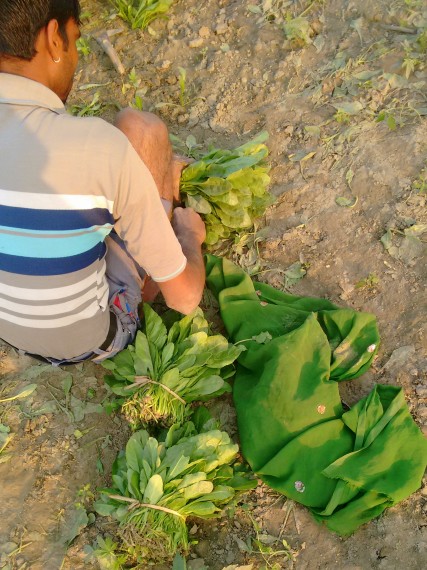 [box]Also check – Besan chilla recipe[/box]
Palak dosa | Spinach dosa
This is easy to make Palak recipe for breakfast. Palak dosa or Spinach dosa is an instant dosa recipe which doesn't require much preparation. This green dosa looks very tempting and tastes awesome. It can be made with leftover Dosa batter or by using different types of flour. I have shared both – the recipes from leftover dosa batter and multi-grain flours. I have added coarsely ground wheat flour, rice flour, oats flour or ragi flour to make this instant dosa. Oats flour is optional but it tastes awesome in this recipe. I also added curd or butter milk to this recipe.
Also check – Neer dosa recipe/ dosa with fresh coconut milk.
How to make Palak puree for Palak dosa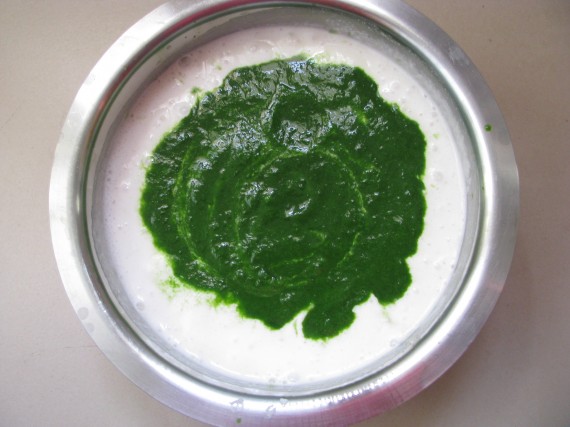 I cooked Palak in microwave or pan to make Palak puree. When Palak is cooked, I immediately added cold water to it. This method gives nice green color to Palak puree. This puree can be used in Palak based gravies like corn Palak, Palak paneer, Palak puri and even in Palak rice or khichdi. In this dosa I am using the same Palak puree.
[box]Also check- how to make Palak rice | Spinach rice[/box]
Palak dosa batter | Spinach dosa batter
In Palak dosa batter, Palak puree is the main ingredient. Base batter can be made according to our convenience and available ingredients. Broadly, we can make the Palak dosa batter in two ways-
Palak dosa from different types of floors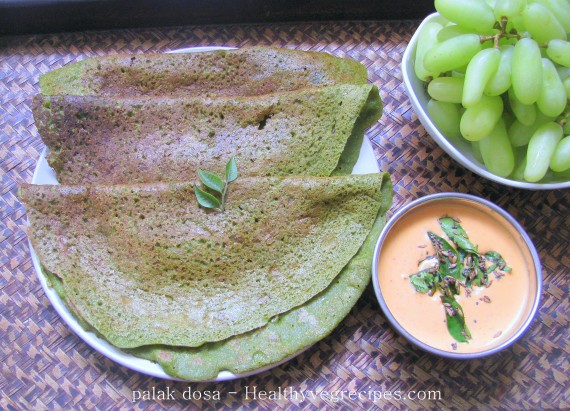 Palak dosa can be made by mixing different types of flour like while wheat floor, Oats flour, rice flour or  ragi flour.
Palak Dosa From leftover Dosa Batter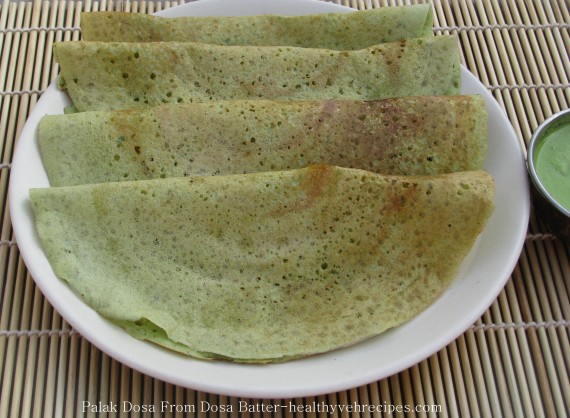 Most of the times, we don't know what to do with leftover dosa batter. Well this recipe is an interesting way to use it. I have mixed palak puree in Leftover dosa batter at my home. This Palak dosa are little spicy with nice fermented flavor.
Nutritional benefits of Palak dosa
When you make palak dosa from multi-grain flour it has lots of health benefits. Multi-grain dosas are high in complex carbohydrates and proteins. Complex carbs are great for energy production and this can help in exercise and losing weight. They have low glycemic index i.e. they break down slowly and can provide energy for longer period of time. Palak dosa made from multi grain flour with goodness of Spinach makes it very healthy. Spinach is rich source of calcium, iron, vitamin A, vitamin C. To make kids eat Spinach is little difficult for many parents. For them, this Dosa Recipe will work really well.
[box]Also check – Types of Chutney recipes for dosas[/box]
I have explained step by step method to make this easy Palak dosa from both multi-grain flour as well as leftover Dosa batter. Do share your suggestion for this recipe.
[ingredients title="Ingredients to make Palak Dosa | Spinach Dosa"]
3 cups of mix flours (I have used oats flour, coarsely-ground whole wheat flour and rice flour) or 3 cups of Dosa batter (Dosa Banane ka ghol)
1 cup curd (optional- use it if you are using multi-grain flours)
Water to make batter (optional- use it if you are using multi-grain flours)
Salt as required
1/2 cup finely-chopped onion (optional- I add onion when i make this dosas from multi-grain flours)
Ingredients for Palak puree | Spinach puree
250 gms Spinach leaves (Palak ke patte)
2 green chilies (hari mirch)
5-6 garlic cloves (lasan / lahsun)
[/ingredients]
[directions title="Step By Step Method to Make Palak Dosa | Spinach Dosa"]
You can cook Palak in microwave or by boiling it in pot or kadhai. Most of the times, I cook Palak in microwave when I want to make puree out of it. It is very quick and I get nice green Spinach puree.
Cook it for 3-4 minutes in microwave.
Take cooked Spinach leaves in grinder jar and add chilies and garlic cloves to it.
Make puree of cooked Spinach garlic and green chilies.
If your using multigrain flour, take all the flours in a bowl.
Add Spinach puree and curd to it.
Add salt.
Mix it and add little water to make Dosa batter out of it.
I have also added finely chopped onion to it.
If your using Dosa batter, mix Palak puree with Dosa batter
Heat non-stick or caste iron tawa (griddle) and grease it with a little oil. Sprinkle a little water on the tava and wipe it off gently with cloth or kitchen napkin.
Pour a ladleful of batter at the center of tawa and spread it in a circular motion from the center towards the sides of the tawa.

palak dosa from leftover dosa batter

Smear a little oil, ghee or butter over it. I have used gingelly oil (sesame seed oil/ til ka tel).
Cook on high flames until it turns little brown.
Flip and cook it on other side (as we are using multi-grain flour, we have to cook it properly).
Serve it with peanut or coconut chutney.
[/directions]
Hope you enjoyed reading the recipe. Share your comments below and let me know what you think! 🙂