Cumin Powder | Ground Cumin | Jeera powder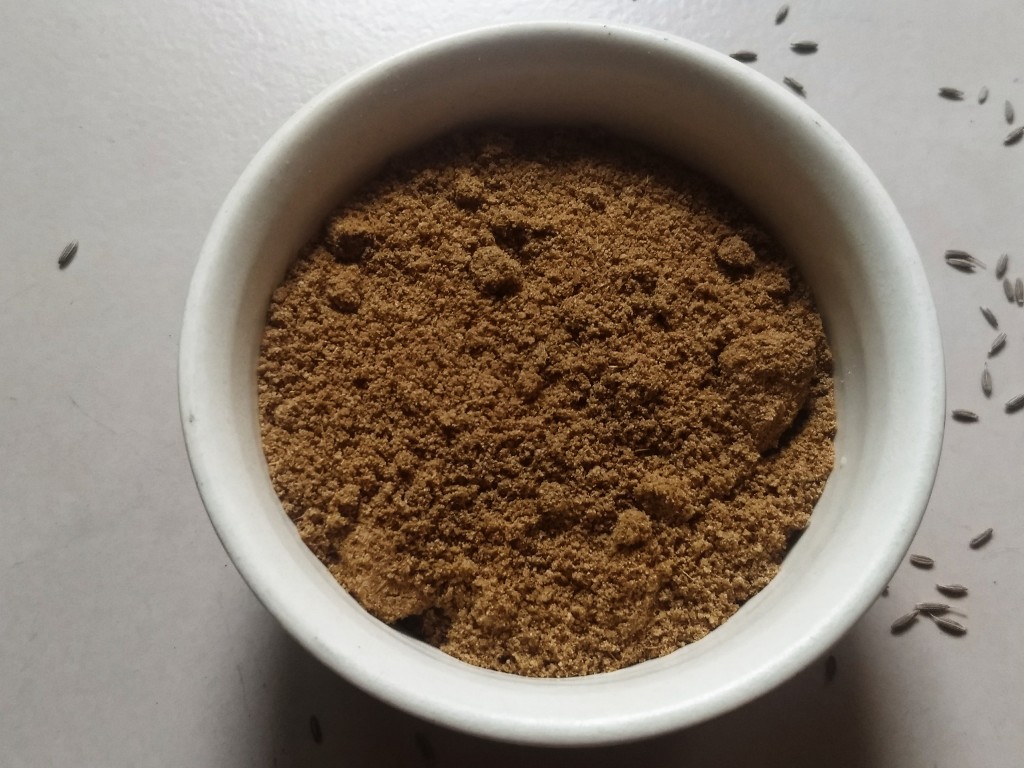 If Cumin Powder /Jeera Powder is ready at home you can add it many recipes like raita, gravies, salads, chaach and many health drinks. This powder not only enhances the taste of the food but has lots of health benefits. Cumin powder or ground cumin has a warm, nutty, spicy earthy flavor and Aroma.  Cumin powder is made by grinding roasted Cumin seeds in grinder. Cumin powder or ground Cumin enhances the taste of many Indian, Mexican and Vietnamese cuisine.
Why to make Cumin powder (Jeera Powder)at home??
Most of the people think that it's very   difficult and time consuming  but but it takes very less time and not at all difficult if you buy good quality spices.I always try to make masala powders  like Garam Masala, sambar masala, Goda masala, many Spice powder like  Cumin seed powder, mint powder, coriander powder, fennel seed powder, cardamom seed powder , cinnamon powder, Clove powder etc. at home.   The reason behind making the spice powder home is  all the spices have highly volatile oil in them and once the spices are ground and packaged  the quickly lose their precious volatile oil  which we actually want to increase the flavour and taste of our recipe. The other thing is spices are very expensive and most of the time companies use low quality spices to cut cost. And sometimes even don't put in all required spices as they are very expensive. Once powdered who knows what went in. That is the reason why I  bring  whole spices and make the masala powders at home.
In market we can easily get Cumin powder but homemade Cumin powder is not only easy to make but has very nice Aroma as compared to the readymade one. Cumin is the spice which has high volatile Oil content and once ground, the flavor starts to dissipate quickly.   When we make cumin powder at home its better to make it in little quantity to get that strong flavour.
[Box]Also Check-How to make Spungy Soft Dahi vada[/box]
Health benefits of Cumin Powder (Jeera Powder)
Cumin seeds and Cumin powder not only tastes best but it has lots of health benefits.
Cumin seeds promotes digestion by increasing the activity of digestive enzymes. Many people drink cumin seed water when the stomach is upset. To make cumin seed water, Mix one teaspoon of cumin powder and ½ lemon juice with warm water. It helps to improve digestion.
 Cumin seeds are also a very rich source of iron. It contains almost 20% of daily iron in one teaspoon.
Many diabetic people drink cumin seed water to lower the blood sugar.
Consuming Cumin seeds in daily diet may help to improve blood cholesterol.
Many studies show that that cumin seeds make help to promote weight loss and fat reduction.
Cumin seeds has lots of health benefits but rather than eating as a supplement I prefer to use cumin seeds and cumin powder in my daily cooking.
What is Cumin powder (Jeera Powder) used for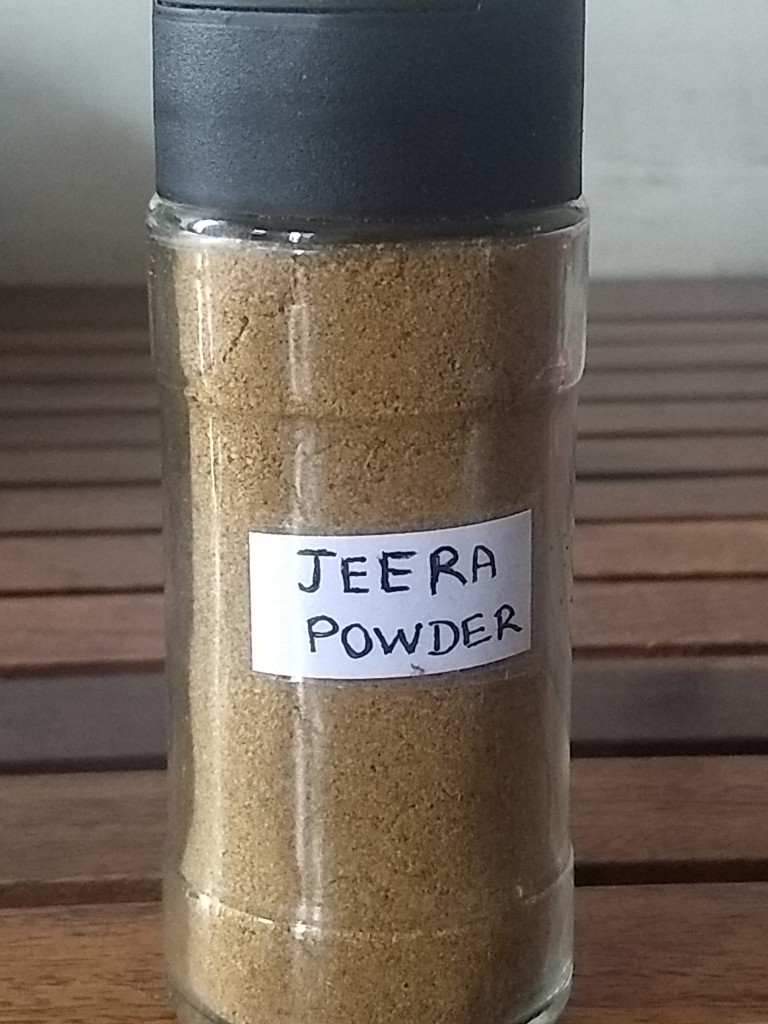 Cumin Powder | Jeera powder
How to use Cumin/ Jeera Powder ??
Well Once the Cumin powder is ready we can use it in many dishes and drinks.
Cumin powder is added in raita. it tastes best in bundi raita, cucumber raita, onion raita etc
Cumin powder is also used in kachumber which is made as a side dish with pulav or biriyani.
Cumin powder is also  a main ingredient to make chat.
Cumin powder is also added in many curries, gravies and even in dal.
Cumin powder is also used make cumin tea.  Cumin tea is best for weight loss, acidity and at the same time  it relieves stress.
Cumin powder is  used in many Indian  healthy drinks like  Chaach, Matha, Shikanji, Jaljeera, Aam Panna.
Tips to make Cumin Powder (Jeera Powder) at home
I prefer to make Cumin powder by using organic Cumin seeds.
Clean the Cumin seeds by removing all the little stones.
Clean the Cumin seeds by slightly rubbing it with muslin cloth, don't wash Cumin seeds to clean it.
Roast the Cumin seeds on low to medium flame otherwise you will end up burning the Essential oil in it. Steer the seeds continuously while roasting.
Don't roast Cumin seeds for more than 2-3 minutes.
Grind the seeds when they are cool down.
I have explained step by step directions to make cumin seeds powder or ground cumin seeds at home. Do share your comment and suggestion for this recipe.
[ingredients title="Ingredients requires to make Cumin Seed  Powder | Jeera Powder"]
50 gms of Cumin Seeds | Jeera
pinch of Rock salt / Pink Salt / Black salt (optional)
[/ingredients]
[directions title="Step By Step Directions to Make Cumin Seed Powder | Jeera Powder"]
 Clean the Cumin Seeds Jjeera)By removing all the small stones in it . If the Stones are very small , use sieve to seperate fine stones. Now a days  cumin seeds are very clean and comes without stones , but check it before making powder.
We Dont know where it is kept before packaging , so  Clean the cumin seeds by rubbing it gently with muslin cloth. Dont Wash Cumin Seeds to clean it as you will loose the aroma by washing it .
Now roast the Cumin Seeds on low to medium flame for 2-3 minutes. Roast it on low flame otherwise you wiil endup burning the essential oil in it. Steer the seeds continuously while roasting.
Put the roasted seeds in mixer jar and add little salt in it. I add Rock salt (Sendha namak) or Black salt to in my cumin seed powder. Adding salt is optional. I made this Cumin powder for seasoning , so I am adding salt in it .
[/directions]