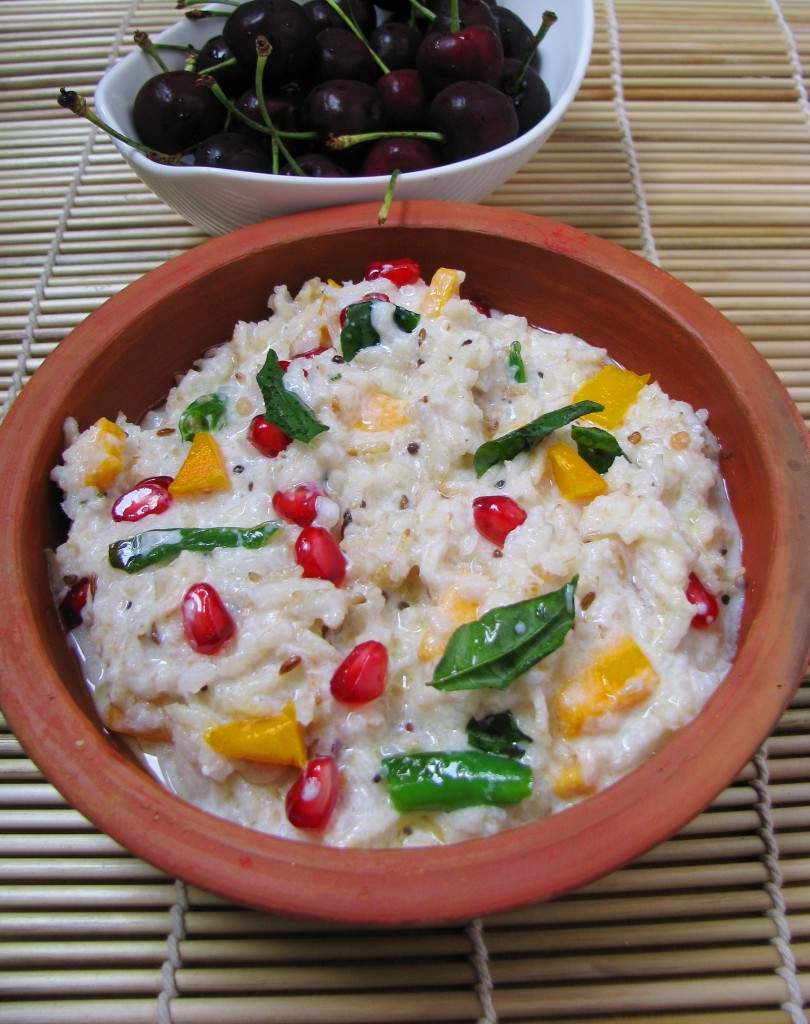 I love curd rice during summer season. Curd rice is the easy and simple recipe to make borwn rice tasty. It doesn't take much preparation time and if the brown rice is precooked then this recipe is an instant brown rice recipe which tastes yummy. I add green cucumber and pomegranate salad to this brown rice recipe and it gives very nice color and taste to it.
In summers we feel prefer to eat light colorful lunch with lots of fruits vegetables and some easy to digest carbs and proteins.
There are lots of ways to make this curd rice recipe colorful as well as healthy
Make curd rice with soft cooked brown rice
For yellow /orange  color topping in curd rice you can add fresh ripen mango, yellow bell pepper (yellow capsicum), ripen papaya pieces, carrot pieces etc.
For red color topping, you can add pomegranate, red bell pepper (red capsicum) ,
For green color topping you an add cucumber, coriander leaves and we also add green curry leaves.
You can do lots of variations in curd rice to make it look good, tasty as well as healthy.
Brown rice has lots of health benefits and it is rich in nutritional values. This recipe makes it a complete afternoon meal. Brown rice tastes bland; we have to be creative with its recipes to make it tasty. You can make variety of recipes from brown rice like brown rice pudding, brown rice salad, lemon rice from brown rice, brown rice pulav, brown rice dosa.
[box]Also check – Lemon Rice Recipe [/box]
As I I said this recipe doesn't require much preparation. You can do lots of variation in this recipe as you start making it. I do variations in tempering of curd rice. Curry leaves and mustard seeds are a must in this tempering. You can change the other ingredients as per the availability. In the typical south Indian style, urad dal and chana dal are used for tempering. It is absent in the Maharashtriyan style. Well I love both the variations! In some Marathi families, curd rice recipe is simple plain curd rice with sugar. Generally they eat it at the end of the meal.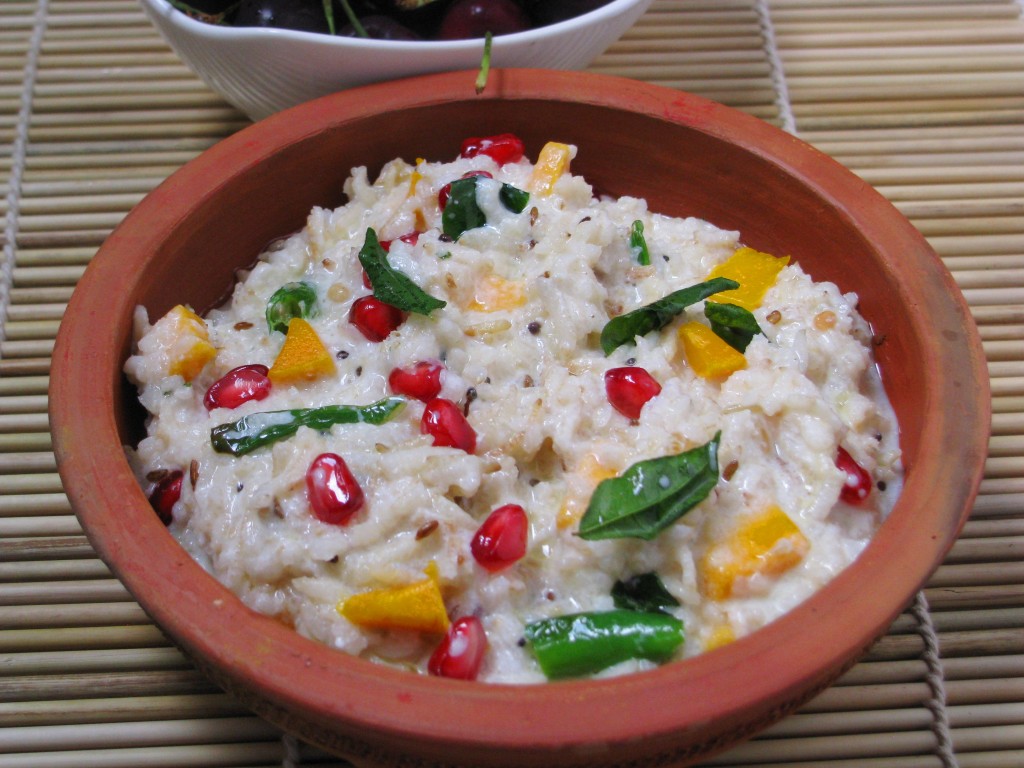 Tips for making curd rice at home 
If your making curd rice for lunch box or for travelling avoid adding fruits and raw vegetables to it and increase the ratio of milk to curd, make it 3:1. Keep the consistency little thin as compared to the normal curd rice when you want to pack it for lunch box or travelling.
If you want to feed curd rice made from brown rice to babies or toddlers, use food processor or hand blender to mix curd milk and rice. It will smash the brown rice nicely.
Add hot milk immediately in cooked rice and keep the container closed for some time. It will make the curd rice soft.
You can make curd rice without adding fruits or vegetables. Just pour nice tempering of curry leaves and mustard seeds on it.
Add curd when the mixure of rice and milk becomes cold.
Your tasty curd rice from brown rice with some salads and a nice tempering of south Indian and maharastrian combination is ready now! Do share your queries and suggestion for this recipe.
[ingredients title="Ingredients required for curd rice from brown rice "]
½ cup brown rice.
1 ½ cup water to cook brown rice
1 teaspoon butter /ghee
1 cup curd
1 cup milk
1 teaspoon salt
1 teaspoon sugar (optional)
1 tablespoon chopped mangoes or yellow bell pepper (optional)
1 tablespoon pomegranate seeds (optional)
1 tablespoon cucumber finely chopped (optional)
For tempering of curd rice
1 -2 teaspoon oil
1 teaspoon mustard seeds
1 teaspoon cumin seeds (jeera)
10 – 15 curry leaves
1 pinch of Asafoetida
1 teaspoon urad dal (split black lentil)
1-2 green chilis
[/ingredients]
[directions title="Step By Step Directions to make Curd Rice"]
Put the soaked brown rice with water, ½ teaspoon salt and 1teaspoon ghee in pressure cooker, keep it on flames. When it starts boiling, close the lid and cook it on low flames for 6-7 minutes.
Open the pressure cooker the pressure is released.
Add hot milk in the cooked brown rice and close the lid. Keep it closed for 10- 12 minutes.
Mix it and let it cool down. When it's cold add curd and mix it nicely.
Add all the vegetables or fruits you want to add.
Now for tempering, heat the oil in a pan. Add urad dal and mustard seeds. When mustard seeds start crackling, add jeera (cumin seeds), curry leaves, green chilies and sauté it for a few second.
Pour this tempering on curd rice with vegetables or fruits. Mix it properly.
[/directions]