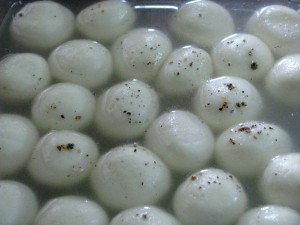 From last few months I was trying for Rasgulla recipe as my kids love it. The most tedious job in this recipe is to make the chenna very soft by rubbing it with palm for at least ½ an hour to get that perfect texture. Still sometimes the rasgullas were not perfect, but finally I had resolved this problem of how to make rasgulla soft and spungy with very less efforts
These are my 6 tips to make perfect rasgullas with very less efforts
Use lemon to make chenna. It gives very nice flavor to your rasgulla. Don't worry it will not give the sour taste.
Don't remove all the water from chenna by keeping heavy weight on it when you want to prepare chenna for making rasgulla or any other Bengali sweets. Put the chenna in a soft and thin cotton cloth (muslin cloth) and then squeeze it with your palms.
No need to rub the chenna with your palms. Just put it in food processor for few seconds and you will get the perfect soft chenna for your rasgulla recipe.
The sugar syrup should be very thin. I had used 1:5 ratio for water and sugar. Even after boiling rasgulla in sugar syrup it should not be thick.
Don't use pressure cooker to cook rasgulla. You cannot check it when it is done. Instead of that use wide mouth vessel to cook it.
When you are boiling rasgulla it will grow 2-3 times in size so it should get enough space in a container. Use wide mouth container for boiling procedure.