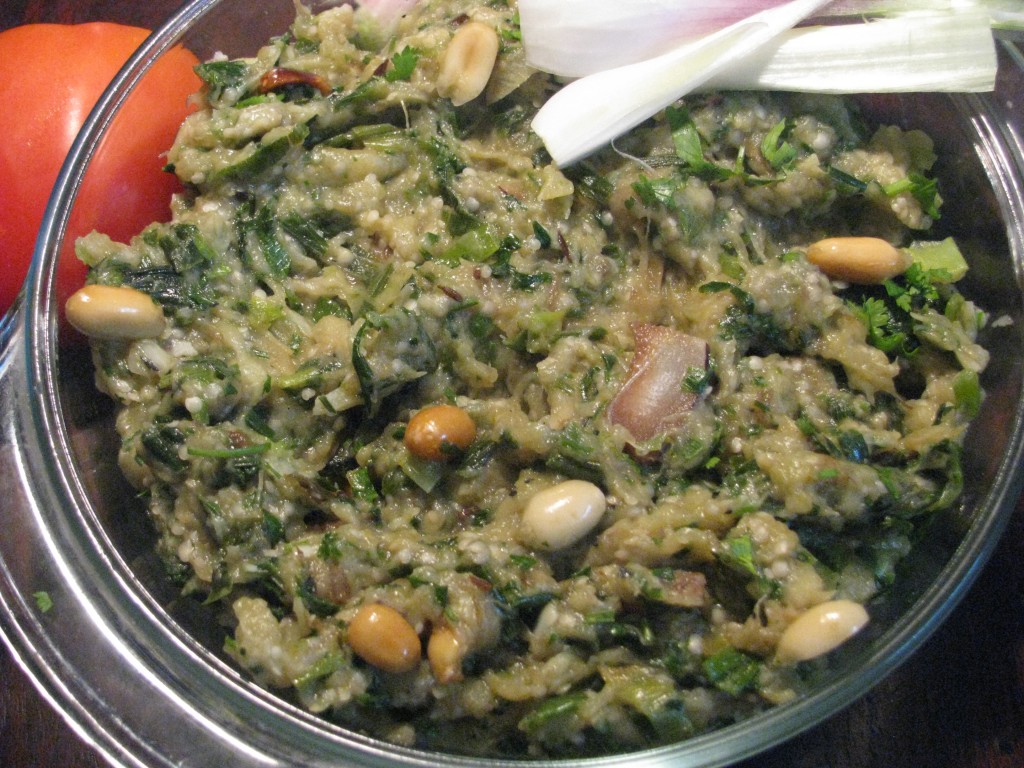 This recipe is little spicy but very delicious ….it looks green …the aroma of coriander, green onions and garlic gives it a very tempting flavor .
I have tasted variety of eggplants(vangi/brinjal/baingan) from almost all parts of India…But the best one which I had ever tasted is from "khandesh"(which is also called "Banana Republic of India") ,  irrigated agricultural region of western India…The big light green shiny slender shape eggplant ( brinjal /  aubergine ) are available exclusively in this region of Maharashtra…This brinjal are huge and one might weigh up to 2-3.5lbs…the roasted eggplant recipe of this eggplant tastes the best … I'm following the same recipe which is very traditional in this part of India … if you ever visit the small village of this region of khandesh you will love to stuff yourself with this spicy recipe…the traditional roasting of this brinjal is done on bonfire  … Well now I don't stay in north maharashtra so I'm using the big purple eggplant for this recipe.
[box] Also check- Bharli vangi |Bharwa baingan with peanut coconut gravy[/box]
[ingredients title="Ingredients to make khandeshi vangyache bharit"]
1kg (before roasting weight) roasted eggplant pulp (check how to roast eggplant with all the tips from buying till roasting
250 gm green onion/spring onion(preferably fresh and tender one)
8-9 garlic cloves
3-4 green garlic strands(optional)
Carom seeds (optional)
Green chilies ( according to your taste)I prefer less spicy variety for this recipe as it contains lot of garlic
1 tablespoon dry coconut  slices 
10-15 peanuts
1-2 tablespoon filtered groundnut oil or mustard oil or olive oil
Salt  to taste
For garnishing
Handful of coriander leaves (optional if you don't like it )
[/ingredients]
[directions title="Step by Step Directions to make khandeshi style Vangyache  bharith "]
Mash the roasted eggplant  when it is  hot don't allow it to cool its difficult to mash it if its cool down .This mashing procedure usually done in badgi (wooden mortar and pestle ) . u can use potato masher for this purpose.
Roast green chili with very little oil . take garlic and this roasted green chilly and ground it nicely.
Heat oil in a pan . add carom seeds & dry coconut slices ,roast this slices till it becomes little brown.
Add  finely chopped green onion ,finely chopped green garlic  in it …saute it and let it cook by covering its lead 
When this green onion and green garlic becomes tender add roasted  and mashed eggplant to it ….mix it nicely and let it cook for 6-7 minutes stirring it occasionally.
Garnish it with coriander leaves  .
[/directions]
Notes
1)      Don't discard the oil which comes out of brinjal / eggplant / vangi  after you roast it ….taste it if its bitter then discard it otherwise use it in the recipe ..
2)      Please check  for worms in the roasted brinjal   by cutting the pulp before using the masher…
 [box] Follow the tips given in  –How to select Brinjal/aubergines/ eggplant and How to roast eggplant [/box]