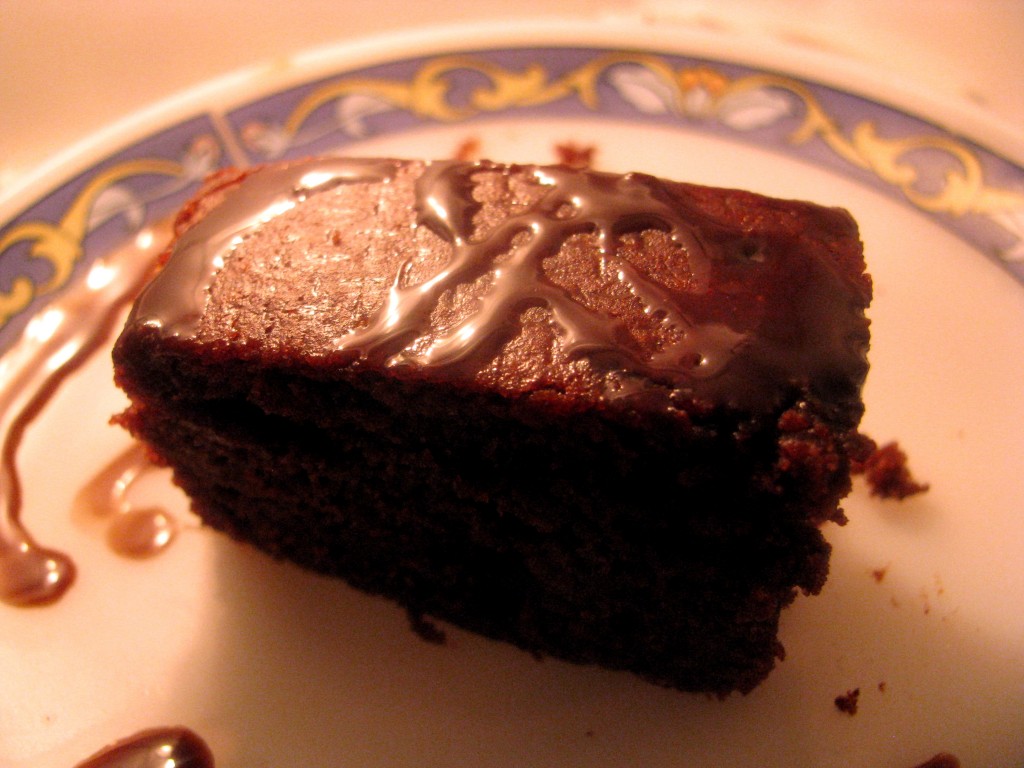 This recipe is for the people who want to know, how to make cake without egg .The easy homemade whole wheat flour chocolate cake with very less effort.Preparation time of this eggless chocolate cake is  just 10 minutes max  🙂 and everybody ask for  the recipe after eating  it. And they get surprise that it's a whole wheat flour cake .This recipe I had shared with all my friends and they always appreciate when they make it for somebody. My kids love chocolate cake , chocolate balls ,chocolate pudding  and because of that i keep on experimenting on this foods & this is my successful experiment of whole wheat cake without refined flour (maida / all purpose flour) .
[box] Also check- Whole wheat flour (atta) orange cake [/box]
My kids love it and as it is whole wheat flour cake (aate ka cake), I don't mind to stuff them with it …it contains dates and dry fruits which makes it a perfect healthy cake…if you r very diet conscious you can make it without oil and instead of sugar use sugar-free…
[ingredients title="Ingredients to make whole wheat chocolate cake without eggs"]
1 cup whole wheat flour (gheu ka atta)
½ cup olive oil/canola oil/ sunflower oil/rice bran oil /saffola
18 -20 black dates
2 cups of milk
½ cup coco powder
¾ cup sugar
1 teaspoon baking soda (not baking powder)
1 teaspoon Vanilla essence or extract
½ cup Chopped walnuts or almond or cashew nuts (optional)
1 -2 teaspoon butter or clarified butter (ghee) to grease a cake tin
[/ingredients]
[directions title="Directions"]
Deseed the dates and soak it in warm milk for 2-3 hours.
Again add cocoa powder in the same jar and blend it nicely...
Remove the mixture from jar in a mixing bowl.
Add vanilla essence in the batter and blend it again
Add chopped walnuts or almond or cashew nut to this mixture. If the consistency of the batter is very thick add little milk and mix it properly.
Grease the baking container with ghee. Add the batter in it… Bake it in preheated oven for 30 minutes at 180degree Celsius. Bake it until the needle comes out clean.
[/directions]
Notes for making whole wheat flour cake 
Take the whole wheat flour fill lightly in the bowl . don't press it or tap it to make 1 bowl measure.
Don't use any oil which has strong flavor for eg soya bean oil , groundnut oil etc.
If you want you can add 1- 2 eggs in this cake after beating them nicely it will make the cake little fluffy. I prefer it without egg!
If you don't like chocolate cake you can avoid adding cocoa powder to it .
You can serve this cake with chocolate sauce or butter icing .
In place of sugar you can add honey, demera sugar  or sugar free natura( if you are diet conscious or diabetic).
You can use this cake in any chocolate pudding recipe….
Also checkout Easy chocolate pudding