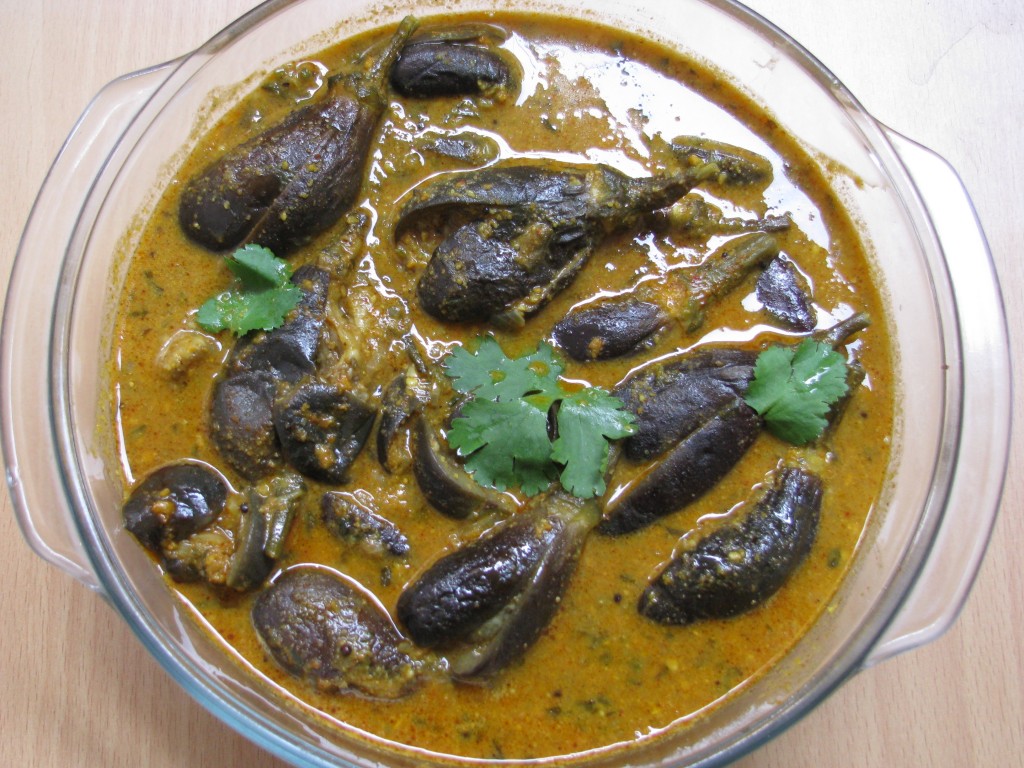 Stuffed brinjal are also called as Bharli vangi …its a spicy Maharashtrian recipe. This recipe has peanuts and dry coconut/fresh coconut as a stuffing ingredient…I had added very less oil to this recipe as both the stuffing ingredients has lot of oil in it . I cooked small Brinjals or Vangi in microwave , Brinjal cooked in microwave with little salt and oil gives a fried brinjal taste .The traditional recipe of this Bahrli vangi contains lot of oil but due to microwave cooking without changing the taste of this recipe very less oil is required .
[box] Also check- Marathi recipes  [/box]
[ingredients title="Ingredients"]
½ kg small green or purple Vangi | brinjal | baingan
1/3 cup peanuts(mungphali/dane)
½ cup  grated dry coconut (khobra| nnariyal gola)
½ inch grated ginger (adrak| ala)
7-8 garlic cloves (lehsun| )
2 teaspoon chilly powder (tikhat|lal mirch powder)
1 teaspoon turmeric powder(haldi)
2 teaspoon coriander seeds powder(dhaniya powder)
1 teaspoon cumin seeds (jeera)
1 teaspoon mustard (rai/mohari)seeds
1 -2 teaspoon garam masala
3 cups of water for gravy (you can take less water if you want thick gravy)
2 teaspoon oil (preferably filtered peanut oil or mustard oil it gives nice flavor to this recipe)
1 teaspoon finely chopped coriander for garnishing(optional)
Salt for taste
[/ingredients] [directions title="Directions"]
Wash the small brinjals,keeping the stem intact slit it into 4 & soak  into salt water for 10 – 15 minutes
Take a microwave glass bowl and put all this brinjals in it .add 1teaspoon of salt and cook it in microwave for 10 minutes on high power..if you want you can brush some oil on vangi | baingan it gives fried look to this  brinjals..Insert a fork in it to check if it's cooked or not..if its not cooked again microwave it for 2 minutes or until its cooked …now this nicely microwave roasted eggplants (vangi| brinjals)r ready for gravy.
Roast peanuts(moongphali| dane) into microwave on high-power for 2 -3minutes .Let it cool down
Add  peanuts ,grated dry coconut ,grated ginger ,garlic cloves in grinder and grind it into a smooth paste by adding little water. Don't add to much water ,add as much as you need to make a smooth paste
In a pan heat oil add mustard seeds when it starts crackling add cumin seeds(jeera) .
Now add the ground masala in the pan roast it until it will become dry and oil starts separating from it.
Add red chilly powder , coriander seed powder,garammasala,turmeric powder in nicely roasted masala and mix it …
Add microwave cooked brinjals | vangi |baingan in this gravy masala…mix it and add water to it…
Allow it to boil on low flame for 5 -6minutes…or put it in microwave safe bowl and cook it for 3-4 minutes on high power..
[/directions]