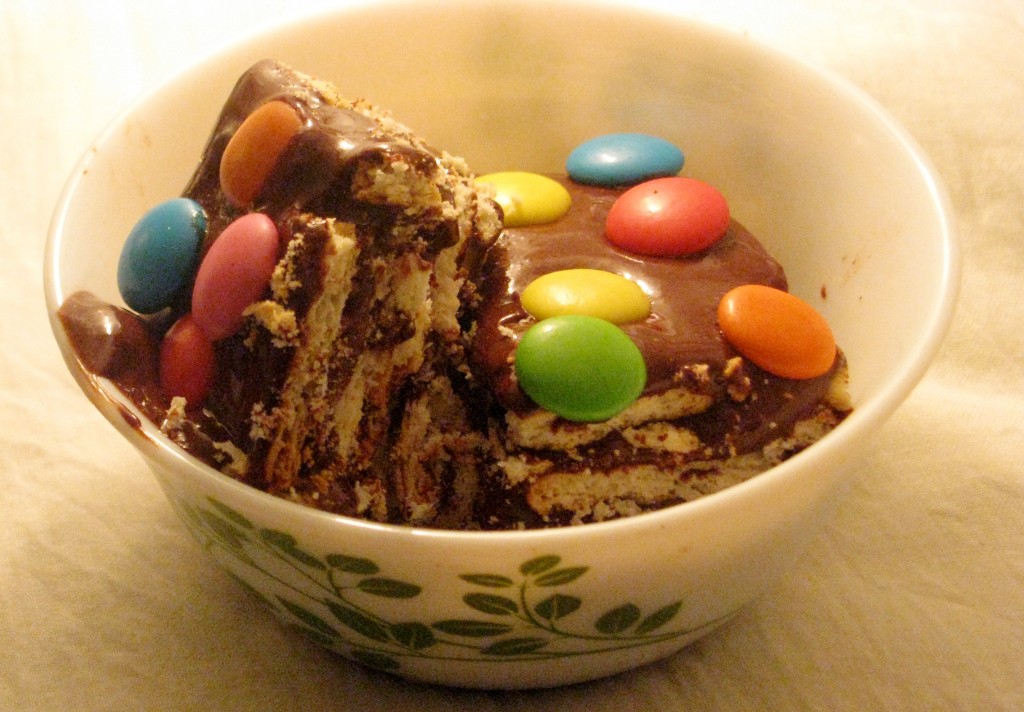 I generally make chocolate pudding from my whole wheat flour cakes. I just sandwich it nicely with vanilla butter icing and pine apple slices but this time my kid said that he wants to eat chocolate pudding  in evening , it was difficult for me to make cake and wait till it bakes as I have to go out for some function .my kid loves homemade chocolate pudding and wants to involve in each and every preparation of this recipe ,so I have made  this  quick & simple chocolate pudding  . It's an easy egg free pudding which you can make from Marie biscuit, condensed milk, coco powder and some creative ideas from your kid for decoration.
[box]Also check —Easy  Whole Wheat flour eggless Chocolate Cake [/box]
This pudding hardly takes 10-12 minutes preparation time .kids enjoy this creamy chocolate pudding with no eggs and no baking is required. Yes, but make sure that they help you to make this recipe, they love to talk about it and just enjoy it .
I have explained how to make this easy chocolate pudding recipe at home. you can change the decorations the way your kid wants . as gems are available at that time I used it for decoration .you can use different types of sprinkles on this pudding.
[ingredients title="Ingredients to make chocolate pudding "]
30-35 marie biscuits
½ cup milk to dip biscuits
¾ cup milk (optional) if you want your pudding mushy
½ cup Cocoa powder
1 tin condense milk
Cadburys gems or any sprinkles for garnishing or decoration
[/ingredients]
[directions title="Directions"]
[/directions]
Also check Healthy Dry Fruits Chocolate Balls