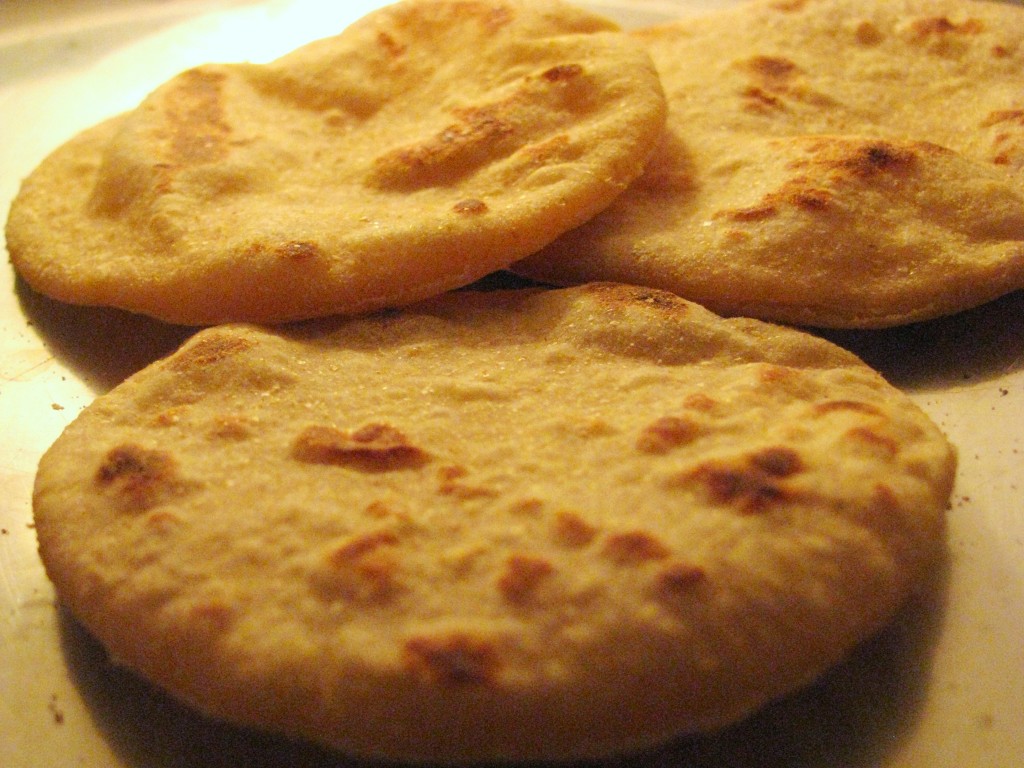 I have always used whole wheat flour (gheu ka atta) in place of maida to make my bhatura recipe healthy…but I had always fried it and at the end  after eating it the guilty feeling of eating fried food was always there in my mind .it's ok for kids  as they love the fried food and once in a while to eat fried food for them is ok, but for me and my husband we are never comfortable with eating fried food …so this time I made Roasted Bhatura recipe ,I searched for baked bhatura recipe on net but in all recipe maida (all purpose flour) was used to make bhatura dough…so I used my whole wheat flour bhatura recipe for making this Roasted Bhatura and it turned out really well. this non fried roasted bhatura are spongy with good taste and u can eat it without any guilt .
I make my bhatura recipes in three ways
[box]Instant whole wheat flour( gheu ka atta) bhatura [/box]
[box]Whole wheat flour (gheu ka atta) bhatura recipe using curd[/box]
[box]Mini chatpate cheese bhature recipe[/box]
You can use any dough from this three recipe to make roasted bhatura .There is no extra preparation for making healthy roasted bhatura , you can serve fried bhatura as well as roasted bhatura from the same dough .This time I tried my whole wheat flour bhatura using curd recipe for making roasted bhaturas .
[ingredients title="Ingredients"]
4 cups whole wheat flour (gheu ka atta)
1/2 cup semolina (sooji/rava)
1cup smashed boiled potato
1 teaspoon salt
1 ½  cup curd to make dough
[/ingredients]
[directions title="Directions"]
Mix flour smashed potatoes and salt..Now add little curd at a time  to make a soft smooth bhatura dough..don't add water to make a Bhatoora dough..
Keep it for 6-7 hours
Divide the dough equally and make small balls of it
Lightly flour a clean dry surface where your going to roll the bhatura and place one ball of dough on it..Roll it into circle /oval shape bhatura
[/directions]
Now we can say it's a healthy bhatura recipe where frying and maida is not required