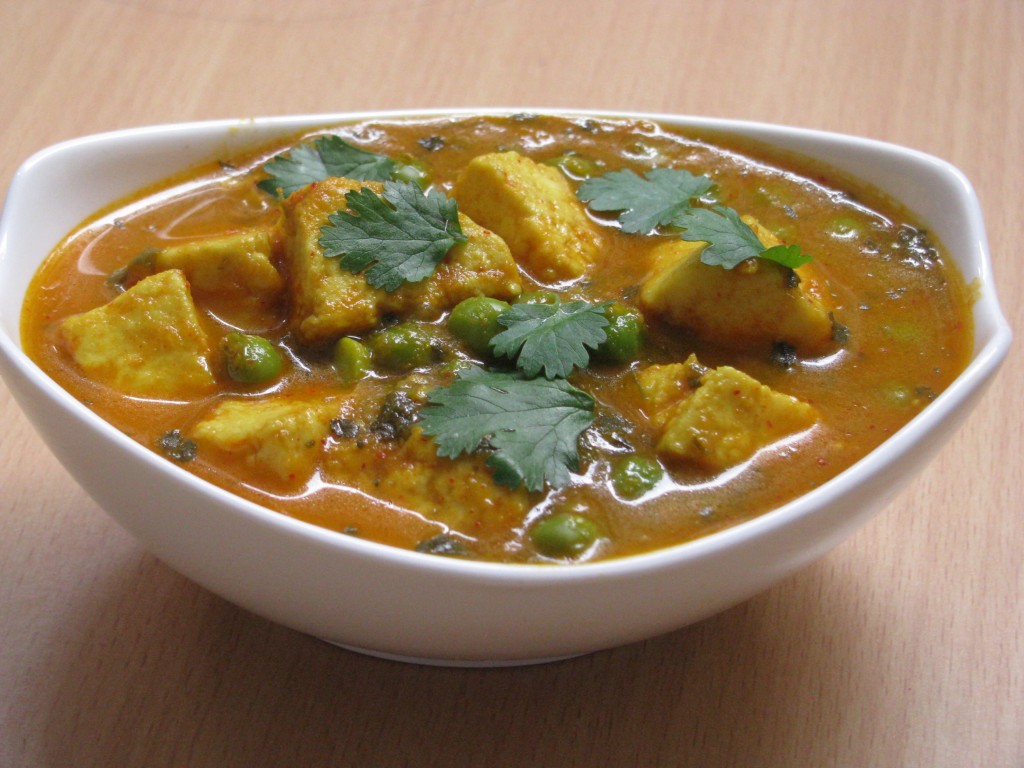 Matar Paneer is a main course dish of Punjabi food. Soft Paneer in tomato onion gravy with malai (cream) and butter makes this recipe a calorie rich dish. I love all Paneer recipes and really love to cook it in different ways .Mutter Paneer , I mostly prepare during winters as fresh green peas are available in market. Matar Paneer can also be made from frozen Matar but the fresh Matar gives good taste to this recipe. So if fresh peas are available in market go for it to make Matar Paneer rather than the frozen ones .
[box] Also check :- Easy kadhai mushroom recipe [/box]
In authentic mutter Paneer lots of cream and butter is added to make this recipe. You can make this recipe healthy by cutting some calories from this recipe. I have shared some notes to make healthy and perfect Matar Paneer before sharing the recipe. But if you want to make authentic recipe of Matar Paneer use all the optional ingredients I have shared in the recipe.
Notes to make Matar Paneer
Don't use desi tamatar (sour tomatoes) to make Matar Paneer it will make  Paneer little hard and gravy more sharp. Use big slender tomatoes with more flesh to make gravy. This tomato gives nice thickness and texture to Matar Paneer gravy.
Add salt in masala paste, it will make tomatoes and onion cook fast with each other.
If you're using frozen Paneer to make Matar Paneer add it in boiling water for 2-3 minutes or microwave it for 1 minute with 1/ 4 glass of water.
Don't fry Paneer to make Paneer it increases lots of calories of Matar Paneer . Paneer tastes good witout frying . If you want you can dry roast Paneer with little oil in a non stick pan before adding it in Matar Paneer gravy.
Use low fat cream or no cream to cut extra calories in Matar Paneer .
Reduce the quantity of oil / butter if you're using malai (cream) to cut extra calories from Matar Paneer.
[ingredients title="Ingredients"]
250 gms Paneer
¼ cup chopped onion
1 cup fresh green peas (Matar / vatana)
2 teaspoon red chilly powder (kashmiri mirch powder)
1 teaspoon turmeric powder
2 teaspoon coriander powder
½ cup fresh cream / malai /low fat cream (optional)
1 teaspoon Punjabi garam masala / garam masala
1 tablespoon dry kasuri methi (fenugreek leaves)
Salt to taste
1 tablespoon oil / butter
Coriander leaves for garnishing (dhaniya patta)
For masala paste
1 medium size onion
2 tomatoes
10-12 garlic cloves
1inch piece of ginger
½ teaspoon salt
[/ingredients]
[directions title="Directions"]
Take the entire ingredient given in the masala paste and blend it into fine paste.
Boil green peas with little water and ¼ teaspoon salt in pan, until it becomes soft and keep it aside. If you're using microwave, take green peas in microwave safe bowl add salt and little water and microwave it for 2 minutes or until it gets soft and cooked.
Heat oil or butter and add 1 teaspoon cumin seeds. Add chopped onion to it and sauté it until it becomes golden brown .
Now add masala paste, fresh cream (malai) and washed kasuri methi. fry the masala until it becomes dry and oil separates from the masala.
Now add red chilly powder, turmeric powder , coriander powder ,garam masala / Punjabi garam masala and mix it in fried masala .
Now add  cooked green peas & Paneer in the masala mix it and add water and salt to it . (if you're using fresh Paneer directly add it in masala or roast it in little oil in non stick pan and add it in masala . if your using frozen Paneer boil it in water for 2-3 minutes or microwave it with little water for 1 minute and add it in masala)
Let it cook on low flame for 4-5 minutes
Garnish Matar Paneer with coriander leaves and serve it hot with chappatis , naan , kulcha fulki or rice.
[/directions]