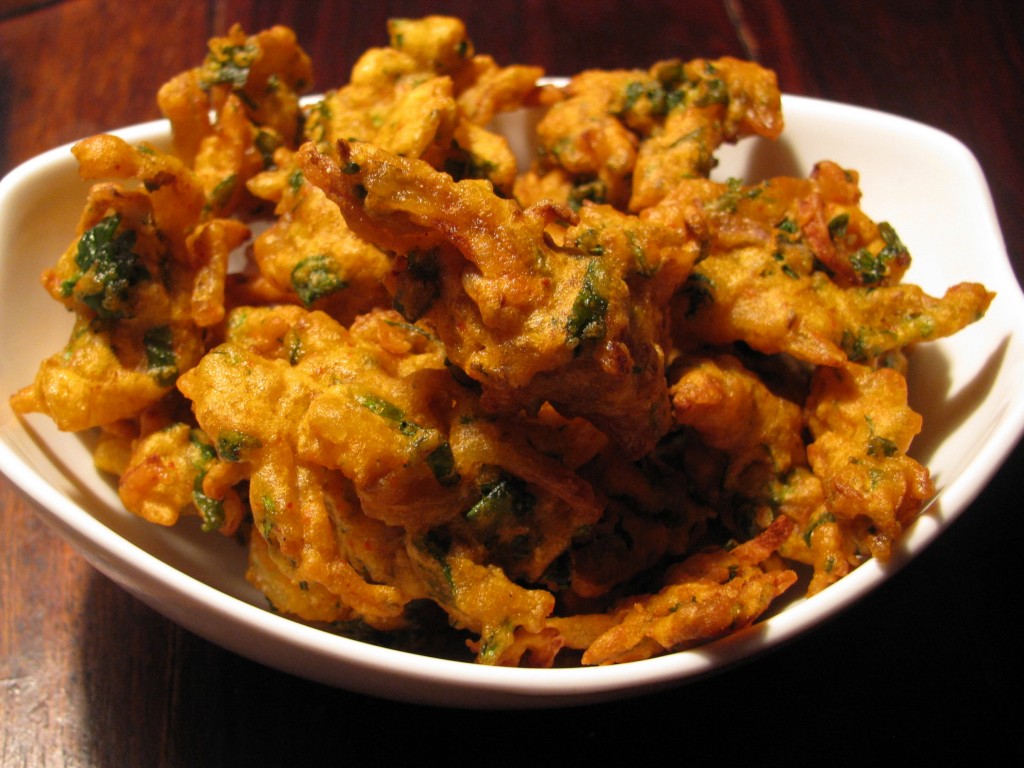 Onion Bhaji /Pakoda makes me nostalgic, it reminds me the lazy mansoon days of my chilhood . in evening when it was raining outside ,the demand of this easy to make Onion bhaj use to come from my grandparents. My mom was also happy as there is not much preparation required for this Onion Bhaji recipe. I remember the balcony where my family members use to enjoy these tasty evening snacks with a cup of coffee or tea.  In Marathi Onion Bhaji are called as Kanda Bhaji . In pune when we go out for ride in mansoon season roadside Kanda Bhajis was our hot favourite  . This tasty crispy spicy Bhajis are always available on many roadside eateries. In Hindi this tasty spicy Onion Bhaji is called as pyaz ke pakode . They even add this Pakoda in there khadi recipe.
Onion is always available at home with little spices and besan (chickpea flour) this recipe is easily made at snacks time with chai .The perfect Onion Bhaji / Pakoda are crispy from potside and soft from inside . many people add soda in Onion Bhaji batter ,it makes the Bhajia soft and fluffy. Onion Bhaji soaks lots of oil when you add soda in it , you can observe it that when you add soda in any frying snacks batter the level of oil in a pan decrease very fast .Bhaji soaks lots of oil when you add soda. To avoid this problem I add 1-2 teaspoon of hot oil in place of soda in  Bhaji batter and mix it nicely . By this method Bhaji soaks very less oil and there is no need to add soda to it. if you want bhujy fluffy and soft add a pinch of meetha soda in Bhajia batter not more than that.
[box]Also check Pyaz ka Paratha without Stuffing | Kanda dashmi[/box]
Notes for making Onion Pakoras / Kanda Bhaji crispy
Keep Onion slices in salt for 5- 10 minutes and then add all the spices and besan (chickpea flour) to it. Mix it nicely and then add little water to make Pakoda/ Bhaji  batter. By this procedure batter will not become watery. Watery batter doesn't make Pakoras /Bhajji crispy.
Add 1-2 teaspoon of hot oil in Pakoda / Bhajiya batter, this will make pakora crispy and it will absorb less oil when you fry it.
Onion to besan ratio should be maintained as given in ingredients, don't add to much of besan / gram flour , it will not make the Pakodas crispy.
Onion slices should be thin, don't make big pieces. Thick slices doesn't cook fast and it will make the Pakodas soft
If you want to make Onion Bhaji healthy you can bake or roast Onion Bhaji batter rather than frying it. In that case add a pinch of meetha soda in Onion Bhaji batter. I prefer to roast Onion Bhaji on non stick pan or wrought iron pan with or without oil rather than baking it. This non fried Onion Pakodas tastes good.  If you roast it without oil it will become soft, if you add little oil while roasting it will become little crispy.
I have explained step by step method to make this Onion Bhaji recipe. do share your comments or suggestion for this recipe 
[ingredients title="Ingredients To Make Onion bhaji / pakoda  (kanda bhaji) "]
Ingredients for onion bhaji mix
 1 cup Onion (kanda / pyaz)sliced
¾ cup besan (chickpea flour)
1tablespoon finely chopped coriander leaves (optional)
½ teaspoon carom seeds (ajwain /owa)
½ teaspoon sesame seeds
1-2 teaspoon red chili powder
1 green chili finely chopped (optional – if you want to eat spicy Pakodas add it)
2-3 teaspoon hot oil / Pinch of meetha soda (khane wala soda)
1 teaspoon salt
Oil for deep frying [/ingredients]
[directions title="Step By Step Directions To Make Onion Bhaji / Pakoda  ( kanda bhaji)"]
To make onion bhaji mix Add salt in Onion slices and keep it aside for 5- 10 minutes
Add 1 -2 tablespoons of water and make a thick pakora / bhaji batter or mix.
Heat the oil in frying pan ,take 2-3 teaspoon full of hot oil from frying pan/ add 1 pinch of soda and add it in pakora batter. This hot oil will make Pakoras crispy and there is no need to add soda in Pakoras.
Drop pakora /Bhajiya batter in hot oil with small spoon .
On medium heat fry Pakoras until it becomes golden brown and crispy .
Serve pakora hot with sauce or pudina chutney
[/directions]