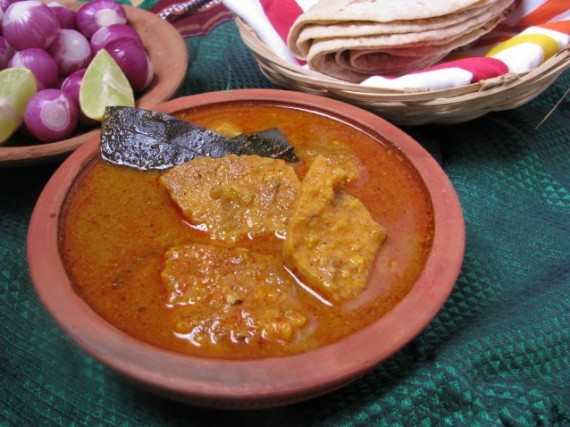 Patodi recipe
Patodi rassa bhaji recipe is Maharashtrian Besan ki sabji. It tastes awesome when eaten with bhakri, poli (roti), or phulki. It is a typical Marathi recipe which is made in different parts of Maharashtra with little variation in Rassa. Rassa means the red spicy Gravy  base of patodi bhaji. I love all the variations of this recipe. When I came to Delhi and made it for my north Indian friends, they liked it a lot and asked me for the recipe. They called it Besan ki sabji in hindi as it was difficult for them to spell Pataudi / Patawadi chi Rassa Bhaji .
[box]Also check – Shev Bhaji recipe [/box]
I like Shev bhaji and this recipe is little similar to that. Basically it is a non-fried version of shev bhaji. So when fried shev is not available at home or you are not in a mood to make it, go for this recipe. You will love it. Not many people know this spicy rassa bhaji recipe. My mom used to make this recipe on Sundays as she used to be busy on Saunday and this recipe is simple, easy to make and tastes really special. My grandma asked her to made the masala on pata warwanta (sil batta), and the taste is never comparable with the masala paste made  in mixer.
[box]Also check – Pitla recipe | Besan curry in marathi style[/box]
Maharashtrians make lots of variations in patawadi like coriander / kothimbir patawadi, methi patawadi etc. But plain spicy pataudi  tastes best in patawadi rassa bhaji. This pataudi recipe is different from Gujarati patodi. In Gujarati patodi, it is made as a role. It is called as khandhvi. This recipe  has patodi which is cut in square pieces. The batter of this patodi is also different from khandvi.
[box] Also check – Marathi Recipes [/box]
Patodi Rassa Recipe
There are many variations of patodi rasa- in Nagpur style rasa patodi bhaji, khus – khus or poppy seeds is used in gravy paste. Dry coconut and onion is a must in this gravy paste. Don't add tomatoes in patodi gravy if you want to make it in authentic maharashtrian style. You can add khandeshi kala masala, kolhapuri garam masala or any garam masala in this recipe .
Many people add raw/kachya patodi in rassa, I don't add raw patodi. Personally, I feel that besan takes little more time to cook and if you boil it with rassa for long time it will not taste good. I prepare patodi separately and add it when rassa starts boiling , I boil it on low flames for 2-3 minutes, take it off and keep the container closed for 10 minutes. All the flavor of rassa comes in patodi when you cover it.
I have explained step by step recipe to make this tasty patodi recipe. Do share your queries and suggestions for this recipe.
[ingredients title="Ingredients to make Patodi rasa bhaji"]
Ingredients to make Besan Patodi / Pataudi  /Patwadi
1 ¼ cup of besan
2 cup water
1tablespoon oil
1teaspoon sesame seeds (til)
1twaspoon jeera
2 teaspoon red chili powder
2 teaspoon coriander powder
1 teaspoon turmeric powder
1 pinch for asafoetida
1 teaspoon salt
Ingredients to make rassa (gravy/ curry)
2 medium sized onions
¾  cup grated dry coconut ( Sukha khobra / gola)
1inch ginger piece (ala / adrak)
9-10 garlic cloves (lasnyachya paklya /lasan)
1 teaspoon poppy seeds (Khus-khus) – optional
3 cups of water
2-3 teaspoon red chili powder
2 teaspoon coriander powder
1 teaspoon turmeric powder
1 teaspoon garam masala
1-2 bay leaves (tej patta / tej pan)
Salt to taste
1 tablespoon oil
[/ingredients]
[directions title="Step by step instructions to make Patodi rassa bhajiv| Besan ki sabji"]
Directions to make patodi / pataudi  / patwadi
Directions to make Patodi (gravy/ rassa)
Heat a pan with 1teaspoon oil and roast onion in it. When it becomes light brown add grated dry coconut and roast both onion and coconut to brown color.
If you want to add khus-khus, roast it separately for 2 minutes on low flames add it in roasted coconut onion.
Take roasted onion (khus-khus if you wants to use) and coconut in mixer jar and add ginger and garlic to it. Make a fine paste of it.
Heat 1 tablespoon oil in a big pan. Add bay leaf and cumin seeds (jeera) to it. If you want tawang (oil floating on gravy/rassa) add more oil according to your taste.
Add onion coconut paste to it and sauté it until oil starts coming out of it.
Add red chili powder, coriander powder, turmeric powder and garam masala powder.
Mix it properly and sauté it for 1-2 minutes. Add 3 cups of water and let it boil. 
When it starts boiling keep it on low flames for another 3-4 minutes.
Add Patodi pieces in the gravy and let it cook for 2 minutes. Cover it and remove it from flames. 
After 10- 12 minutes patodis are nicely mixed with gravy/rasa. Garnish it with coriander.
Serve it hot with chapatis, bhakris or phulkis. Don't forget to serve onion and lemon slices with this meal.