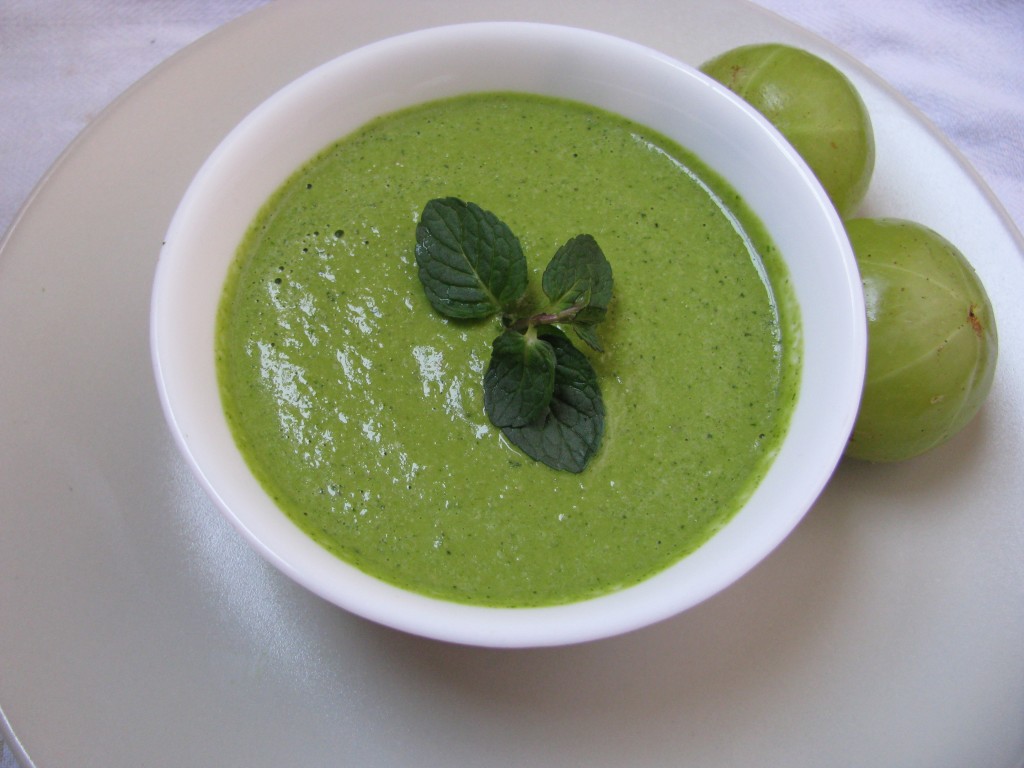 This is the season of Amla and Amla Chutney is an easy way to eat Amla in your daily meal. You can get Amla in market round the year but it is abundantly available in winters. Amla is rich in vitamin c, improves appetite, digestion, good for diabetics, has a lot of anti oxidants to improve your immunity, and good for hair and eyes. Many people eat amla in the form of amla juice ,amla powder, in triphala churna, amla murabba etc . It has lots of health benefits. It is very sour and many of us find it difficult to eat raw Amla. Many people would find it easier to eat amla in form of this chutney.
[box]Also check – Amla Kachi haldi Chutney recipe | Gooseberry Chutney recipe with raw turmeric[/box]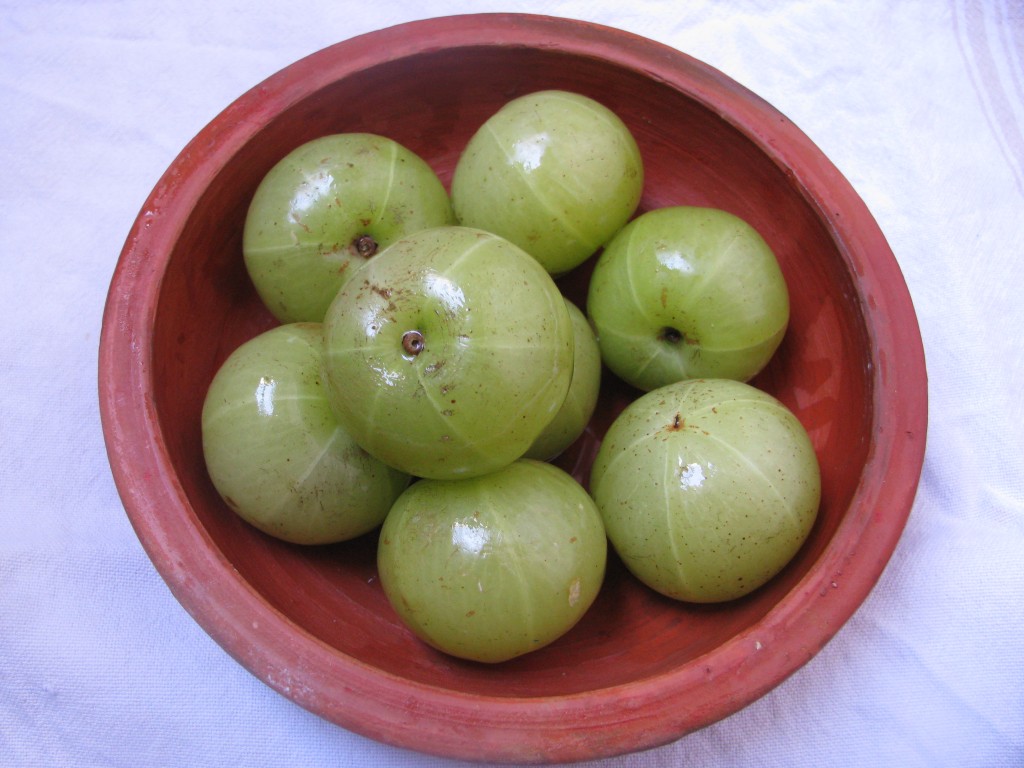 I try to make Amla Chutney or Gooseberry Chutney in variety of ways. I make Amla Chutney with peanut, coconut or curd as a base. Many times I add raw turmeric. Pudina and coriander also gives nice taste to Amla Chutney. This time I have used curd, pudina and corriander to make this khathi mithi Amla Chutney (sweet and sour Amla Chutney). You can eat this Chutney with dosa, any paratha or as a spread on whole wheat sandwiches. In winters many times I make this Chutney for morning breakfast as side dish with aloo paratha or any vegetable paratha.
[box]Also check – Paratha side dish recipes [/box]
Amla Chutney is made in variety of ways in many parts of India. In tamil, Amla is called as nellikkāy. Nellikai Chutney is made with onion tomatoes with nice tempering of curry leaves, bengal gram, urad dal and hing. In Andhra Amla is called as usiri. They make andhra style Amla Chutney (usirikaya Chutney) from both green chilly, red chiliy  and garlic along with bengal gram urad dal tempering. Tamarind is also used. In north India, Amla Chutney is also made in variety of ways like Amla mithi Chutney or they simply make it with green chillies and garlic.
[box]Also check- Chutney recipes [/box]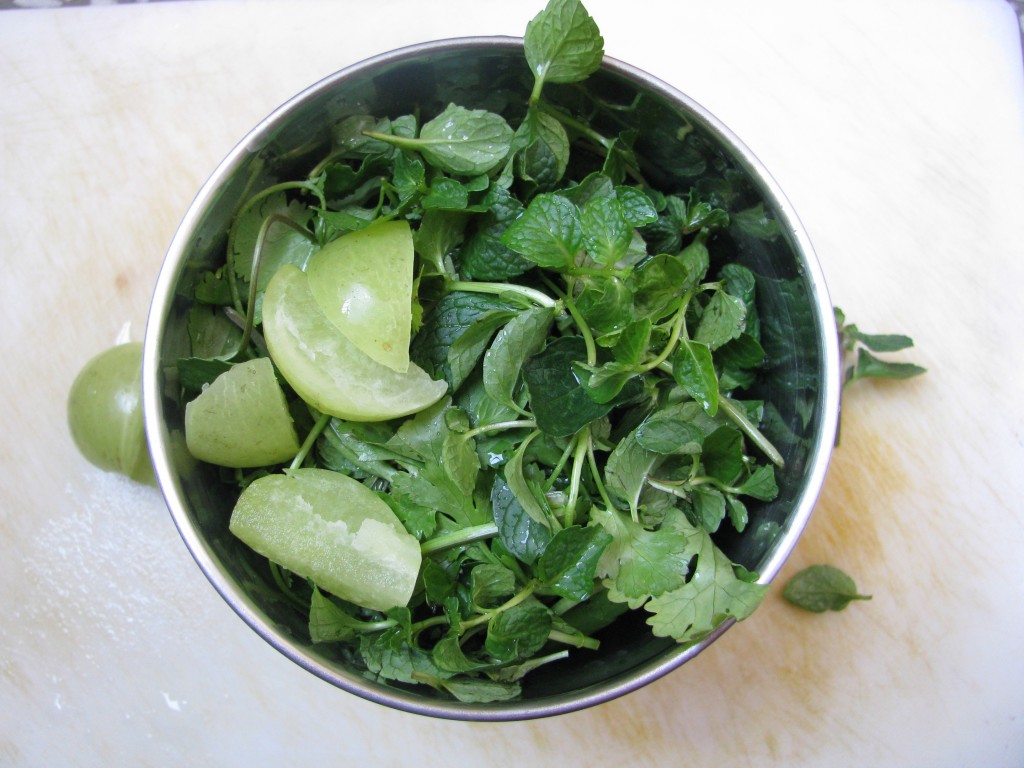 Well in this Amla Chutney, I have added coriander (dhania / kothimbir), mint (pudina), curd as a base with some spices. Coriander and mint gives this Chutney a nice refreshing flavor and makes it rich in anti oxidants. I have added sugar to this recipe but it is optional. You can make it without sugar or add sugar-free or jaggery. Jaggery may change the color of the Chutney.
[box]Also check – Amla ka achar | Amla pickle recipe[/box]
I have explained how to make amla chutney with step by step images . Do share your comments and suggestions for this recipe.
[ingredients title="Ingredients to make Amla Chutney | Gooseberry Chutney ]
2 Amla (awla / Gooseberry)

½ cup pudina (mint)

½ cup coriander

½ onion

3-4 garlic cloves(lehsun)

1 green chilly

2 teaspoon sugar

1 teaspoon salt

½ cup fresh curd

15-20 roasted peanuts
[/ingredients]
[directions title="Step by Step Directions to make Amla Chutney | Goose berry Chutney"]
Wash Amlas and cut them to  remove seeds.

Wash pudina (mint) and coriander leaves with clean water.

Mix deseeded Amlas, pudina, corriander leaves and all other ingredients and make a fine paste of these. 

Serve this Amla Chutney with parathas, dhoklas, idli, dosa, or even with kababs. You can even use it as sandwich spread.
[/directions]
Note – You can also eat this chutney in vrat ( upwas | fast ) , don't add onion, garlic and add sendhanamak (rock salt ) in place of common salt in this chutney if your making it for fast.