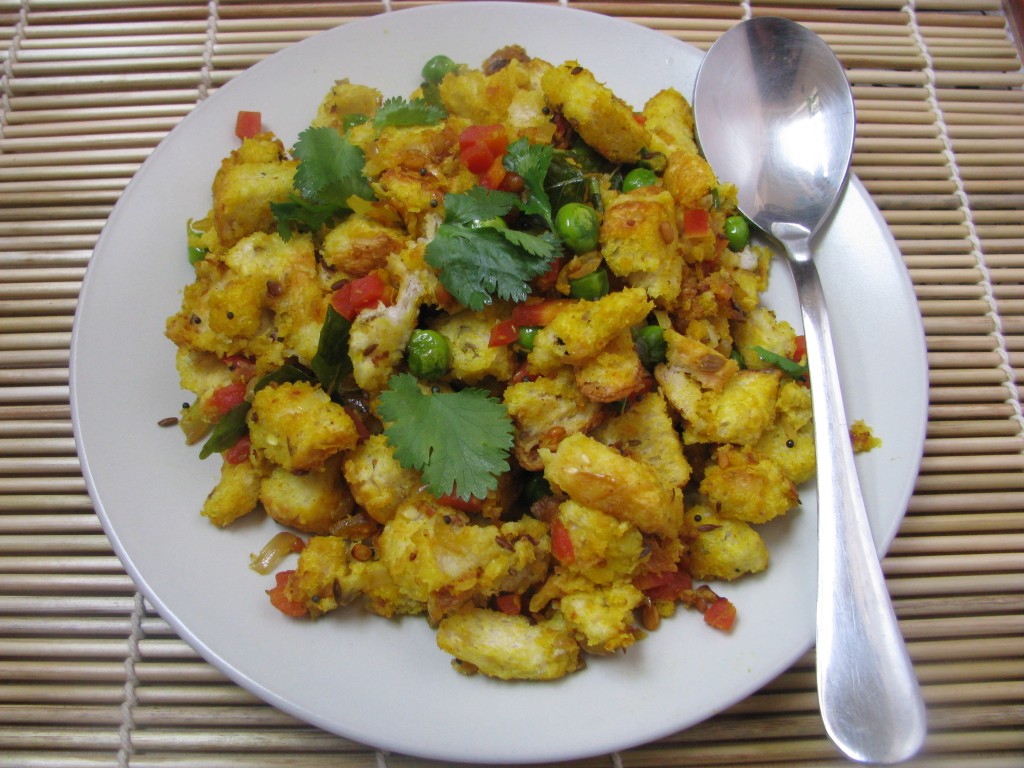 Bread upma recipe
Bread Upma  is a healthy  Breakfast recipe as well as easy to make. Kids love this Upma in their tiffin box and you can easily make it in morning hours. You can also add all the colorful vegetables to this Upma. Vegetables keep this Upma soft even when it is cold. In winters, it's really difficult for the kids to finish their tiffin as the food becomes very cold by the time they eat it. They eat it only if the food is soft and tasty. In winters, I prefer to give Paratha, Bread Upma, Dry fruit ladoos, Whole wheat flour Cake, Chocolate pudding, Vegetable sandwiches etc. in my kids tiffin box.
[box]Also Check – Upma Recipe | Suji Upma Recipe[/box]
Types of Bread to make Bread upma recipe
I have used Multigrain Bread to make this Upma. Multigrain Bread,wheat Bread, ragi Bread, oats Bread, dalia Bread are better choices than white Bread if you want to make healthy breakfast. It is rich in vitamins and minerals with lots of fiber. White bread is made up of refined flour, in the process to make refined flour, lots of vitamins, minerals and fibers are removed. Many people go for brown Bread and they think that it is a whole wheat bread. But most of the time it is made up of maida (refined flour). Do check the contents before buying bread. Now a days, multi-grain bread have lots of good seeds like flax seeds, sesame seeds, sunflower seeds, melon seeds etc. These ingredients give nice nutty taste in Upma. You can make this recipe with white Bread also.
[box]Also Check –Variety of Oats Upma recipes[/box]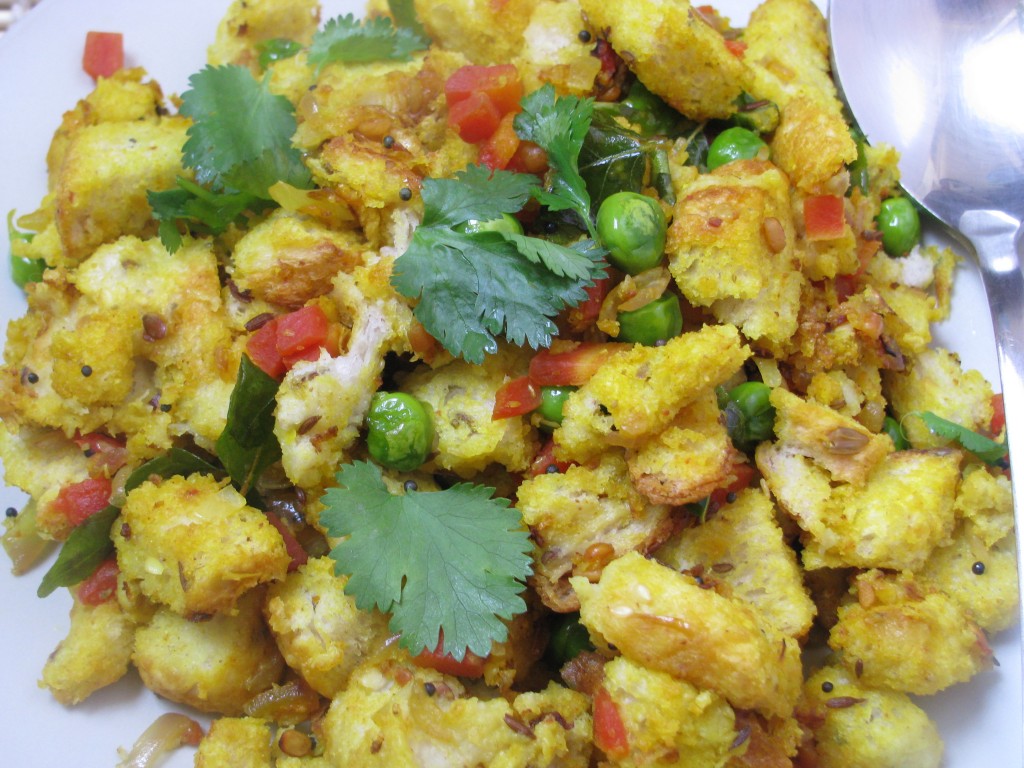 What Is Upma ??
Upma is a tasty South Indian recipe which is generally made with rava (sooji in hindi/ semolina). I have used some main ingredients of Upma except rava. Tempering of Upma is very important to give the typical South Indian flavor to this recipe. The main ingredients are mustard seeds, curry leaves (kadi patta), urad dal (urad dhuli).
[box]Also check– Healthy breakfast and snacks recipes [/box]
In rava Upma, we have to roast rava or sooji for long time to make it non sticky. In Bread Upma, there is no need to roast bread like that and it takes much less time to cook. Bread is already baked and we have to just cook it with vegetables and sprinkle little water to make it soft.
How to make Bread Upma more healthy and nutritious
To make this Upma healthier and more nutritious for your breakfast, make it with vegetables like carrot, beans, Capsicum (bell pepper), fresh green peas etc.I have added 2 tablespoon oil in this recipe but if you want it low in calories you can reduce the quantity of oil .  You can also garnish it with fresh grated coconut. There is no need of side dish in this recipe but my elder kid loves it with tomato ketchup.
I explained Bread Upma recipe with vegetables but you can also try  different methods –
Kids don't like milk so I try to use paneer whenever I can. You can add paneer or tofu cubes with vegetables to bread Upma recipe. It tastes                awesome.
Bread Upma with curd recipe

–
To make bread Upma soft I sprinkle water in the end and keep it closed for some time. In place of water, you can add beaten curd (phita                       dahi) to Bread Upma and keep it covered until bread pieces soak it. This Upma has a very tangy taste.
Bread Upma with ketchup

–
If you like sweet and salty Upma add tomato ketchup in place of tomatoes in cooked vegetables.
Jain recipes are without onion and garlic. If you want to make jain Bread Upma don't add onion. All other ingredients remain the same in this recipe. Add hing in tempering of this recipe. Add curd in place of water to make jain Upma .
If you are not making this Upma for kids, you can go easy on chilies. In Andhra style Upma ginger is also added, this gives nice spicy taste to this Upma.
I have explained how to make Bread Upma recipe with step by step images. Do share your comments and suggestions for this recipe.
[ingredients title="Ingredients to make bread upma"]
8 -9 slices of Bread (I have used multigrain Bread, you can use any Bread of your choice)
1 cup chopped mixed vegetables (carrot, french beans, green peas(matar), cabbage)
½ cup paneer / tofu cubes (optional)
¾ cup beaten curd (phita dahi) or water
¾ cup finely chopped onion (optional if you want to make it jain Upma or without onion)
2 medium-size finely chopped tomatoes / 2 tablespoon tomato ketchup
2 teaspoon lemon juice
For tempering Bread upma
1 teaspoon mustard seeds (rai / sarso /mohri )
1teaspoon cumin seeds (jeera)
2 teaspoon urad dal (urad dhuli)
2-3 green chilies (use it according to taste)
15-20 curry leaves
1 teaspoon turmeric
1 ½ corriander powder
2 tablespoon oil
For garnishing
corriander leaves
fresh grated coconut
[/ingredients]
[directions title="Step by Step Directions to make bread upma"]
[/directions]