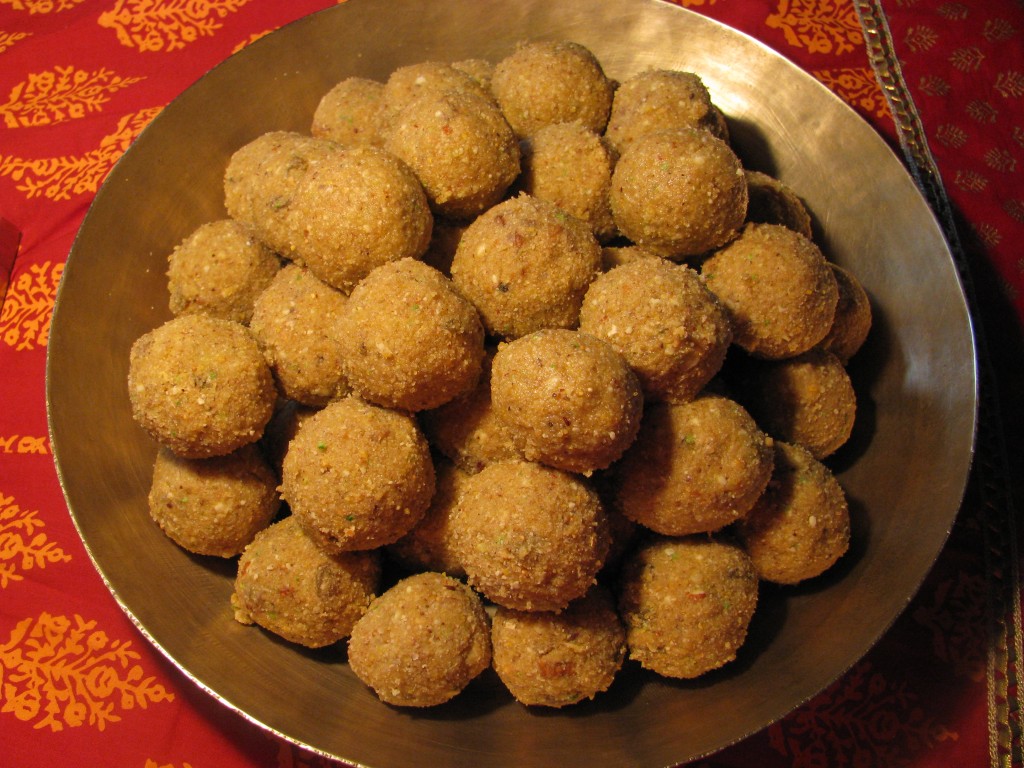 Gond ke Laddu Recipe| Dinkache Ladoo Recipe
Gond ke Laddu or Dinkache Ladoo are generally made in all parts of India during winters.Gond is also called as Dink in Marathi and Gundar in Gujrati. These laddus are made from Gond /Dink /Gundar (Edible gum), Wheat flour, Ghee and with lots of Dry fruits. Gond Laddus are warm in nature and that's why it is made in winters and is given after pregnancy to nursing mothers. These Ladoos are made in all parts of North India, Maharashtra, Rajasthan, Gujarat and Madhya Pradesh. In Hindi, these Laddus are called as Gond ke Laddu. In Marathi they are called as Dinkache Ladoo and Gundar Ladoo in Gujarati. Many Maharashtrians also make Dink Ladoo with Methi (Fenugreek seed / Methi dana).
[box]Also check- How to make Urad dal dry fruits Ladoo for winters[/box]
Why homemade Gond ke laddu | Dinkache ladoo
During winters, you can get Dinkache ladoo from any halwaii or sweets shop. In Pune, you can get good quality Dinkache Ladoo from Chitale bhandu or Kaka Halwaii. Many times, the quality of ingredients used to make Gond Laddu in no name shops is substandard. This is generally done to cut the cost. Gond ke Laddu / Dinkache Ladoo are generally made from homemade ghee (desi ghee / sajuk tup) or good quality ghee (clarified butter). In ready-made Laddus, most of the times quality of ghee is not up-to the mark. While in home-made Ladoos, lots of dry fruits are added, in ready-made Ladoo you will find lot of dry coconut instead of dry fruits. So it's better to take out some time and make this tasty nutritious Ladoo at home. It's really easy to make this tasty nutritious Ladoo at home.
[box]Also check-How to make curd in cold winters[/box]
Nutritional Benefits of  Gond ke laddu | Dinkache ladoo
Home-made Gond ke laddu  or Dinkache ladoo has a lot of nutritional value and has a lot of health benefits . It protects our body during winters. It is generally consumed in morning with a glass of milk. It keeps the body warm during winters .
Why Dinkaache Ladoo or Gond ke Ladoo after pregnancy
Dinkaache ladoo or gond ladoos are given after pregnacy to the nursing mother .These Laddus should not be consumed during pregnancy as they produce heat in the body which is not good during pregnancy. After pregnancy, this Ladoo is good for nursing mother as it increases the feed for baby and helps the mother's body to recover fast. It also strengthens the back bone. You can give this Ladoo to kids in morning breakfast or in there tiffin box. Kids love this Ladoo and it's good for their health. This Ladoo is little high in calories, so it should be eaten sparingly.
Calories in Gond ke laddu | Dinkache ladoo
Nutrition Facts
| | | | |
| --- | --- | --- | --- |
| Calories | 754 | Sodium | 63 mg |
| Total Fat | 34 g | Potassium | 0 mg |
| Saturated | 21 g | Total Carbs | 102 g |
| Polyunsaturated | 0 g | Dietary Fiber | 4 g |
| Monounsaturated | 0 g | Sugars | 77 g |
| Trans | 0 g | Protein | 6 g |
| Cholesterol | 33 mg | | |
| Vitamin A | 0% | Calcium | 16% |
| Vitamin C | 1% | Iron | 18% |
*Percent Daily Values are based on a 2000 calorie diet. Your daily values may be higher or lower depending on your calorie needs. source- myfitnesspal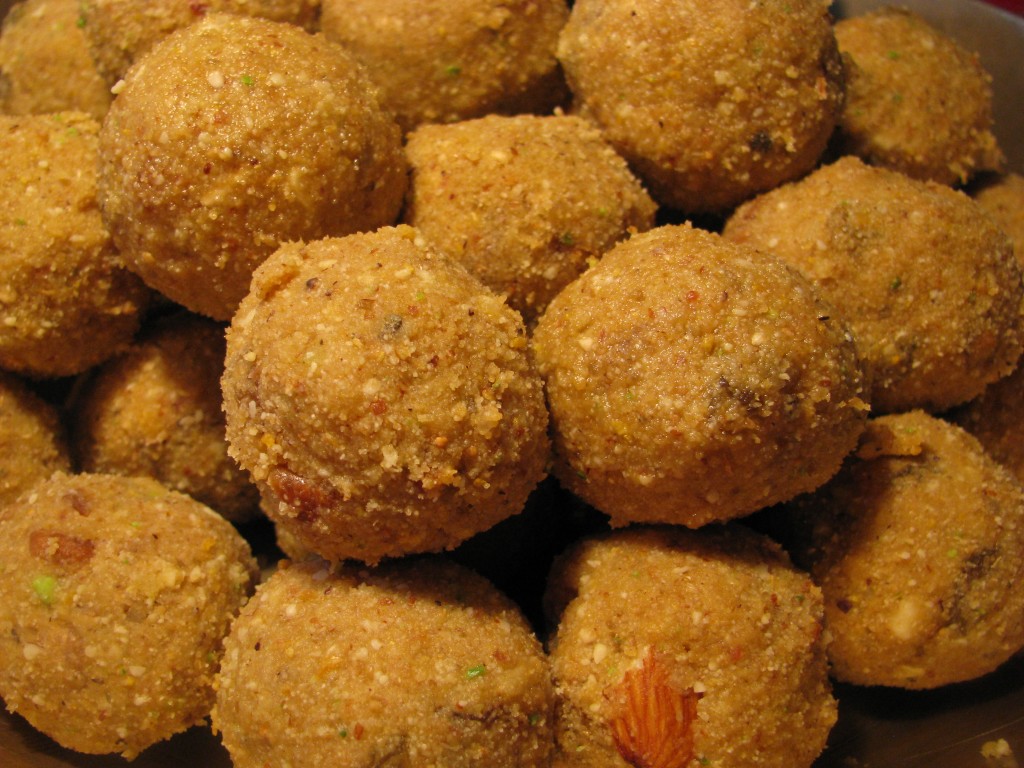 Benefits of Dinkaache Ladoo or Gond ke laddu
Each and every ingredient added in dinkache ladoo or Gond ke laddu has lots of Health benefits during winters and for nursing mothers after pregnancy.  The main ingredients which are added in this recipe and there benefits  are as follows-
Desi ghee or Sajuk tup( clarified butter)-
It's a myth  that Desi ghee  increases your  weight . Famous dietician Rujuta Diwekar   in her book Indian superfoods  said that the addition of  ghee to your meals reduces the glycemic index of food. The reason why there are such combos as dal chawal ghee , Roti Shakkar ghee, puran poli ghee etc in our culture is that ghee reduces glycemic index of  these meals.
ghee helps in digestion and enhances eyesight. Keep muscles healthy and  detoxify the body.  In winters it nourishes the skin . There are many  home remedies  which includes ghee for winter cold.
For   nursing mother   after pregnancy ghee is  excellent  for  nourishing and rehydrating your body and helps to make breast milk. It is strengthening and soothing  and helps in digestion , cleansing and healing.
Jaggery
I never use sugar  to make dinkache ladoo or gond ke ladoo. The best part of  jaggery is it prevents constipation. It helps in proper digestion of activating digestive enzyme in our body.  That's why many people prefer jaggery after meals.
It helps women the combat abdominal pain, menstrual cramp,  mood swings  after pregnancy.
Dink or Gond (edible gum)
It has lots of health benefits  like it strengthens the immune system. Commonly used in Ayurvedic medicine to treat and diarrhoea. It has many anti-aging properties  which delays wrinkles. For for nursing mother after pregnancy it helps in gaining the strength of the body. It also control heavy blood flow during periods.
Dry coconut 
It is the rich source of vitamin E and has rich dietary fibre and it has potassium, calcium, magnesium and many minerals. It nourishes  our body  Inside Out during winters.
It is given  to nursing mother  after pregnancy. It is an source of fats promoting the growth of healthy baby and increasing the volume  breast milk.
Dry fruits
We all eat dry fruits in winters. Even in Diwali gifts we give dry fruits to  each other  as after Diwali winter starts.
We eat dry fruits during  winters  as the give protection from many diseases like cold, flu  and many skin problems. They are Richest source of energy  our body warm.
Preparations to make Gond ke laddu | Dinkache ladoo
For preparation of this Ladoo you need following ingredients
Good quality dry fruits-
Dry fruits is main ingredient to make dinkache ladoo or gond ke ladoo. All types of dry-fruits like almond, cashews, pistachios, walnuts, raisins, dry figs etc is required.
Desi Ghee / Sajuk tup (homemade clarified butter)-
Make homemade ghee / buy good quality ghee (desi ghee/ sajuk tup) to make this dink ladoo.
Jaggery –
I have used jaggery (gul/ gud) to make this Ladoo. I have grated it before adding it in Laddus. You can also add ready-made jaggery powder (it is called as gud shakar in north India). Use good quality jaggery (gul) to make this Laddus.
Dink / Gond-
Gond or dink is the main ingredient in this recipe. It is a natural edible gum which is white or little brown in color. It provides heat to the body and is eaten in cold winter season. Buy this edible gum from good or well-known shops, check that the packet is sealed and the pieces should be dry. Store this gum in an airtight bottle after you open the seal and store it away from moisture.
Dry coconut (khobra/gola) and Dry dates (kharik or chuara)
This ingredients also important to make gond laddu.The main work in making this Laddu is to grate coconut, remove seeds from dry dates (chuara / kharik) .
I have explained step by step method to make this Laddu . Do share how you make your Dink Ladoo or Gond ke Laddu at home. 
[ingredients title="Ingredients to make Gond ke Laddu | Dink Ladoo"]
3 cups wheat flour (gheu ka atta / ghvache peeth)

¾ cup edible gum (Gond/ Dink/ Gundar)

2 cup ghee (desi ghee / sajuk tup)

1 ½ cup almonds (badam)

1 cup cashew nuts (kaju)

1cup chopped dry figs (anjeer)

200 gms dry dates (chuara / kharik)

1 tablespoon poppy seeds (khus-khus)
1/2 cup Godambi(optional )

¼ cup unsalted green pitachios (pista)

1 cup raisins (kishmish)

1 ½ cup grated dry coconut

2 cups grated jaggery / jaggery powder (gul / gud)

1 teaspoon nutmeg(jaiphal) powder

1 teaspoon cardamom(elaichi) powder
(clean dry dates , dry figs , raisins ,almond pistachios , cashew nuts buy rubbing it with clean towel .)
[/ingredients]
[directions title="Directions to make Gaund Laddu | Dink Ladoo"]
Roast khus khus and make coarse powder of it in mortar and pistel .

Heat 2 tablespoon ghee and add Gond / Dink to it . Fry it until it becomes crispy and and when you break it should not be sticky from inside . Keep it aside
Roast wheat flour (gheu ka atta / ghavache peeth) on medium to low flame until it becomes very light and it s colour changes . Nice aroma will start coming out of it. I have used coarsely ground wheat flour (mota atta / jad pith) , you can use normal wheat flour which you use to make rotis .
Now add 2 cups of ghee in roasted wheat flour . Stir it for another 4-5 minutes on medium to low flames .
Add dry fruits , khus khus and dry dates (chuara/ kharik) powder to it mix it nicely.
Make Laddus from the mixture when it's hot.
[/directions]