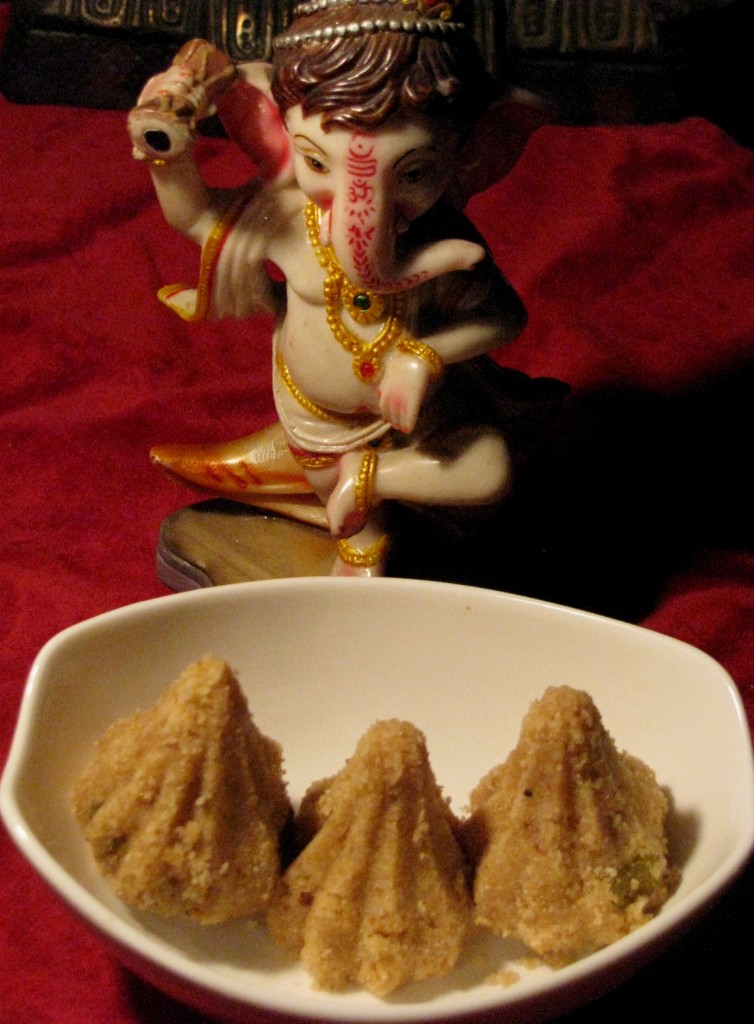 Ladoo Modak or Atte ka Modak  is made from whole wheat flour churma .This Churma reipe is little modified Churma ladoo recipe .  Churma ladoo are always prepared on auspicious occasions in Gujarat, Rajasthan and during Ganesh festival in Maharashtra. This ladoo are generally offered to lord Ganesha .  I make modak from this churma ladoo mixture and add roasted dry coconut powder to it. There is slight difference in Churma ladoo made from jaggery and Churma ladoo made from sugar. I used the recipe of churma ladoo made from sugar and just added coconut to it to make this tasty modak. This modak has long shelf life and you can store it for 15 – 20 days.  Please make this ladoo modak 2 days before serving it , it tastes best after 1- 2 days .
[ingredients title="Ingredients"]
3 cup coarsely ground wheat flour (gheu ka mota atta)
1 cup wheat flour (normal gheu ka atta)
2 tablespoon of ghee for kneading the dough
3 cup sugar/ ¾ cup sugarfree natura
½ cup roasted dry coconut powder
1 /2 cup almonds
½ cup cashews nuts
1 tablespoon khus khus (poppy seeds)
Ghee / refined oil for deep frying
1 cup ghee to make ladoo
12-13 cardamom
[/ingredients]
[directions title="Directions"]
Mix coarsely ground wheat flour / semolina & normal wheat flour & add 2 tablespoon of warm ghee to it. Mix it nicely and make stiff dough using water.
Make puris of this dough and deep fry all the puris to golden brown colour on medium flame.
Now take 4-5 puris at a time, break them into pieces and grind it into fine powder or churma , repeat this procedure and make churma of all puris in grinder .
Now take sugar and cardamom seeds in a mixer jar and grind I into fine powder. Add this sugar cardamom powder in churma.
Roast poppy seeds(khus-khus) and take almonds , cashews and roasted poppy seeds (khus –khus ) in  a mixer jar and grind it coarsely .add this powder in churma mixture . Now add raisins & roasted dry coconut powder to it.
Heat 1 cup of ghee and add it to  churma mixure, mix the mixture .
Take the modak mold and all you have to do is stuff it with this  churma mixture by pressing it nicely with your index finger and demould ,no need to grease the modak mould as this modak already has lot of ghee in it.
Serve it to lord  ganesha on this auspicious occasion of ganesh chaturthi 🙂
[/directions]
Notes
Make this whole wheat choorma modak 1- 2 days before ganesh chaturthi.
For the first day this modak will taste little sweeter but after second day it will taste best when the sugar is absorbed in each particle of modak.
Don't make the ghee quantity less this will make the modak dry after second day.
Don't add milk to make dough of ladoo modak ,it will decrease the shelf life of modak .