Before roasting the whole Eggplant ( Brinjal/ Aubergines) you should read following tips of buying good and fresh eggplant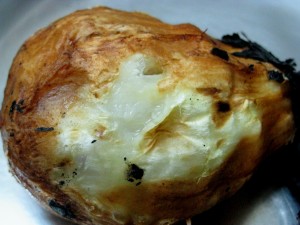 [directions title="Directions"]
Fresh, younger, slender and the size and weight ratio are the things you should remember while choosing a eggplant for roasting or making any other eggplant recipe .
the size and weight ratio of eggplant means when you hold the egg plant it should be light in weight as compare to its size . when you tap such eggplant it gives sound that indicates hollow inside. Such eggplant does not contain lots of seeds  and the seeds r tender. Larger seeds of eggplants hold lots of bitterness
fresh egg plant contains less seeds and less stringy the reason for this is as eggplants mature they become rich in alkaloids which gives bitter flavor.
Also follow the instructions of buying eggplant which i have written in All about eggplants 
Even after checking all this fundas sometimes there  are hard seeds inside eggplant….remove it with spoon after roasting  and also remove the strings  otherwise it spoil the  taste of your recipe.
There r lots of ways to roast eggplant to get the smoky flavor 
[/directions]
Roasting whole eggplant directly on stove
Roasting whole eggplant on coal
Roasting whole eggplant on bonfire 
You can roast eggplant also in  oven  but it doesn't give the smoky flavour … roasted eggplant on bonfire gives the best smoky flavour   🙂
For roasting eggplant you need following preparations
[ingredients title="Ingredients"]
1 whole Eggplant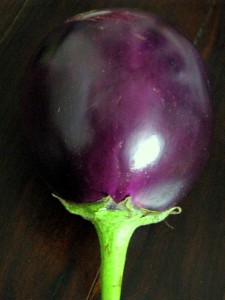 Oil for brushing the eggplant
[/ingredients]
[directions title="Directions"]
Wash and dry the eggplant . with a fork pierce it all over few times to vent   .
Brush it with oil….place this eggplant on top of gas stove or coal or inside the bonfire …..if your roasting it on gas stove turn the flame little higher .. when the skin starts looking little burn make the flame medium and then roast it until the eggplant becomes very soft ..
If your using grill coal on bonfire preheat before you start roasting
Use tongs while roasting to turn the eggplant ….in case of bonfire you have to check it by removing it and pressing it ..
When the stem side of eggplant becomes soft that means the roasting is done
[/directions]
you can use this  roasted smoky flavoured eggplant for—
Spicy recipe of roasted eggplant with onion and tomatoes /baingan bhartha
Roasting Eggplant in microwave oven
If u want to roast whole eggplant in microwave just remember one thing it will not give smoky flavour …..
Still you want to roast eggplant in a microwave just wash and dry the eggplant , with a fork pierce it all over few times to vent  ,brush it with oil(brushing with oil will enhance the process of roasting eggplant)…keep this eggplant in microwave safe dish… and keep on high power for 8-12 minutes …time of roasting will depend on size of eggplant…
Roasted or Baked eggplant tastes best in microwave if its in the form of pieces or slices… If u want to cook eggplant in microwave for some recipe just cut it into pieces and cook it according to its weight in microwave oven…
Eggplant recipes which tastes best in microwave cooking are
Eggplant wedges with chickpea flour (baked)
Roasted /grilled /baked eggplant salad with kidney beans